These Are the 8 Best Living Room Layout Ideas We've Seen in 2021 So Far
We independently select these products—if you buy from one of our links, we may earn a commission. All prices were accurate at the time of publishing.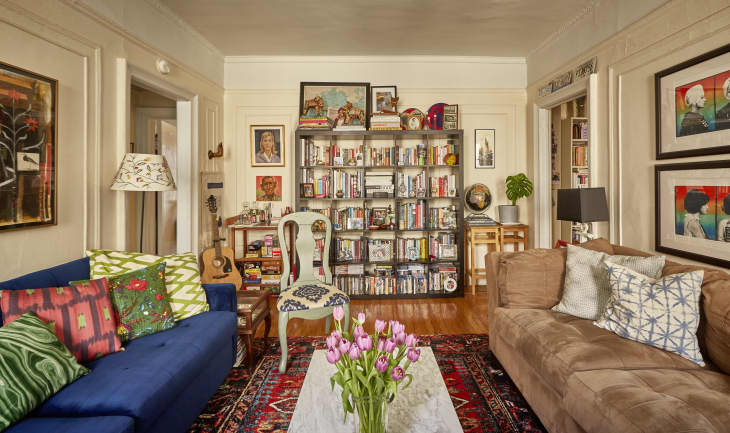 Struggling with how to lay out your living room to maximize form and function? Me too. Whether you live in a small studio or a larger home, furniture arrangement can be tricky, and sometimes thinking outside the box is the way to go! These eight smart living rooms — all from Apartment Therapy house tours this year — have taught me a thing or two about laying out what may be my most used room. Try these tricks for a better flow and use of this space in your home.
Turn side tables into a console
If you can't face parting with beloved end tables but are worried they'll appear too bulky next to your sofa, place them side by side in a corner like this Boston renter did in her small living room. The extra surface area will provide valuable real estate for trinkets, plants, and the like, and they'll also make for an excellent serving station when entertaining fully comes back one day.
Follow Topics for more like this
Follow for more stories like this
Get creative above the radiator
This Brooklyn renter didn't let a large radiator cramp her style! Rather, she filled the space above it with shelves of books, which provide both storage and intrigue. Plus, they also make the room feel cozier without eating up any floor space at all. You don't have to stop at just one shelf either. Carry your wooden slabs up the wall for extra spots to stash your stuff.
Use a piece that provides storage and separation
The console above is a hero piece from this homeowner's Sag Harbor space, given that it helps separate the living room from the foyer in one large open area. However, I'm also quite impressed with all of its storage potential. It would make for an excellent space to stash files and important paperwork, craft supplies, linens, and more. When opting for a room divider, always choose something that does double duty like this salvaged wood find.
Keep it open with ottomans
A large living room doesn't need to be packed with furniture. Opt for an airy layout that keeps things feeling breezy. In this Tampa home, an oversized sectional provides plenty of seating, while poufs across from it can be easily moved for TV watching or stashed away as needed. Ottomans like this also make excellent footrests or side tables and take up minimal visual space.
Carve out a nook
Accent chairs typically sit across from a sofa, "in conversation" with it. If you have a cushy seat that would make for an excellent place to curl up and read though, don't hesitate to carve out a small corner for it in your living room, like this NYC renter did. Placing her leather chair off to the side of the couch — rather than opposite it — ups the cozy factor. Anyone who sits there also has a great view of the television, too.
Display a clothing rack as a divider
Fashionistas, this one's for you! While you can certainly opt to display a traditional room divider like this Brooklyn renter did in her studio apartment, a clothing rack helps section things off even further while adding plenty of personality and function to the equation. Minimalists may wish to display neutral apparel, while maximalists will enjoy filling the rack with colorful garments that double as a form of art.
Try a canopy bed
If your entire apartment essentially serves as a living room, you'll have to get creative in order to successfully divide your space. Think a canopy bed is too outlandish or large for a studio apartment? Think again. As demonstrated in the Florida studio shown above, a four-poster can be an excellent method of creating a sense of separation — or a room within a room, if you will — thanks to its structure. There's no mistaking this kind of piece for a sofa, and if you have high enough ceilings, it can help dramatically section off your sleeping area.
Make seating a priority
Most people living in a 728-square-foot apartment would opt for just one sofa, but this Brooklyn renter got creative and positioned two large sofas facing each other, allowing guests to easily converse (or kick back and watch TV while laying down). There's no reason your TV has to be positioned directly across from the sofa either; this setup allows for more furniture and creates a comfy, lounge-like look.