4 Patio Improvements That'll Make Your Property Stand Out to Buyers
We independently select these products—if you buy from one of our links, we may earn a commission. All prices were accurate at the time of publishing.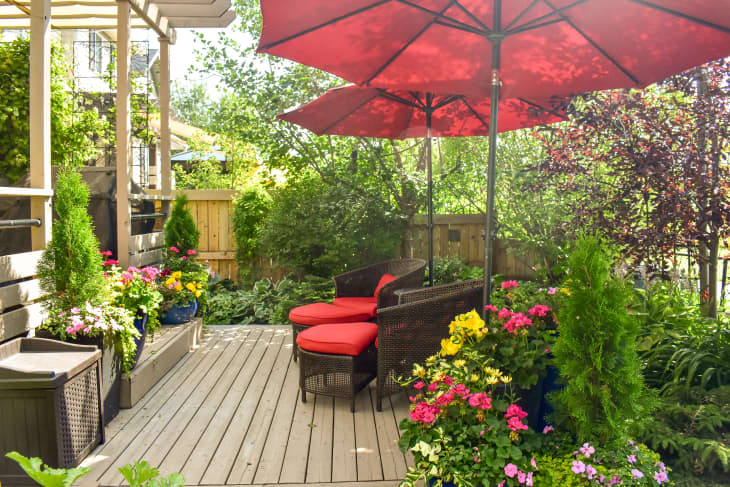 Even in today's hotter-than-average real estate market, sellers may still be looking for ways to make their home stand out. There are plenty of options to choose from — kitchen renovations still seem to reap the biggest reward when it comes to pre-sale improvements — but not every seller has the money (or desire) to totally redo their kitchen prior to listing. The good news is that you don't have to. 
Follow Topics for more like this
Follow for more stories like this
Instead of looking to change your interiors, focusing on the outside of your home will likely make potential buyers take notice. If you're planning on listing anytime soon, you may want to consider how these four tech-inspired upgrades can be incorporated into your home's open-air spaces. 
Add some automatic sun protection.
Everyone knows just how harmful the sun's UV rays can be for you and your outdoor furniture, which is why Amanda Arquit, real estate agent, broker, and owner of Cruz Bay Realty in St. John, United States Virgin Islands, says you can really make your outdoor spaces shine by adding some shade. "The PergolaX from Struxture offers pivoting louvers so you can have that shade when you need it, and gaze up to the stars when you don't," she says. 
Automating the process means you'll never forget to set it up! If you're on a tight budget, Arquit says you can go with a side-mounted umbrella instead. "These cantilevered shades reach out over a large space, covering a full dining table or even an entire patio." 
Manage your water usage from anywhere.
Your home's garden and landscaping may be a major attraction for potential buyers, but what if all they see is the potential for dead grass and wilted plants the second they forget to water? Adding an automated irrigation system to your property can help hopeful homeowners see beyond the work of maintaining your existing greenery and appreciate all the beauty you've created.
Take your favorite part of the indoors outside with you.
People have spent a lot more time inside over the past couple of years, which is why weatherproof screen projectors have become a must-have for outdoor entertaining. "Foldable, portable, and affordable, a screen and projector system will guarantee your backyard is the place to be," Arquit says. "Good luck getting your friends to leave!"
Get rid of bugs and pests.
Spending time outside is way more enjoyable when you're not being hounded by unwanted guests like flies and mosquitoes. While there are a ton of low-tech ways to fight the things that bite — citronella plants are a great au naturale way to keep bugs at bay — consider wowing prospective buyers with a more permanent solution. 

Products like LIV by Thermacell can even be hooked up to your home's smart devices, making it easy for you to control your mosquito problem just by using the sound of your own voice!