Amazon Shoppers Are Obsessed with This Game-Changing Storage Solution for Tiny Bathrooms — and It's Currently 40% Off
We independently select these products—if you buy from one of our links, we may earn a commission. All prices were accurate at the time of publishing.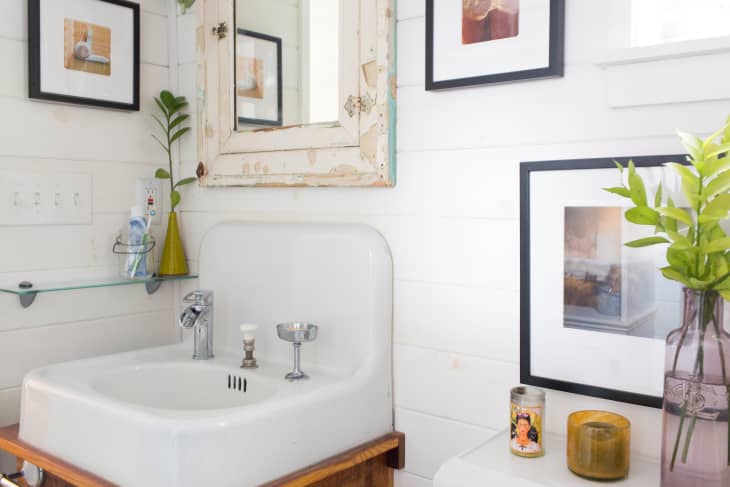 Why do so many apartments have such tiny bathrooms? If yours is one of them, you already know that finding ways to store all your bathroom essentials without creating clutter can be challenging — but with the right mindset, a small bathroom can inspire you to find creative ways to do more with less. 
Follow Topics for more like this
Follow for more stories like this
Take this space-saving bathroom storage cabinet, for example — a number-one bestseller on Amazon with more than 4,000 perfect five-star ratings, it's an ingenious way to make the most of vertical space in your bathroom. Measuring just 6 by 6.7 inches at the base, its small footprint means it'll fit basically anywhere, including in that tiny space between the toilet and bathroom sink or wall. Yet its generous 31.5-inch height means it's still surprisingly spacious: It has a built-in toilet paper roll holder at the top, plus two roomy compartments inside to hold backup rolls, cleaning products, hair and skin-care essentials, and other small items. You can even use the top to hold a candle or small plant! 
The cabinet is made of a lightweight, eco-friendly PVC foam board, which is waterproof, fire-retardant, and non-toxic. Unlike many storage solutions for small spaces, it's super easy to put together and won't require you to drill any holes in the wall. In fact, multiple Amazon reviewers compared assembling the cabinet's puzzle-like pieces to putting together a LEGO set, reporting that the process was not only quick and easy, but actually pretty fun. And the finished product is super satisfying, as one reviewer happily shared: "I'm so in love with this thing. I'm like an excited little kid, I just wanna show it off to everyone. It's so cute and sturdy and smooth." 
Currently on sale for $35.99 (normally $39.99), the cabinet is an additional 40 percent off for Prime Day, bringing the total to $21.59 (just click the coupon on the product page and the discount will be applied at checkout). Sure, given that it's made of foam board, this probably isn't a piece of furniture you'll be handing down to your grandchildren. But for just around $20, it's totally worth investing in to make your current space more functional — especially if you went a little overboard stocking up on toilet paper last spring.

Buy: AOJEZOR Small Bathroom Storage Cabinet, $21.59 with 40 percent off coupon (normally $39.99)