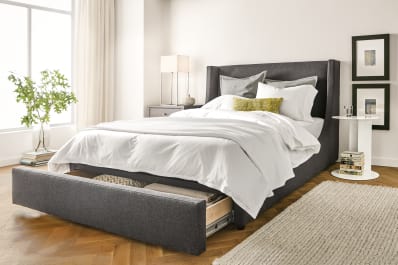 (Image credit: Courtesy of Room & Board)
Storage beds once seemed like the orthopedic shoe of the design world—sensible, but not stylish. These days, though, some are so attractive that you might want one even if your bedroom is spacious. Ideal for small starter apartments, modern storage beds come in a range of designs from very basic with clean lines to more luxe, upholstered options.
---
How This Works
Every week we research new product categories and bring our final picks into the office, where we haggle and decide which ones make the final list. Everything is based on quality, appearance and price. These are what we could choose for our own home.
---
Our Top Pick
Much of the time price is what sways our decisions, or at least heavily influences them. Evaluating storage beds this week we all went for the style and durability of DWR's premier storage bed solution, Matera, designed by Sean Yoo. Designed in 2007, the Matera is made of luscious solid walnut, has six roomy drawers and is shaped with a light lift off of the floor to give it an airy feeling. Many storage beds look heavy, but this one does not. It's our top pick this year; you can keep it a lifetime.
---
Our Best Storage Bed Posts:
---
LOW
This clever bed at IKEA has both storage drawers beneath and additional storage shelves in the headboard to maximize the smallest of rooms (or for someone with plenty of room, but also plenty of stuff). You can also opt to just get the frame without the headboard for only $249.
---
Easily lift up your mattress (with hydraulics) to reveal tons of storage, ideal for stashing away extra pillows, blankets, seasonal items and more. This type of bed is a great option if your room is on the narrow side and you don't have a comfortable amount of space to pull out side drawers.
---
Another lift-up option, the MALM comes in white or black. This look is a bit more streamlined than the BRIMNES, with a sleeker headboard and no side drawers. Again, it's a great pick if you're lacking in bedside clearance.
---
This rather gorgeous bed has four drawers — one on each side and two in the footboard. It can be upholstered in three different neutral colors, and is great for those who need just a little more storage space.
---
MEDIUM
This rustic-inspired bed has two storage drawers in the footboard and a rich oak finish that makes it look way more expensive than it is.
---
This pick from Urban Outfitters is refreshingly different from the traditional storage beds with side drawers, and lets you use your bed as a place to show off your stuff instead of hide it away. The open shelves are a great replacement for a bookshelf, and the mid-century modern design is just right.
---
Gothic is known for their seriously well-made and no frills wood furniture, and their storage beds are no exception. With three configurations and 24 colors to choose from, you're getting a custom-made, high quality bed for a fairly decent price.
---
HIGH
Made in the U.S., this update to the original Marlo Bed comes with a large drawer in the footboard. The wingback style is seriously cozy, elevating your bedroom's function and style in one go — plus, the drawer holds a lot.
---
The Modu-licious line gets its name from a combination of "modular" and "delicious" — a pairing we can definitely get behind. This bed is another one that can be highly personalized, with three different frames and six drawer colors that can be mix and matched.
---
Four extra-large drawers (two on each side) make this Chesterfield bed not just stately and good looking, but totally practical, too. There are also a ton of fabric and color options, so you can make this bed stand out as much or as little as you want.
---
Tips for Bedroom Storage
Drawer dividers are your new secret weapon. You might not think drawer dividers are exactly necessary, but they're invaluable when it comes to maximizing space. Instead of having all your socks and underwear floating around in one drawer, divide and conquer — you'll be shocked at how much extra space you gain.
Choose your furniture wisely. Rather than using a cute nightstand, pick something bigger with drawers for storage space. It might be bulkier, but the extra room makes it worth it.
Get creative with what you're lacking. No closet? Challenge accepted. Consider picking a wardrobe rack or investing in a wardrobe system — IKEA and The Container Store have you covered. Another option is using the space under your bed with pull-out storage boxes designed for under-the-bed use.
---
Other Good Resources:
Apartment Therapy supports our readers with carefully chosen product recommendations to improve life at home. You support us through our independently chosen links, many of which earn us a commission.