The Biggest Red Flags in a Bathroom, According to Real Estate Agents
We
independently
select these products—if you buy from one of our links, we may earn a commission. All prices were accurate at the time of publishing.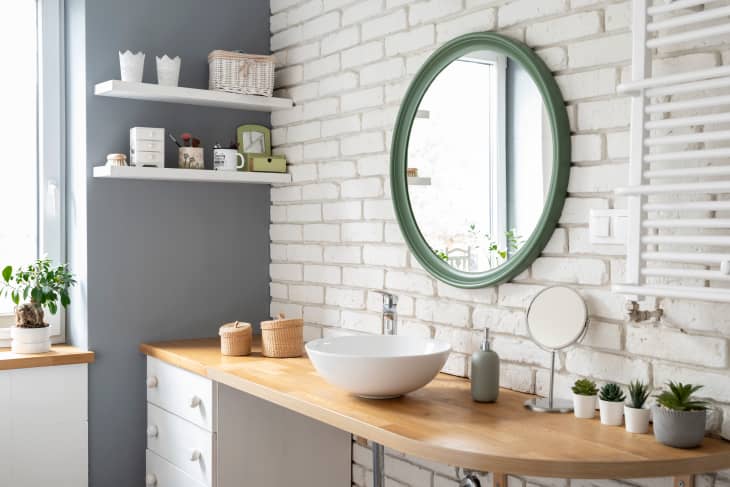 A bathroom might not take up a lot of square footage in a home, but it's arguably one of the most important rooms in it. That's why bathroom remodels are one of the most popular home improvement projects — not to mention one of the most expensive. 
But even the prettiest bathrooms aren't always what they seem. If you're in the market to buy a home, you'll need to look for signs that things could eventually go, well, down the toilet. Here are some of the biggest potential bathroom deal breakers, according to real estate agents.
Look for Signs of Water Damage
Whether it's an issue with the shower, tub, toilet, or sink, a bathroom is a plumbing disaster waiting to happen — and you'll want to know if any disasters have already happened.
"One dead giveaway [of water damage] is stains and dirt around the toilet base and the nearby floor," says Kathryn Bishop, a realtor with Beverly and Company in Sherman Oaks, California. She also advises clients to look at the interior of the vanity (yes, you should take a peek under the sink!) to see if there are any water stains. 
Alexandra Anastasio, an agent with Tom Crimmins Realty in Staten Island, New York, is also a big fan of the under-the-sink inspection. "It doesn't mean there's a huge problem," she says of visible water damage like soft or rotted wood, "but it could be." If it is, it will come up in the home inspection, but it's something that she also discusses with her sellers. 
"If I'm noticing [these issues], buyers are going to notice, too, and it's going to reflect in the offer they will put in," Anastasio says.
Pull Back the (Shower) Curtain
Peter Fressola, an associate broker in Ocean and Monmouth Counties in New Jersey, encourages his buyers to check for shoddy shower pans. "Rust is a red flag," he says, as are any cracks.
Speaking of cracks, Fressola also says to take a look at the tile. Cracked tiles aren't the end of the world — but take not of which ways the cracks run. Vertical cracks are a sign of normal house settling, but horizontal cracks could mean there are structural issues. 
Tile anywhere in the bathroom can also offer clues about water damage and other concerns. Bishop says to look for stains in tile grout and at the edges of the tub at the walls. Additionally, if there are any soft spots on the bathroom floor tile, especially around the toilet, it's proof that water has seeped in. 
Mold is a common occurrence in high-humidity environments like the bathroom. Its appearance isn't always a deal breaker, but the cause — a lack of ventilation — might be. Fressola says if there's no window, which is common in city apartments, then there must be an exhaust fan. Some bathrooms have skylights, but he says they do more harm than good, as they are notorious for leaking. 
Aside from any major malfunctions, buyers should prioritize bathroom function over appearance, says Anastasio. While certain elements like a toilet can be swapped out rather easily, she advises clients to think twice before ripping out perfectly good tile just because they don't like it. 
Fressola agrees. "It's more about [a bathroom's] condition than it is about size and amenities," he says.