We Spent a Year Asking Celebs What They Keep on Their Nightstand — Here's the Most Popular Item
We
independently
select these products—if you buy from one of our links, we may earn a commission. All prices were accurate at the time of publishing.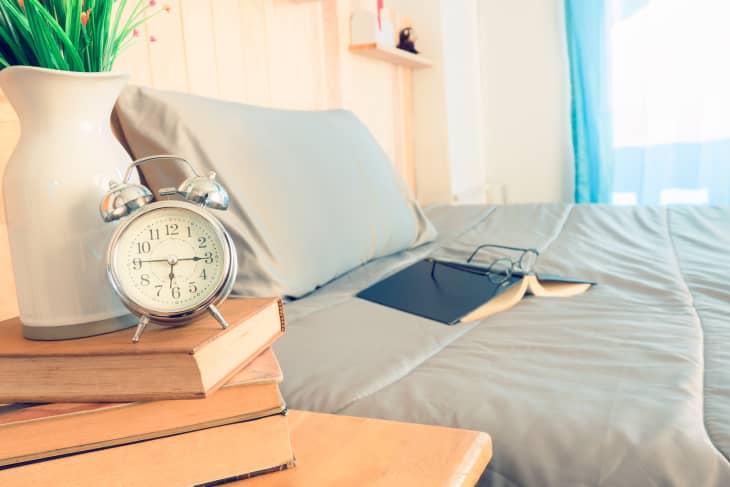 One of my favorite projects I got to work on in 2021 was creating and building out "What's On My Nightstand," a series original to Apartment Therapy asking that very question to celebs and entrepreneurs. And by asking the same "what's on and in your nightstand?" question, common items across star-studded nightstands begin to surface.
It turns out, half of the personalities I interviewed said they keep this one object close by via their nightstand: a book (something that might be very relatable for nighttime readers). And while the hobby of reading connects these big names together, each person has a different book to recommend that they're either slowly chipping away at or have already finished because it was so hard to put down (unless, you know, they fall asleep).

Here are the books found on celeb nightstands — and a little bit on why they're there — that you should add to your TBR list.
This intimate memoir follows Glennon Doyle's journey of becoming who she is by abandoning what the world expected her to be — a tale of self-discovery, finding peace within yourself, and listening to the voice inside of you that many women tend to ignore. "Lucifer" star Inbar Lavi described it as "really, really magnificent."
Sometimes, the best books are the ones that you find yourself revisiting over and over again — and that's the case for "Never Have I Ever" star Richa Moorjani. "[This] book I read throughout my life, 'The Power Of Now.' I love it and it's almost always in the drawer of my nightstand or on it, just for me to look at a page when I need some wisdom," she told Apartment Therapy.

Another book the actress recommended is "Well-Behaved Indian Women" by Saumya Dave, a South Asian author who Moorjani follows. It highlights the stories of three generations of women with mother-daughter relationships and the challenges that come with wanting to pursue their dreams.
Based on a true story, "Irena's Childen" tells the tale of Irena Sendler, a social worker who worked as a public health specialist in the Warsaw ghetto in 1942. Sendler quickly realizes the fate that awaited the Jewish families who lived there, so she takes action and asks them to trust her to take their children to safety. "It's one of these untold heroes of WWII, and I'm Polish so genetically we always lean toward those stories," the "Queer Eye" star said.
Cristina Rodlo, who starred in Netflix's "No One Gets Out Alive," just finished the book "Nada" ("Nothing" in English). Readers follow Andrea, a young woman studying at university in Barcelona, during the Spanish Civil War. In order to afford studying there, Andrea moves into a peculiar, gothic house filled with aunts and uncles.
In "Crying in H Mart," Michelle Zauner explores her upbringing, being one of the only Asian American kids growing up at her school in Eugene, Oregon, the struggles she faced to meet her mother's high expectations, and her relationship with being Korean American that has changed throughout her lifetime. At the time of her interview, Jamie Chung had one chapter down — and with such a riveting plot, no one would be surprised if she finished it by now.