This Space-Saving Floor Lamp Gives Me So Much Extra Storage That I Bought Two of Them (Bonus: It's on Sale!)
We
independently
select these products—if you buy from one of our links, we may earn a commission. All prices were accurate at the time of publishing.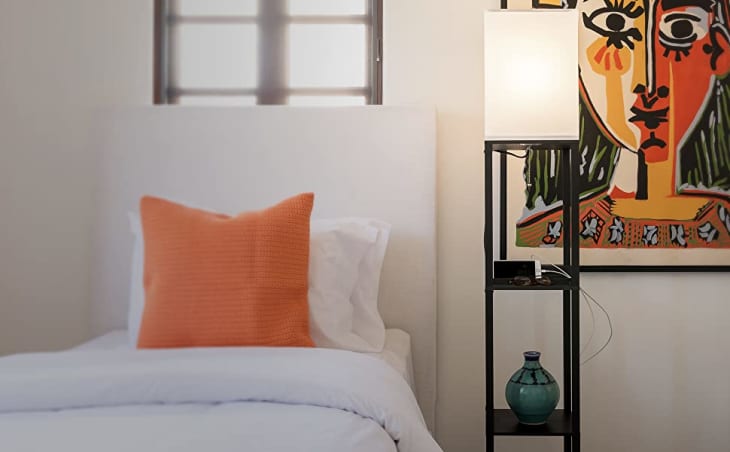 I dream of the day when my home is big enough that I can have a floor lamp that is just a lamp. However, until I find a place with significantly more square footage, I can't rationally give up floor space to something that only serves one function. I need my lamps to multitask — as shelves, storage, electrical outlets, and, of course, light sources — and I need them to do all of this without costing me a fortune. (Kind of demanding, I know, but that's the truth.)
Thankfully, I found an all-in-one lamp from Brightech (an AT-favorite brand) that can do all of these things (really!), and you can grab one now at 20 to 30 percent off. This hardworking device is not exactly cheap (it's about $65), but it is well worth every penny and it won't fall apart on you. Over time, I bet you'll discover more ways to use it and won't want to let it go. I found it to be so useful that after getting one for my living room, I got one for the bedroom, too.
Starting with the aesthetics, I like the wooden look of this lamp and was glad to see that it produces nice soft, yellow light. The fabric lampshade has four walls to completely cover the bulb, which prevents it from ever giving off too much direct light and makes the lamp excellent for reading in bed at night or winding down in the living room after dinner. While the frame is definitely not made from natural hardwood (it's some kind of "engineered wood product"), it looks enough like wood to not feel cheap or distracting. I have a light gray one and a light brown one, and it comes in two other colors to easily match your decor scheme.
When it comes to functionality, that's where this lamp really shines. It has three levels of shelves that you can use for storage (like I do) or for displaying decorative vases, picture frames, or any of your favorite knickknacks. In my living room, the lamp has become my secondary entertainment center: it's filled with board games, playing cards, and all my word games. In the bedroom, the shelves hold books and a small pile of folded clothes; it's not perfect, but it's definitely better than draping them on my desk chair.
The top shelf has two USB charging ports and a regular power outlet, which both come in handy on a daily basis. My bedroom lamp is my charging station for my phone, watch, and headphones. I make good use of its built-in dividers, which let me prop up my electronics to free up shelf space for other bedside essentials. My living room lamp is where I plug in decorative string lights (that otherwise couldn't reach the wall outlet near the floor). And because the entire shelf-lamp-combo only takes up one wall outlet, no matter where it's plugged in, I always have an extra outlet free for anything else. Being able to power a lamp and charge three devices on a single outlet seems like a pretty good deal to me.
I've had my lamps for nearly two years, and aside from the fact that my cats occasionally try to climb the shelves, I have had zero issues. Despite my cats' best efforts, they've never even come close to knocking the lamps over, which is surprising considering how lightweight each lamp is. I initially got one lamp to serve as a nightstand and the other to provide accent light in my otherwise dimly lit living room, but this would also be perfect for home offices that are in need of softer lighting and a few extra charging ports.
When you need a small-space-friendly lamp that does it all — lighting, storage, charging, and shelving — this one has you covered. It's on sale, so now is a smart time to buy!