Brightland Just Launched a Limited-Edition Holiday Bundle That'll Make Your Meals So Much More Festive
We
independently
select these products—if you buy from one of our links, we may earn a commission. All prices were accurate at the time of publishing.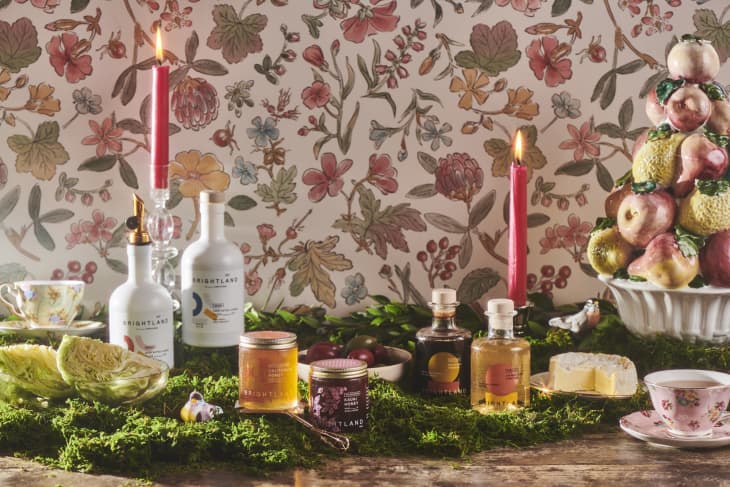 Ask anyone on the Apartment Therapy team what we're hoping for in our stocking this year, and you'll get a resounding: "Brightland's Stocking Stuffers!" The truth is, we'd take anything from the site, in any form, any time of the year (yes, this is a hint, friends and family). Why, you ask? Well, let's just start by saying that it doesn't take much to develop an obsession for the brand. Just a single swipe of bread in their deep, complex rosemary olive oil, a bite of salad dressed in their editor-loved and one-of-a-kind strawberry vinegar, or a nibble of tossed roasted veggies in this lick-it-off-your-fingers balsamic, and you'll be hooked.
Luckily, before we put in our not-so-subtle requests that a mini ARDOR be slipped into our stockings, we got the news: Brightland is bringing back a literally perfect set, the Festive Capsule. This bundle of joy is complete with all the essential components needed to execute a top-notch meal or host the soiree of the season. So, we're making a very important addition to our wish lists — in fact, we'd love if you placed this capsule right at the top of the list, thank you very much!
Alright, let's break down what's in this beautiful bundle. We'll start with the olive oils — they're the base of any good meal, after all! The capsule includes the brand's two best-selling bottles: AWAKE and ALIVE. Both are staple oils with a wide array of uses. However, in terms of flavor profiles, they land on somewhat opposite ends of the spectrum. Where AWAKE is zesty and peppery, with a bold, smooth undertone (think wild arugula), ALIVE is nutty, round, and buttery with a vibrant zing of bright vegetal notes floating at the top of the palate. In other words, between the two bottles, you'll be able to accomplish any and every olive oil task with perfection.
On to olive oil's best companion: vinegar. In purchasing the capsule, you'll get two bottles of vinegar, both of which are double-fermented and fruit-forward, yet, like the oils above, very different in terms of taste composition. RAPTURE, a rich, caramel-y balsamic, is made with California-grown Zinfandel grapes and juicy Triple Crown blackberries (as you can imagine, this vinegar is super-dark, extra-luscious, and extremely velvety). The other vinegar, PARASOL, is a light, citrusy, almost effervescent bottle fermented from California Chardonnay grapes, and the sweet, sunny juices of Valencia and Navel oranges. Whichever bottle you wind up grabbing, there's no doubt that these pleasant sour tastes will add complexity to whatever it is you're whipping up.
And, just when you thought this Festive Capsule couldn't get any sweeter, Brightland throws in the Couplet, their pair of high-quality golden honeys. Both jars are warm, deep, rich, sweet, and intricate in flavor; but (yes, you're sensing a theme here) also differ from one another when it comes to mouthfeel and taste. One is jarred from the light-gold honey made in citrus groves in central CA. It's delightfully floral with a clean finish. The other jar contains wildflower honey collected on the island of Kauai — this honey balances the warm flavors of coffee and molasses with tropical fruit flowers and eucalyptus. Drizzle these sweet spoonfuls over salad, cheeses, toast, tea, ice cream, or just eat straight from the jar. You can't go wrong, trust us.
Finally, all this goodness is completed with two essential add-ons: Brightland's golden spout (compatible with any full-size bottle of their olive oil) and a mini whisk (you know, for whipping up dressings and the like). With these added accessories, there is literally nothing else we could ask for in a bundle. Well, except for it to be a permanent fixture on Brighland's site, that is. The capsule is limited-edition, meaning once is sells out, it's gone for good — or until they decide to bring it back next year.