Caroline's Pint Size Retro Whimsy On A Budget
We independently select these products—if you buy from one of our links, we may earn a commission. All prices were accurate at the time of publishing.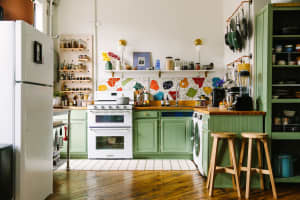 Can't-Miss House Tours Straight to Your Inbox
Keep up with our latest house tours each weekday with our House Tour of the Day newsletter
Name: Caroline
Location: Columbia Heights — Washington, DC
Size: 475 square feet
Years lived in: 1.5 years — rented
Studio apartments are tricky in their own right, and studios where the only windows are on one wall are even more so. Add in renter's white walls, precarious plaster, and a lilliputian kitchen and you've got yourself what could easily become a design disaster. However, walking into Caroline's vibrant light-filled home, you'd never guess the challenges of the space. What you do notice, besides the striking resemblance Caroline bears to her decor, is the efficiency of her layout.
She's made room for everything: a generous seating area, an organized office, a relaxing bedroom, a cozy dining spot, a highly functional kitchen, plenty of storage, a tidy space for her impressive rainbow of a shoe collection, oh yes, and a piano— all in 475 feet! And to top it off, Caroline has made the studio seem as open and uncluttered as it is welcoming and full of life.
Caroline has relied on Ikea to do some of the heavy lifting, especially when it comes to storage, but she has also made sure to personalize every area of her apartment with things that have meaning to her life. As a musician, it was important for her to have a suitable place for her to practice her passion, so she devoted a light-filled corner to her piano and other elements of her musical life. Pink, her favorite color, punctuates every spot of her home, mixing with vintage and retro touches for a look that is feminine and light-hearted.
While Caroline has pulled off quite a few impressive logistical feats in her tiny home, my favorites are her kitchen solutions. She and her boyfriend pulled the fridge, which was a mammoth in the room-for-one kitchen, into the dining area where it now has room to breathe and hold a microwave. They used Ikea cabinets to surround the refrigerator, which not only makes it look more purposeful, but also doubles the amount of kitchen storage. The fridge migration made it possible for Caroline to pull a dresser into the kitchen and top it with a slab of counter for additional storage and much needed counter-space.
She has also maximized the storage potential in other places, most notably her closet, which also houses her tiny full bath. The doors boast an array of shiny shoes in every color of the rainbow and every shade of brown, while overhead shelves and racks hold an assortment of clothes accessories. The smart storage is just one more example of how Caroline manages to live large in a tiny footprint. For more details, check out the captions in the gallery pictures.
Apartment Therapy Survey:
Style: I would define my style as feminine-vintage-eclectic. I just try to surround myself with things that I love and think are beautiful. It usually has a way of working itself out.
Inspiration: My greatest inspirations come from the design blog universe. Being exposed to all sorts of designers that bring their ideas of aesthetic and execution has given me the courage to create a space that is uniquely me. Amazing design is not out of the reach of an armature, all it takes is a sense of what you love and a little guidance. If I had to pick a specific designer, it would be Tom Felicia. I love his book. The chapter about texture seriously changed my life!
Favorite Element: My favorite element of my apartment is the layout of the space. I am in the third reincarnation of the space, and I really think I have it perfect. Even though its small, there is an area for everything. And even though there are defined spaces for all facets of my life, I feel like every area works together as a cohesive home. I am very proud that I have used the space to its full potential; sometimes I just like to sit and look around…and smile. And isn't that whats its all really about?
Biggest Challenge: I have a pretty big personality, and my taste is just as… let's say "vibrant", as I am. It has been very challenging to edit everything I want to have surround me, so I have a space full of life instead of just overwhelming. Sometimes I think, "Wow, I have a lot of stuff in here!" but I love each and every piece. For me, the line between tasteful and tacky is very, very thin sometimes and I am sure there are some people who think I have crossed it. But, every piece is in there because I love it and want it around me… if that's not a reason to have something in your home, I don't know what is.
What Friends Say: They usually give me the greatest compliment anyone can give: "It's so YOU".
Biggest Embarrassment: The radiators! They are extremely old and have been painted probably over 100 times. Dust seems to super glue itself to them and I can never seem to get them clean enough. Its more a pet peeve than anything, but I hate it.
Proudest DIY: It is a tossup between the closet and the kitchen. Even though I had the ideas to move the refrigerator into the main room and installing my own countertop on an old dresser in the kitchen and to install more shelving and hanging space in the closet, my boyfriend, Joe, was the master of execution. This apartment would still be a pipe dream if it wasn't for him!
Biggest Indulgence: My MCM wire chairs. I saw them on the street in Old Town, Alexandria and bargained the seller down to an absolute steal for the pair…but it was still totally out of my budget. It was definitely one of those "I have to have these or I'll die" moments. I absolutely love them painted bubble gum pink! I feel like more modern pieces like that keep the apartment looking fresh and 20-something instead of going down the slippery slope of looking too grandma-ish. Once again…taste and tacky.
Best Advice: Buy and decorate on instinct, not on need. If I don't absolutely love something, I will not buy it even if it is a functional piece for the space. After a few years of living that way, I have pieces in my place that I absolutely love, and will be with me in many more spaces.
Dream Sources: Oh if I could only afford to shop at Anthropologie, I would be the happiest girl in the world.
Other Inspiration: I am an opera singer, and love to surround myself with music, and things that remind me of the great stories and people that have inspired me to make music since I was a child. I have vintage sheet music, a framed BB King record, vintage reproduction opera ads as well as pictures of family that have always encouraged me to follow my dreams. Being surrounded by these things remind me of who I am, and who I want to be.
• sofa: Macy's
• bench, tv stand: Ikea
• coffee table: Old Luckett's

• Etsy; I've gotten some great prints and wall decals from there, and The China Girl shop has been an amazing resource for me.

• Vintage pieces from my family,Estate sales, Vintage stores such as Lucketts and Ruff & Ready
• Art leaning again wall next to desk: local artist and friend, Stefanie Sylvester.
• HOUSE TOUR ARCHIVE Check out past house tours here
• Interested in sharing your home with Apartment Therapy? Contact the editors through our House Tour Submission Form.
• Are you a designer/architect/decorator interested in sharing a residential project with Apartment Therapy readers? Contact the editors through our Professional Submission Form.