This Is How Much It Would Cost to Live In Carrie Bradshaw's Apartment in 2021
We independently select these products—if you buy from one of our links, we may earn a commission. All prices were accurate at the time of publishing.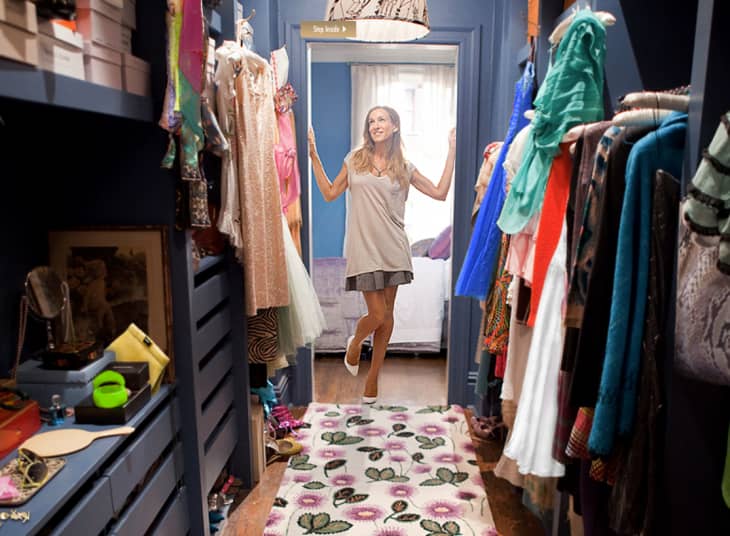 If you've already watched the first two episodes of HBO's "And Just Like That…", which premiered on Dec. 9 and featured that shocking Peloton scene, there's no doubt that "Sex and the City" will be on your mind.
Follow Topics for more like this
Follow for more stories like this
While you could rent out Carrie Bradshaw's *actual* New York City apartment last month thanks to Airbnb for only $23 per night, just how much will it cost to live like Carrie, Samantha, Miranda, and Charlotte in 2021?
Looking at average prices across New York City, U.K.-based property buyers GoodMove has done the research, discovering how much the "Sex and the City" apartments would cost more than 20 years after the hit show's initial release.
"Sex and The City has managed to stand the test of time and remains an iconic show over two decades later. The interior design of the various New York apartments really does reflect who the characters are and manage to capture their personalities," says  Nima Ghasri, Director at GoodMove, in a press release. "Given how influential the show was and with the recent announcement of a revival, we wanted to take a look at how much it would cost to live like our favorite foursome by revealing the filming locations and average property prices in the area. After all, I'm sure we've all envied the fabulous lives of Carrie, Samantha, Charlotte, Miranda, or even Mr. Big at some point."
Carrie's infamous Brownstone was supposedly located on the Upper East Side's East 73rd Street, but the exterior shots were actually filmed at a residence in the West Village—66 Perry St, to be exact.
British Blogger Rachel Nicole posed for a photo outside the home on her visit to New York City last month, where she also stumbled across the cast filming "And Just Like That…".
The average West Village home is today valued at $2,074,566, but Carrie's iconic abode is several times more expensive, coming in at around $15,020,300 to buy. For a more "affordable" option, renting the Brownstone in 2021 would cost around $21,451 per calendar month.
Many fans were devastated to learn that Samantha Jones (Kim Cattrall) wasn't going to be making an appearance in the revival, but it doesn't mean we can't appreciate her simple but sophisticated Meatpacking District home. With its baby blue kitchen and red bedroom, the colorful studio apartment would cost around $975,000.
As for Charlotte York and Miranda Hobbes: Miranda's Upper West Side apartment might set you back $1,401,794, while Charlotte's Park Avenue palace follows closely behind, costing around $1,340,142.