These Soft, Self-Dimming Bedside Lamps Improved My Sleep Almost Instantly
We independently select these products—if you buy from one of our links, we may earn a commission. All prices were accurate at the time of publishing.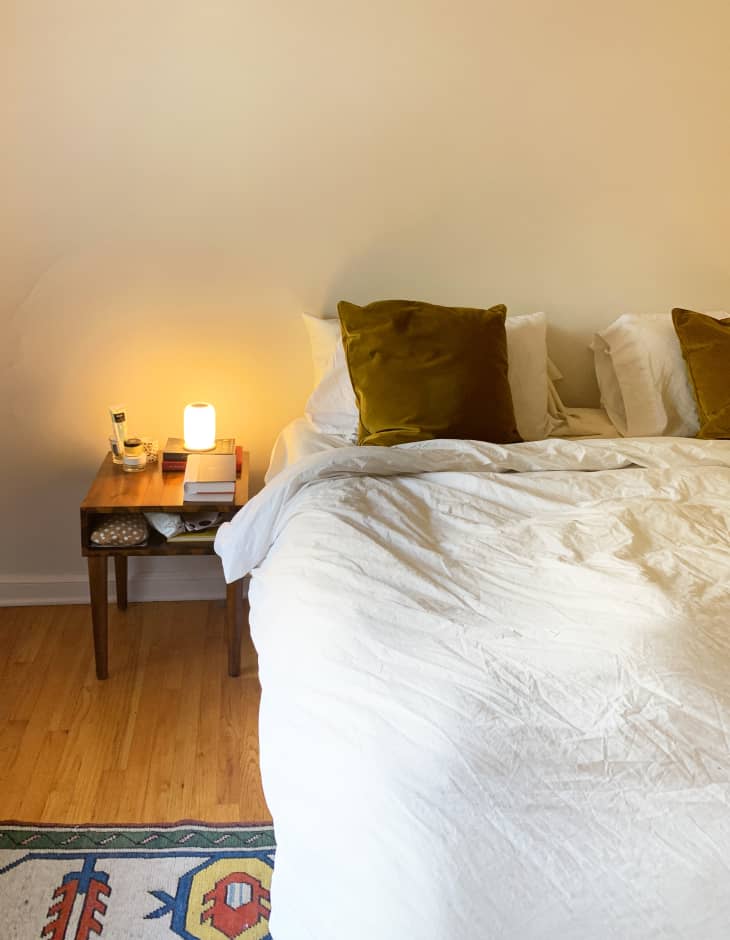 The best thing I ever did for my overall mental health was to stop sleeping with my phone next to my bed. Once I realized that I had a tendency to mindlessly scroll whenever I was awake feeling anxious about something—a habit which, unsurprisingly, didn't make my anxiety better—I started charging my phone on the other side of the room.
Follow Topics for more like this
Follow for more stories like this
To fill the time, I traded my scrolling habit for a reading habit, which has worked out well in all ways but one: I usually have to keep my bedside lamp turned on while my fiancé is trying to sleep. My bedside lighting situation is bright, harsh, and generally not soothing at all—but that all changed when I met The Casper Glow Light.
In a search to find the best, most useful holiday gift, I stumbled upon The Glow Light and its many, many positive reviews. Immediately, I was curious. Casper was nice enough to send along a pair of the lights for me to test and when I first pulled them out of the packaging, I'll admit I was unsure about them. They look totally different than what I was used to when it comes to bedside lamps: They have a bit of a futuristic/robotic vibe. But once I got the hang of using them, I fell in love. The lights are squat cylinders that rest on a charging pad that plugs into the wall. To turn one on, you just turn it over. To turn it off, just turn it over again. To dim or brighten the light, simply turn the cylinder counterclockwise or clockwise. It feels a little odd at first, but it works perfectly and is super intuitive once you practice for a day or two. 
The best part, though? The Glow Light is self-dimming. Once one is turned on, the light begins to dim automatically (and very, very slowly), so by the time it's dark in the room, it's like you've been slowly, sneakily lulled into a deep and peaceful sleep. If I'm not done reading my book just yet by the time the room goes dark, I simply rotate the glow light ever so slightly for more light. Because the light is such a soft, warm glow, it doesn't disturb my fiancé's sleep at all if I brighten mine a bit. As an added bonus, the light cylinders themselves are wireless. I often move mine over to my dimly lit vanity if I'm doing my makeup and need some light close to my face. 
The Glow Light is also programmable, so you can set it to wake you up in the morning, too. I haven't tried this particular feature yet, though—mostly because my sleep has been so peaceful and deep since using the light that I feel more rested than ever when I wake up in the morning. And what's even better, I am reading more than ever and using my phone in bed less than ever.