Catch Up With 6 Writers Halfway Through a Month-Long Wellness Challenge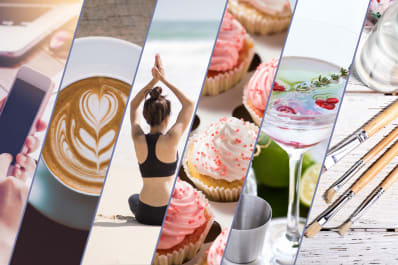 (Image credit: Shutterstock)
The end of the first two weeks of the new year is a tipping point for resolutions: By now, either you've already quit on your goals, or you're solidly living them. I'm happy to say that our Real-Life Resolutions writers—each one taking on a four-week challenge in the name of wellness—are all holding steady.
The first batch of mid-point progress reports are in, where each of our writers has documented the first half of their challenge with diary-style entries that document their struggles (like Anne Momber's day 2 realization that her daily mints are loaded with the sugar she's trying to avoid) and successes (when Kenya Foy was able to finally begin to shake SAD and pick up a paintbrush on day 10).
Through their diaries, you're getting a first-hand account of what it's like to take on a challenge such as quitting social media (like Caroline Biggs) or ditching an addictive caffeine habit (like Candace Bryan). You'll be asking and answering questions like: What's the toughest part?, What's been most unexpected?, and, we hope, "Should I try this for myself?"
If you're following along because you already have resolved to take on one of the challenges—maybe you're a Dry January veteran like Chris Phillips—the posts are loaded with I've-been-there encouragement and plenty of tips and tricks (like Jessica Estrada's meditation app recommendations).
So without further ado, click the titles below to read their reports of the first two weeks, and discover their predictions for the home stretch...
Seeing my body essentially get sick because I wasn't pouring bean-water down my throat helped make palpable to me that caffeine is a drug.
---
While I can say with certainty that every day without social media gets better, that doesn't necessarily mean it's getting easier.
---
Heading into the challenge I decided I was going to keep it fun and easy, and I'm happy to say that's exactly what it has been.
---
When you take time out to deliberately think about it, like I have during this month, you start to see both the joy and terror we've bound up in drinking.
---
I'm feeling kind of great but also kind of like I want to eat a chocolate chip cookie right now.
---
Even though I'm feeling like this painting thing might actually help me distract myself from the weather, that doesn't negate the fact that I have absolutely had it with winter.
If you need to catch up with the first round of introductory posts, you can find them right here.