Is Your New Apartment Suffering from a 'Landlord Special'? Here's What It Is and How To Clean It
We
independently
select these products—if you buy from one of our links, we may earn a commission. All prices were accurate at the time of publishing.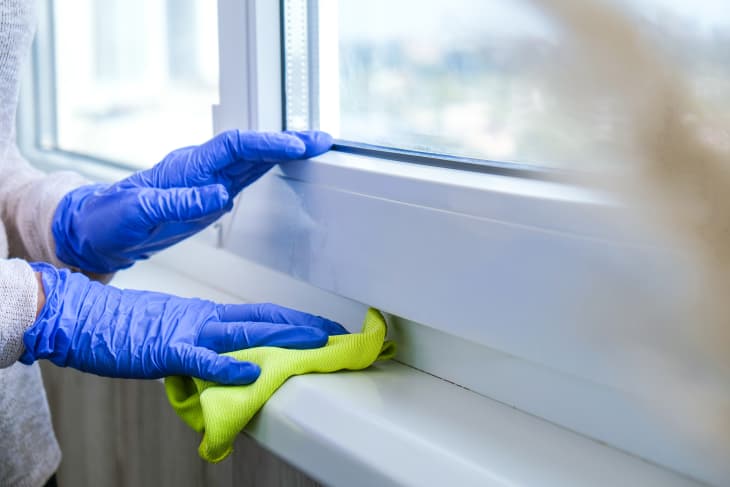 Anyone who has ever lived in an apartment is intimately acquainted with the "Landlord Special" whether they realize it or not. It's when giant globs of white paint coat once-beautiful wooden trim, window blinds are held together with tape, and dust is caked into window ledge corners and floor baseboards. While I can't help you with the paint or blinds, I do have something of a miracle solution for the dust, which will definitely come in handy now that it's moving season.
As anyone who has tried to deep clean their apartment the first week of moving in will know, that old dust is especially hard to scrub. It solidifies in a way that stumps science, making it nearly impossible to wash with spray and elbow grease. It turns the grooves of baseboards black, and wedges itself into the tight cracks and corners of window ledges, making it feel like you're living in a permanently dirty home. 
But, when you have something impossible to clean, it might just mean you haven't found the right product to tackle it yet. If you've been battling that caked-on dirt, it's time to retire the all-purpose spray and reach for Bar Keepers Friend instead.
Bar Keepers Friend is my secret weapon for all things hopeless. From the old penny tiles in my bathroom to the scratched plates in my cupboard, it makes everything glisten like it's new again. So imagine my delight when I discovered this TikTok video, where I learned that it will also help melt away the years of crud thoughtfully left for me upon moving day. 
All you need is the powder form of Bar Keepers Friend, a cup of warm water with a drop of dish soap, and a stiff denture brush. Sprinkle the powder across those dirty corners and gross baseboards, dip your denture brush into the warm, soapy water, and then get to scrubbing. 
The stiff bristles will attack and loosen the dirt, while the product coupled with the grease-fighting dish soap will help melt away years of dirt in mere seconds. And since denture brushes are smaller than regular, all-purpose cleaning brushes, you can get into those tight corners and nooks easier, getting every last speck without much hassle. 
You might have to do this twice for especially dirty corners, but it won't take you a full day of sweating and scraping as it would with other techniques.