3 Clever Hacks for Hosting a Dinner Party in a 1-Bedroom Apartment
We
independently
select these products—if you buy from one of our links, we may earn a commission. All prices were accurate at the time of publishing.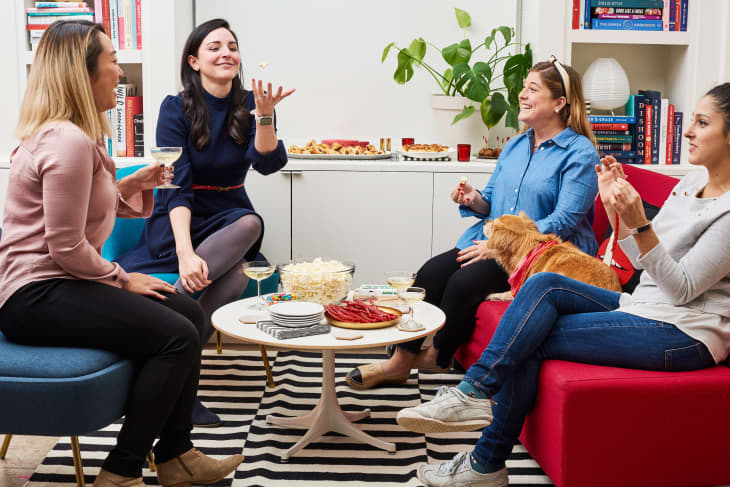 If you live in a small space like I do, you're likely an expert at getting multiple uses out of your home. You know how to turn a couch into a guest room, a closet into a home office, and a kitchen table into yet another home office. But I try to remember that my small space can also be transformed purely for fun.
I love to host dinner parties, but it can be difficult in my 666-square-foot one-bedroom apartment. Over the years, thought, I've perfected the art. Here are my three go-to hacks for converting a small space into a grown-up dinner party dream.
Convertible Console Table
When my partner and I moved in together, we knew we wanted a large table to play board games and host friends for dinners. We do not have the space for a permanent, full-sized dining room table — such is life in a one-bedroom. I scoured the internet looking at Murphy tables, height-adjustable coffee tables, and gateleg tables until I found this gorgeous little expanding console table.
The functionality this table offers is the stuff of legends. With a fold-open top and two leaves, there are a range of lengths from console to card table to a full six-person setup. In everyday life, the table stays in its console position smartly tucked under a large-scale mirror. Folded out, I've used it as a sewing station. In all its glory, the table is the centerpiece of a dinner party. For eight people, we slap a folding table on one end. Voila.
I love that this table takes up a tiny footprint while hiding our dinner party potential in plain sight.
Once we had a surface large enough for eight people to eat on, I needed to figure out where to unfurl it. The second weapon in my arsenal is not a piece of furniture at all — it's a floor plan. Moving furniture is the foundation for turning your entire apartment into a dining room. You might be surprised to see how large your living room is once you take away the couch. Graph paper will show you the way. 
Yes, I know. There are apps for laying out your apartment. Those will work, too, but I have a soft spot for good old-fashioned pen and paper. Mapping out a floor plan ensures I have enough space for guests to move comfortably. Standard measurements for a walkway are about three feet wide, and chairs want about two to three feet behind them for easy access.
Where your couch lives for the night can be functional for a gathering or not. The majority of your dinner party will be spent sitting around the table, so if stashing the couch in an awkward or inaccessible place gives you more room, do it. We were able to make a "cocktail area," which was technically the pass-through to the kitchen, with the couch moved up against a wall and the two chairs at the head of the table turned around. 
When I was first mapping out my ideal layout, I knew we needed to add light, as Los Angeles apartments rarely come with overhead lighting. Our normal living room setup uses an arched floor lamp as the main source, but that was too low-slung for the table.
Enter the versatile folding paper lantern. For under $30 at a party store, you can get a large paper lantern and plug-in socket, which typically come with a couple of ceiling hooks. The lantern functions as a dispersed lighting source and a focal point. The scale of a 30-inch globe makes the table a defined space and brings the ceiling down in a cozy way. An intimate vibe is set. It's pop-up architecture. 
The best part is that paper lanterns fold into practically nothing for storage. 
I also like to pull the solar string lights from our patio and drape them onto the hooks already installed for the lantern. String lights are optional, but they sure add an enchanting appeal.
And there you have it — a one-bedroom becomes a one-dining-room. Changing all your furniture around may seem like a lot, but with a plan and a couple of versatile pieces, you can have an amazing time with your friends. Gathering, especially around a meal, is deeply satisfying. Don't let a small space deter you!