Cooper & Campbell's Cool and Eclectic Shared Room
We
independently
select these products—if you buy from one of our links, we may earn a commission. All prices were accurate at the time of publishing.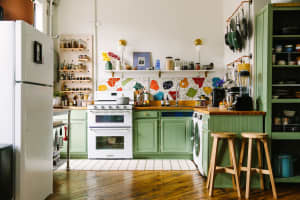 Can't-Miss House Tours Straight to Your Inbox
Keep up with our latest house tours each weekday with our House Tour of the Day newsletter
Boys' Names: Cooper and Campbell
Ages: 7 and 3.5
Location: Atlanta, GA
Room Size: 155 sq. ft.
Danielle started with a very small room so she knew she was going to have to be efficient with the space. She also knew that she didn't want a typical boys' room with tacky transportation themes or cartoon characters. Instead, she wanted something whimsical and colorful for her boys that they could really love and enjoy. She started with a few vintage finds from thrift stores, antique malls, and vintage online sources. Next she delved into a cornstarch fabric decal DIY that she had been dying to try on a large scale. Designing her boys' room turned into a fun, labor of love for Danielle and it really shows.
What was your inspiration for the room?
I didn't have a particular theme for their room, but I had some pieces that provided a starting point for the design. I found the two show posters (the St. Vincent and Phoenix posters hanging above their beds) at Renegade Austin last year and had been holding on to them for the boys' room. The carnival bedding on Campbell's bed was also a source of initial inspiration. I wanted the room to be really fun and whimsical, but still something two little boys (and they are very much BOYS!) would love, without falling into that typical boy-theme rut (i.e. planes, trains and automobiles, with some boring neutral colors thrown in for good measure.) I wanted it to be unique, inspiring and something that would feel a little bit magical for them.
What is your favourite element in the room?
I would say the entire vignette over Campbell's wardrobe. I started collecting various things (months and months before I had the chance to actually redo their room) from antique malls and thrift stores. When I finally started to redo their room, it felt so satisfying seeing all of those random bits come together in such a sweet display. All of their little favorite things came together with my vintage finds in such a whimsical way. It was very important to me that I retain my boys' personalities and objects that they loved, but integrating those things into a pleasing design that wasn't trite. I bought the vintage letterpress tray knowing that I would have the boys fill it with some of their favorite toys. My oldest especially had fun "curating" this little display. I spray painted the tray light blue and also glued patterned paper inside some of the cubbies for added interest.
How is the room similar or different from the rest of the house?
This room actually flows very well into the rest of our home. Our aesthetic throughout the home embraces lots of fun, warm colors, a mixture of patterns and always a vintage feel. The celebration of childhood nostalgia extends throughout the house, which I think keeps our environment very light and happy. Fortunately, my husband supports my love of vintage kitsch and COLOR (or maybe he just gave in?).
Before starting, what did you know you wanted to include, for sure?
There were many things I knew I wanted to include, but I think the number one thing that was on my to-do list for this room was to create something on the walls using the corn-starch fabric wall decal method I had found online many months before. I had tried the method in our Master Bedroom on a small scale and loved the look and how easy it was. I liked the idea of having lots of fabric patterns on a much larger scale and not have to worry about it harming the walls. That's how the sky full of clouds came about.
Were there any surprises? Good or bad?
Having collected so MANY different items over a long period of time for this room, I was a little worried about it feeling like too much. But I love how everything came together in such a rich, layered, yet whimsical way. I love an eclectic mix and I think it works.
What was your proudest DIY?
Definitely the fabric cloud wall! I was worried it would be a daunting task since the project was on such a large scale, but the process really is SO easy. The great thing about these is that they can be repositioned as well, so you don't have to stress about putting something in the "wrong" place and not being able to move it. I had always loved the concept of vinyl wall decals, but didn't love the "flat" quality to them. If you don't use them in a tasteful way, they can come across sort of cheap. But the endless options of patterns and the lovely woven texture of fabric is such a win-win. It lends a much richer quality.
What was your proudest vintage find?
For this room, my favorite vintage find is the blanket on Cooper's bed that I found at a thrift store for $3. The print reminds me of a cross between The Beatles' Sergeant Pepper album cover and the style of the artwork in their Yellow Submarine movie. It's so amazing and unique! I love it. And it was in good shape.
What was your biggest indulgence?
I would say the vintage handmade lamp next to their beds was definitely a splurge. It was so unique and one-of-a-kind (the owner made it!) that I couldn't pass it up. Also, the money I spent on the fabric for the cloud decals. As we all know, fabric can be costly! Especially when you throw in some Japanese imports.
If money was no object, what would your dream source be?
To buy vintage pieces for all of the furniture. I usually save my splurges for accent pieces since they really add personality to a room. Furniture is most often purchased at IKEA at our home. Although I did buy the vintage end table for a great price and I love the extra bit of personality it adds to the room! Also, buying inexpensive furniture for kid's rooms just makes more sense since they are hard on furniture.
Resources
• "Clouds": DIY fabric and cornstarch project found on How About Orange
• Fabric: Whipstitch and Intown Quilters in Atlanta
• St. Vincent Poster: designed by Farley Bookout
• Phoenix (balloons) poster: designed by Tad Carpenter // Vahalla Studios
• Vintage board game box cover hanging on clothes line: flea market
• Lamp: vintage Etsy
• End table: vintage from Highland Row Antiques in Atlanta
• Pillow case on Cooper's bed: made from Dr. Seuss fabric by my mother-in-law
• Cooper's comforter: found at thrift store locally
• Campbell's bedding: kukunest
• "Sweet Dreams" banner: banterbanner
• Vintage letterpress tray/curio cabinet: Happy's Antiques in Lilburn, GA
• White mod shelf: vintage from Kudzu Antiques in ATL
• Cat screenprinted stuffie: Jane Foster
• Fabric Elephant & Lion softies: Alice Apple
• Vintage Portuguese child's painter's palette: vintage Etsy
• Vintage child's chairs: Highland Row Antiques in Atlanta
• Shadow boxes: way basics
• Vintage Fisher Price pop-up camper set: ebay
• Fox with pencil/boat print: joutomaa
• Vintage map: oldmapsandprints
• Red polka dot small suitcases: old from Land of Nod
• Stuffed monkey: old from Old Navy
• Arrows: DIY
• Curtain hanging in front of closet: old Pottery Barn
You can find Danielle in a variety of online locations including her blog Thompson Family (see more of her charming home in this post!). Wait until you see her dollhouse-inspired office for starters. Visit her Etsy Shop Tiny Bazaar here. And see what she's been up to at Kitschy Digitals here. And guess what? Danielle is the newest contributor to Ohdeedoh so look for her here!
Have you seen our Nursery & Kids Room Submission Form? In addition to working with some readers to feature full tours, we will also share the best as "My Room" posts on Ohdeedoh — short, quick tours of great rooms. Submit yours right here.