This 15-Minute Challenge Will Change the Way You Look at Decluttering
We
independently
select these products—if you buy from one of our links, we may earn a commission. All prices were accurate at the time of publishing.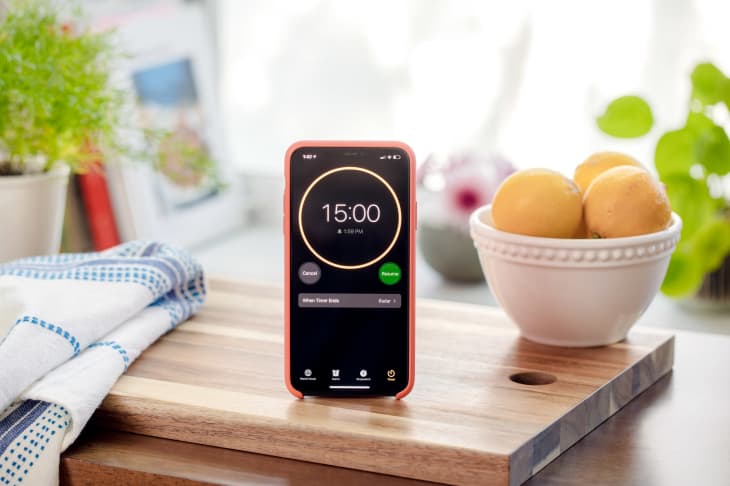 Apartment Therapy's Decluttering Cure is a free two-week decluttering program that'll help you achieve a tidier home. Joining us today is guest cure-ator Shira Gill, a professional organizer, author, speaker, coach, and content creator in the San Francisco Bay Area. She has helped thousands of people reduce clutter. Her debut book is "Minimalista" and her second book, "Organized," comes out in 2023. 

When it comes to cleaning and decluttering, time is an important element. There are only so many hours in a day and deciding how you spend your time can be a balancing act.
The good news is that even a small amount of time can make a big impact and help you build momentum, especially when it comes to decluttering. Right now, all that you need is 15 minutes and a little help from today's guest cure-ator Shira Gill, who has been professionally organizing homes around the world for 15 years.
Day 4: Take this 15-minute challenge to knock out a decluttering project
Today, we're going to do Gill's 15-minute win, a tactic that helps break things down into tiny approachable tasks that feel more doable. "It's kind of a simple, no-brainer exercise, but it's pretty shocking how effective it is," she says. Gill created this technique after realizing how insurmountable decluttering can be for her clients. 
Here's how you can do the 15-minute win to challenge yourself to declutter something today:
Pick one small decluttering project you've been putting off.
It can be anything, but Gill recommends that you start small. Declutter a catch-all basket in your living room, your bed linens in your closet, or your sock drawer in your dresser. Whatever it may be and whatever you feel capable of doing, what matters most is that you stick to just the one. "No multitasking," she urges. 
Now, grab your phone, a kitchen timer, or your smartwatch so that you can set a timer for 15 minutes. Before you begin, silence notifications and any other distractions. This is your focus time.
Gill says this is a crucial part of the process. Whenever you find yourself struggling, let that feeling happen. Take a breath and allow for the resistance, shares Gill, and instead of using this as an excuse to stop, quit, or procrastinate, you're going to be OK with this feeling, move forward, and take action in spite of it. You can do this!
See what you can do in those 15 minutes and challenge yourself to just focus on the one task. Take out the contents of the area, sort through it, and decide whether you're going to keep it, relocate it, or get rid of it (remember that you have your three outboxes). The task should be small enough that you can complete it in this timeframe, however, if there's more work to do, consider tackling this again another day (and for only 15 minutes).
Don't forget to celebrate. 
"I think in celebrating the little victories that you are proving to yourself that you are a person capable of getting organized [and] taking action," says Gill. Then, if you haven't already, take a few minutes to intentionally put things back and throw away trash, which will allow you to reset your space and tie everything up in a bow at the end, she shares.
GILL'S PRO TIP: You've breezed through the 15-minute challenge and are feeling good. So now what? With all the decluttering that's happening — and will continue to happen — consider creating a resource list for all the things you need to recycle or donate. "This could be a 15-minute win of doing the research and writing it down," says Gill. 
Your resource list should have at least three main places nearby, including: 
A general store or non-profit organization that will take most houseware items.
A specific eco-friendly option, such as a textile recycling center or creative reuse center.
A community-based resource, such as your local buy nothing, parent, or neighborhood group.
What did you challenge yourself to do in 15 minutes? Let us know in the comments.
More ways to participate in the Decluttering Cure:
The Cure Program is a tradition here at Apartment Therapy — it happens every January, April, and September. Click here to learn more about the year-round program and when to sign up.