How to Say Goodbye to That Eyesore Drawer You Always Dread Opening in Just 15 Minutes
We independently select these products—if you buy from one of our links, we may earn a commission. All prices were accurate at the time of publishing.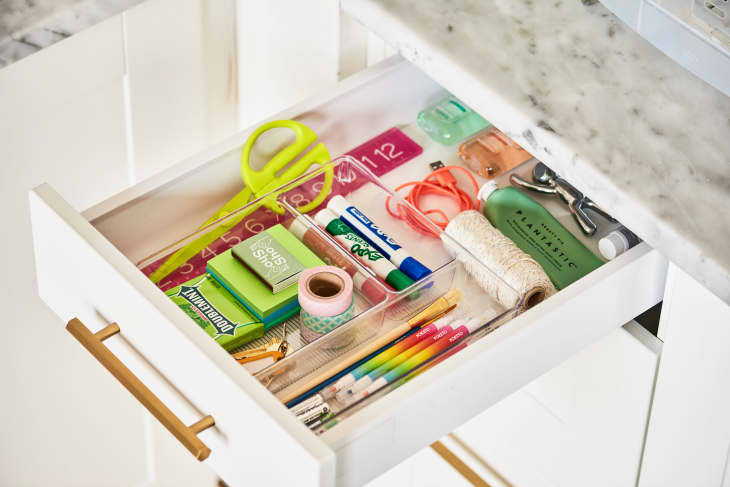 Apartment Therapy's Decluttering Cure is a free two-week decluttering program that'll help you achieve a tidier home. Sign up here and get all 14 assignments delivered to your inbox.
Clutter can collect, grow, and fester in many different places and be so overwhelming that you just don't know where to begin. 
If you participated in yesterday's Decluttering Cure assignment, I hope you're feeling more prepared to take on decluttering. If not, that's OK — you can take a look at it now! — because today we're going to start small. 
Sometimes, that's all it takes to help you move forward.
Day 3: Declutter an eyesore drawer
Today, all you're going to do is tackle an eyesore drawer. You know the one. The junk drawer, work drawer, mystery spot — whatever you may call it, it's the place where everything and anything goes and every time you open it, just the sight of it makes you feel anxious. Mine is in the kitchen (top drawer on the left) and it's home to receipts, miscellaneous tools, batteries, random thingamabobs, and so much more. 
First, take everything (and we mean everything) out and put it through the five-question assessment. Utilize your outboxes when you want to relocate/revisit, donate, or sell things (if any). Discard any trash or unwanted items. Wipe down and clean the drawer and any items going back in it that may have collected dust. Then, put things back in an organized fashion. Yes, it's really that simple and it won't take nearly as long as you expected it would, promise.
PRO TIP: If you don't already have drawer inserts and feel that these could serve you well going forward, consider purchasing them now so that you'll have some organizational tools to keep you on track going forward. You can find drawer organizers designed for office clutter, cutlery or common kitchen knick-knacks so keep your specific needs in mind when you shop. You'll find our editors' favorites here.
Do you have an eyesore drawer or spot? Tell us where it is in the comments.
More ways to participate in the Decluttering Cure:
The Cure Program is a tradition here at Apartment Therapy — it happens every January, April, and September. Click here to learn more about the year-round program and when to sign up.