7 Things You Don't Actually Need to Worry About During Your House Hunt
We independently select these products—if you buy from one of our links, we may earn a commission. All prices were accurate at the time of publishing.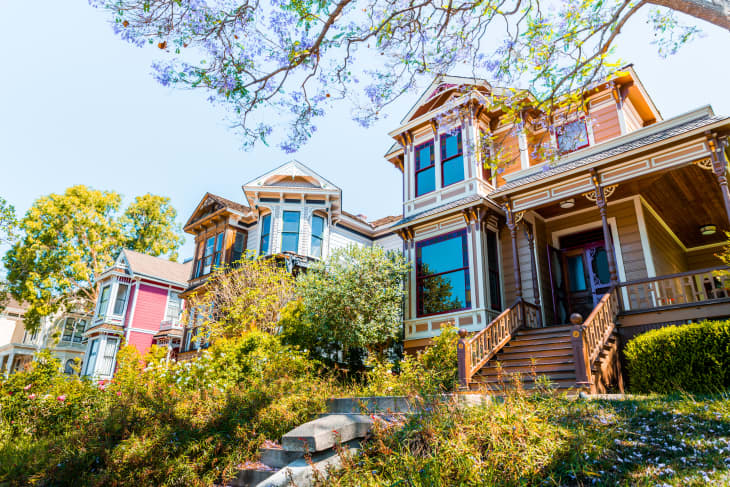 Buying a home is stressful even in the best buyer's market conditions. But when homes are flying off the shelf at a record pace, with bidding wars and crowded open houses to boot, it becomes downright overwhelming.
Follow Topics for more like this
Follow for more stories like this
Fortunately there are a few elements of homebuying stress you can cross off your list. I chatted with real estate experts to get the scoop on the low-priority things you don't actually need to worry about, from landscaping to pricing.
"Realistically, buyers can't be aware of everything and hold down a day job," says Nicole Rueth, a Denver-based lender with Fairway Independent Mortgage Company. "So, the second-best option is aligning with a strong A-team, consisting of a knowledgeable Realtor, lender, and inspector. The A-team Realtor is then relying on a strong title company, while the A-team lender needs a great appraiser." 
Trying to Time the Market Perfectly
When you're searching for a home to live in, you should absolutely spend some time researching (or talking to your lender or real estate agent about) broader real estate trends in your area — but you shouldn't live and die by trying to time the market just right, says Rueth. 
Instead, let your own personal finances and readiness determine when, where, and how you buy a place.
"Buying on the dips is an investor's game," she says. "Real estate is a long-term investment and a roof over your head. Buy when your time is right, not the market's timing." 
Too often, Omaha-based real estate agent Ryan Renner encounters buyers who are consumed with trying to figure out how much money they'll make when they eventually sell their new home in the future. And while it's definitely important to consider resale value when buying a house, it can be counterproductive to focus solely on your home's potential for making you money.
"When you worry about the investment value of a home, you sometimes buy a home you don't love or in an area you can barely afford," he says. "It's OK to worry about how easy the home will be to sell in five or 10 years, but don't obsess about how much profit you will make."
Though it's wise to set a budget and stick to it during your house hunt, remember that everything is negotiable, especially the list price.
"Within a reasonable range, buyers can, to some extent, disregard the listing price," says New York City real estate agent Kate Wollman-Mahan. "List prices are not the same as contract prices. They can be negotiated with a good agent and might be more of a reflection of the seller's ambition rather than what the market will bear. Not that a buyer should be looking at a unit twice their budget, but they should be open to searching outside of their desired range."
Bad (or Non-Existent) Landscaping
If huge shrubs are crowding the front door or overgrown trees are dangling precariously over the roof, resist the urge to turn and run, says Ellen Sykes, a real estate broker in New York. Bad landscaping is just a distraction that you can easily fix once you move in.
And if there's no landscaping? That's also a quick fix.
"A visit to the nursery can take care of that," she says. 
How Long It's Been on the Market
As the housing market starts to cool off, homes are now staying on the market longer than they have been for the past two years, says real estate broker Kimberly Jay. But that doesn't necessarily mean there's anything wrong with them.
"Perhaps the home was listed too high, and the sellers were not ready to sell or accept a lower offer," she says. "Or maybe the seller is concerned that listing at the right price will bring in even lower offers. If you like a home, make an offer. Don't be embarrassed."
Though it can be challenging, try not to worry about clutter, bad paint colors, dirty windows, dated appliances, and other cosmetic issues that draw your attention when touring a house. Instead, take a more zoomed-out approach to the house and the property as a whole, suggests real estate agent Mihal Gartenberg.
"How do you feel in the home?" she says. "Does the floor plan make sense? Do you like the view? It's easy to get caught up and expect perfection, but it's rare to find a home that you don't want to change, just a little bit, even if you're happy to move in as is."
There's an age-old bit of real estate advice that recommends prospective buyers talk to nearby residents to get more context about the neighborhood and the home itself. And while this intel can certainly be helpful, it's also important to take it with a grain of salt and do your own research, says real estate broker Ian Katz. 
"A neighbor's feedback can be constructive and offer an objective insider view, but often, the neighbor will have too emotionally charged feedback about the premises based upon a bad relationship with the seller, the seller's pet, the co-op or condo board, the landlord, or because it's just their personality," he says.