I've Found a $13 Product That Makes Laundry Day 10 Times Easier 
We
independently
select these products—if you buy from one of our links, we may earn a commission. All prices were accurate at the time of publishing.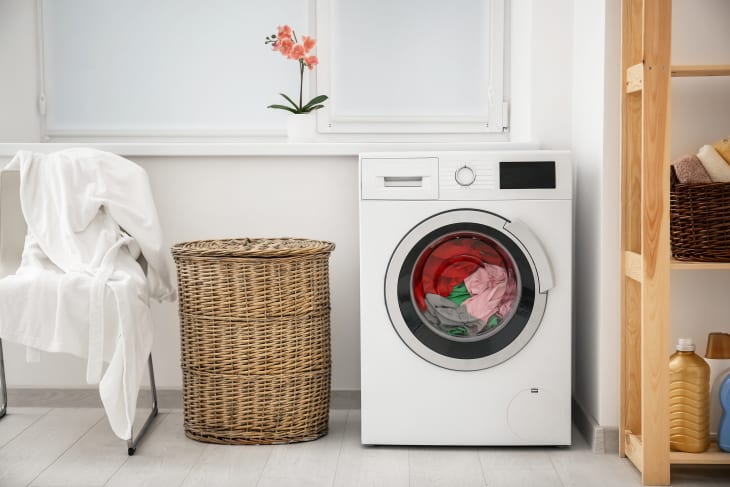 There is nothing quite like the feeling of pulling a load of warm laundry out of the dryer, burying your face into it, and breathing in that fresh out-of-the-wash scent. It's actually the only thing I enjoy about doing laundry (other than having clean socks and underpants, of course) and something I have spent the past several decades doing with every load I do.
This is why I feel confident in saying that I've found the best product on the market to ensure that my laundry not only smells great but that it's absolutely clean when I press my face into it. Downy Rinse & Refresh is a laundry additive that I discovered by accident almost a year ago.
As a mother with three kids and an oversized dog, I spend a lot of time trying to get our laundry as clean as possible, and I was curious about what the Downy Rinse & Refresh had to offer that my normal routine of detergent plus a booster (both Biz and OxiClean have been lifesavers since my kids started playing sports) wasn't already providing.
As it turns out, a whole lot. The very first thing I noticed was that all of my laundry had a pleasant smell after I used it. Ever since my kids were younger I've avoided adding anything with a ton of fragrance like scent beads because I didn't like the way they seemed to "mask" other odors or how they'd feel "heavy" on my clothes, almost like some of the product hadn't been rinsed completely away during the wash cycle.
Instead, after using Downy Rinse & Refresh — I use cool cotton on all of our clothes and fresh lavender for our linens — I felt like my wash smelled more like clean fabric than anything else. Not only that, but my laundry continued to smell good, even after multiple uses too. Previously, no matter what tricks or hacks I use with my towels they always seemed to hold onto a wet sort of musty smell, even fresh from the wash. But with Downy Rinse & Refresh, not only was that musty odor gone, but my towels also felt fluffier and less bogged down by leftover product residue.
I also noticed that my laundry looked brighter after each wash. Between dirt, hard water buildup, and bleeding fabric dyes sometimes my whites come out looking less-than-white. When I began adding Downy Rinse & Refresh to the wash cycle I definitely noticed that the appearance of our clothes benefited as well!
You only need to add a small amount to the wash (I use less than a capful and pour it into my fabric softener slot, just be sure to never combine it with fabric softener) and I've gone through about seven bottles of this since Downy launched it back in 2022. Even when I've been forced to cut costs elsewhere in our budget, I still include this on our shopping list each month and I don't see that changing anytime soon unless my kids suddenly get real good at using napkins instead of their clothes while they're eating.