Drew Barrymore Gave Fans a Glimpse of Her "Normal" Bathroom
We
independently
select these products—if you buy from one of our links, we may earn a commission. All prices were accurate at the time of publishing.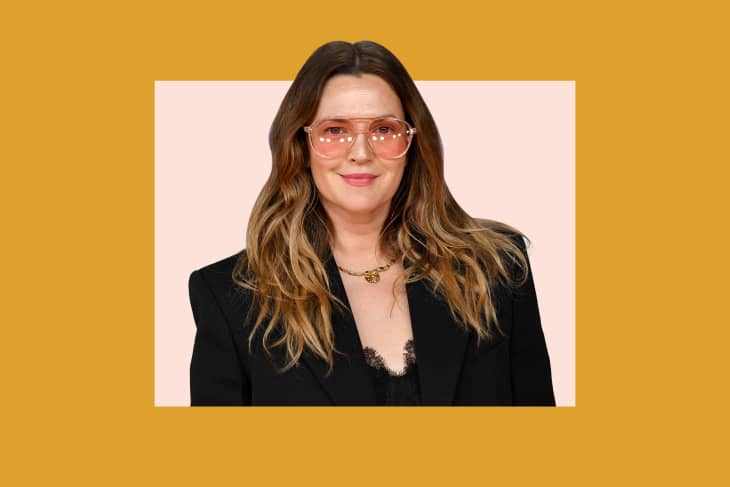 The actress and talk-show host was simply trying to enjoy a moment of self-care recently, drawing a bath so she could shave for the first time in months. But then the alarm in her house went off, thwarting her entire experience. Naturally, she documented it — shaving cream, bath bun, patterned towel, and all.
Still clad in a towel and to the sounds of the house alarm, she told the camera, "You cannot make this stuff up. I was so excited. I was finally shaving after three months. But the house alarm is going off so … "
After the alarm did finally turn off, the 48-year-old whispered in exasperation, "It's fixed," although it seems her moment to soak in the tub had passed. "Well, that bath is just … over," she shared. "I did get to shave, though, under absolute stress and duress and panic. But I got it done. So joke's on you, house alarm!"
In the caption of her post, she addressed the unfortunate hilarity of it all, writing, "You can not make this stuff up! Just a moment that I will not let get the best of me … I'll laugh instead."
And while fans obviously relate to the annoyances that always manage to pop up during a much-needed moment of relaxation, they're also fixating on her bathroom itself, which includes a reasonably sized shower/tub combo with sliding glass doors.
On Instagram, one person wrote: "Why do I love that you just have a regular bathtub and not 1000 ft.² bathroom?" Another called Barrymore "so stunning," adding, "and her bathroom is so … normal??!! I was expecting some gigantic freestanding tub embossed with gold or something."
Yet another wrote, "Drew the fact that this bathroom looks like all of our bathrooms (and not some palatial gaudy thing) sincerely makes all of us adore you." 
Over on TikTok, the same sentiments applied. "My question is … this is Drew Barrymore. And she has this tiny little tub!??? 😂" joked one person. Another wrote: "I love how normal Drew and her house is … honestly just love her so much." Yet another added: "Drew, I really expected a much fancier tub. How pleasantly surprised I am to see one that's so … normal!! Love love love💗"
Barrymore splits her time between New York and Los Angeles, so it's unclear which home has this refreshingly down-to-earth bathroom setup, but here's hoping she's able to enjoy a stress-free bath very soon.