I Found the Goldilocks of Cooling Pillows and It's on Major Sale Right Now
We
independently
select these products—if you buy from one of our links, we may earn a commission. All prices were accurate at the time of publishing.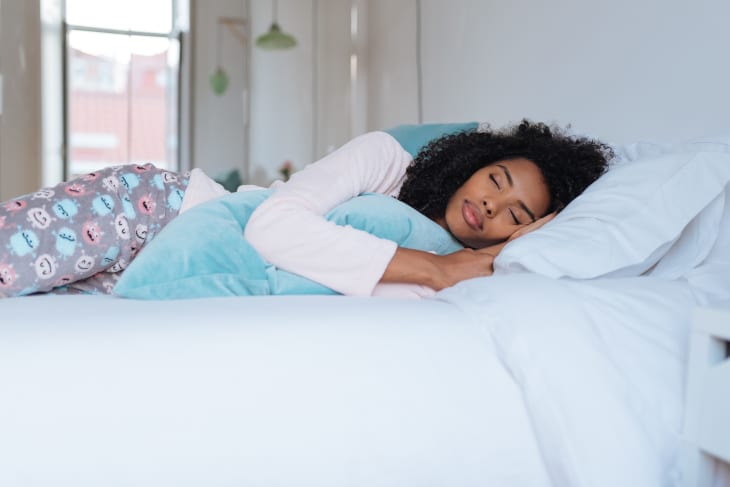 I love a pillow that doesn't get worn out too quickly, and I've found that the longest-lasting ones are those that can adapt to my comfort level. I've tried a customizable pillow, a personalized pillow, a marshmallow-like pillow, and even a pillow that resembles an ice block; and each comes with its own special set of benefits that I'm confident will hold up over time. More importantly, I need them to stay comfortable in all that time, too. I don't take my rest lightly, and I can't sleep on a pillow that doesn't give me a grade-A snooze. My mornings start early, and I'd like to wake up on the right side of the bed as often as possible. I have a few pillows I love already, so when I had the chance to test out the Easy Breather Memory Foam Pillow from Nest Bedding, my expectations were already high. I'm glad to say that it not only met my expectations, it surpassed them.
The Easy Breather Pillow arrives at its firmest. It's packed with a mix of memory foam and polyester fiber, and it comes overstuffed on purpose. The point of the pillow is to adjust it to your liking by removing the fill, and it even comes with a complimentary cloth bag to hold any fill, in case you want to add it back in later. The pillow cover is cooling and washable, so you end up with a versatile pillow that won't need to be replaced as quickly as others, which saves money in the long run. I was really impressed with the shape of the Easy Breather Pillow. It's discreet and smart to give it a slightly square shape that's more evident when it has more fill inside of it. I've become more of a combination sleeper these days, alternating between my stomach and side, so a firm-but-not-too-firm pillow is perfect for me. To accomplish that with the Easy Breather Pillow, it just meant taking out a fraction of the fill to make it softer while preserving a supportive level of firmness.
The cooling cover is another big plus for the Easy Breather Pillow, especially for hot sleepers. It's breathable and temperature-regulating, so I never had that urge to flip the pillow to its cool side, because it didn't get too hot. And thanks to its moisture-wicking capabilities, not once did I get that cheek-sticking-to-the-pillow feeling that comes when the bedroom gets too stuffy. The super-soft cover is made from Blended Adaptive cooling fabric, spandex, and polyester; and the inner pouch is constructed with a simple knit cotton. You can use your own pillowcase, too, and it won't compromise the feel of the pillow at all. In fact, I have mine in a silk pillowcase, cover on and everything. Aside from sleeping, keeping the Easy Breather Pillow densely stuffed makes for a solid yet cozy back rest, if you're like me and spend time sitting up in bed reading or watching TV.
The strength of the Easy Breather Pillow is in its versatility. By being so easily adjustable, it caters to every type of sleeper from back to stomach, both in shape and feel. Realistically, you could get one for everyone in your household and all of them could be different, based on everyone's preferences. Now couldn't be a better time to get your hands on one (or a few) because this adaptable memory foam pillow is 10 percent off as part of Nest Bedding's limited-time sale. For less than $100 per pillow, it's a huge win for personalized, restful sleep!