I Tried the Marshmallow-Soft Pillow That Works for Any Type of Sleeper — and It's Totally Worth the Hype (It's on Sale)
We
independently
select these products—if you buy from one of our links, we may earn a commission. All prices were accurate at the time of publishing.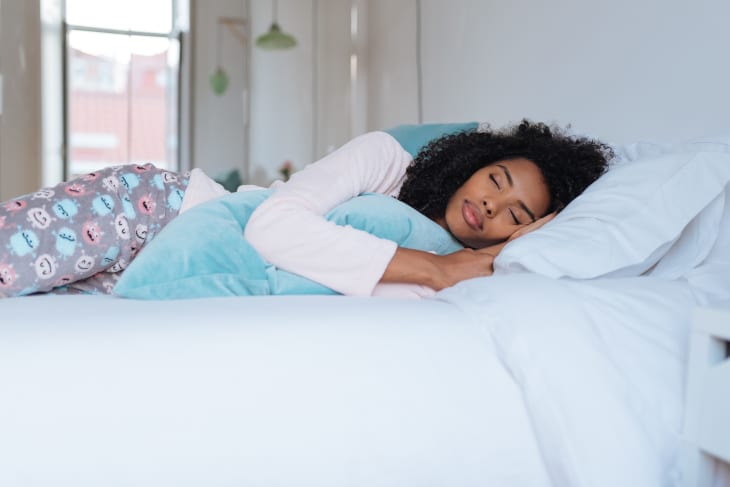 When it comes to how many pillows are too many pillows, I have no limits. The more, the better, I say! That's one reason I love having a job where I get to try out so many different kinds of sleep-related products, including an oversized blanket with a breathable waffle knit texture, a mattress topper with just the right amount of firmness and support, and other essentials that have contributed to many a good night's sleep. Most of it eventually winds up as extra guest bedding, but the best of the bunch earn permanent placements on my bed. Case in point: Cushion Lab's Deep Sleep Pillow, which I first spotted on Instagram. I can be (understandably) wary about products that are thrust upon me on social media, but I'm so glad I took a chance on this one. It's staying right atop my own bed for the foreseeable future!
Straight out of the box, the Deep Sleep Pillow felt like no other pillow I'd ever tried. It's made with dual-density memory foam that's firmer than down but still marshmallowy soft and squishy. It even comes in its own removable — and machine-washable — Freshface nylon-and-spandex cover that mimics the coveted qualities of a silk pillowcase. (If you have a different bedding aesthetic in mind, don't worry! The pillow fits perfectly into any standard-sized pillowcase. For the best results, I'd recommend a zippered, buttoned, back closing, or envelope style pillowcase.)
I usually lay on my back and scroll through my phone before I go to bed (bad habit, I know), but during the night, I'm a stomach sleeper with side-sleeper tendencies. The best thing about the shape of the Deep Sleep Pillow is that it's contoured for comfort for all types of positions. It has high and low neck supports and side-sleeper bolsters that create a cushioned cradle whether I turn to the left or right, as well as ample support when I am on my back. As far as stomach sleeping goes, it is ultra-comfortable. I've was never really a sculpted-pillow person before, but the Deep Sleep Pillow has changed my mind.
Coming in at $135, the Deep Sleep Pillow is pricier than average, but in my opinion, a pillow this versatile is totally worth it — especially when it's on sale for just $85. Right now, you can save up to 40 percent and get free shipping on this pillow and others during Cushion Lab's Presidents Day Sale. I've never before slept on a pillow that made me sigh in relief every time I change positions. I haven't had any recent shoulder or neck aches, and I wake up feeling vacation-level rested. Deep sleep, indeed!

Buy: Deep Sleep Pillow, $85 (originally $135)