This Oversize Blanket Is Surprisingly Breathable and Perfect for Hot Sleepers Like Me (Bonus: It's on Sale!)
We independently select these products—if you buy from one of our links, we may earn a commission. All prices were accurate at the time of publishing.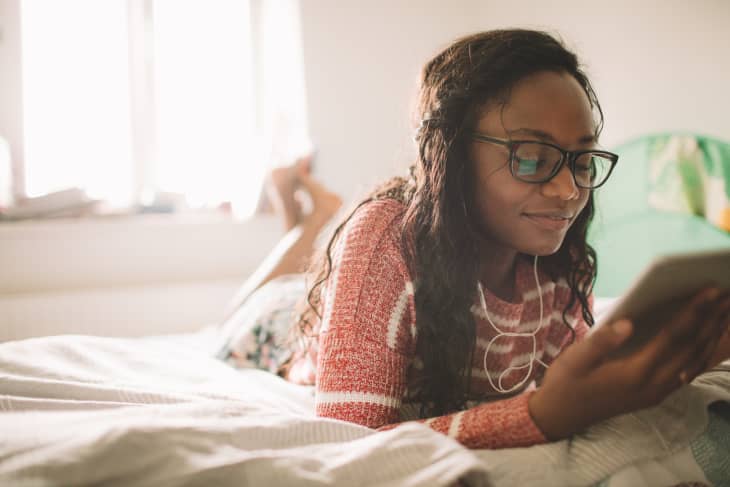 At home, do you have that blanket? It's the one you reach for when it's cold, when it's nap time, when it's a lazy day, when you're outside, or any other time you want an added layer of coziness. If you don't live alone, it's likely the one that everyone fights over because it's the BEST. I love a good blanket that I can take anywhere without thinking twice about whether or not it should leave the bed. Sure, most blankets can easily be washed at home; but let's be real, there are some you just don't want to even risk getting dirty.
When I received the 365 Blanket from Muslin Comfort, I knew right away that it was destined to become a new staple in my life. If its five-star rating (and over 5,000 reviews) aren't enough proof that it's the blanket of champions, here's what my experience with it has been since bringing it into my home.
When the 365 Blanket arrived, I had to give it a 10 out of 10 for presentation. It comes rolled up like a cozy sleeping bag and is held together by a band of twine, so it already looks homey and welcoming for a snuggle. My chosen hue — marigold — is a gorgeous yellow that's not too light or too dark and easily blends with both neutral and bold decor. It's also a sought-after shade, so snagging it while it was available was a must. Fortunately, the blanket comes in 10 other beautiful colors, including Arctic White, Raw Sugar, Earthy Grey, Rust, Sage Green, and Phantom Black Luxe.
There are a number of ways that the hypoallergenic 365 Blanket can be used, simply because of how it's made. The all-natural 100 percent muslin cotton creates a lightweight-yet-substantial blanket, while the waffle weave adds a rustic quality and makes it refreshingly breathable (which is much appreciated when you live down South). It keeps me cool while I sleep and warm while I'm just lounging around in the living room. On top of my bedding, it adds a comforting pressure that has given me deeper, more restful sleep without any unpleasant night sweats. As an everyday blanket, it's fun to bundle up like a burrito and veg out for an afternoon on the couch. I can also imagine (though I haven't tried it myself) that the 365 Blanket would make a pretty enviable blanket fort. 
As far as dimensions go, the 96-by-96-inch oversized full size is large enough to cover a queen mattress, but the oversized queen blanket will cover a mattress and box spring combo. If you're like me and have a low platform frame, it'll at least give your bed an added touch of drama. The blanket is pre-washed and pre-shrunk, so you can rest easy when it comes to throwing it into the wash on laundry day. In fact, it'll only get softer!
Getting your hands on the durable 365 Blanket could be challenging due to its popularity, but not impossible (there's also a throw blanket equivalent you can check out too). This blanket is so good that I'm thinking about gifting it to a few friends and family. My mom keeps mentioning that she wants to refresh her throws, and this could be the perfect time to take the hint…
Good news: You can now score the 365 Blanket for 20 percent off with the code, FIRE20! Just be sure to apply the code at checkout, and act quickly — especially if you've got your sights set on a bright and bold color. They're going fast!