I Tried This Ridiculously Comfy Mattress Topper and Now I Want to Stay in Bed as Long as Possible in the Morning (and It's on Sale!)
We independently select these products—if you buy from one of our links, we may earn a commission. All prices were accurate at the time of publishing.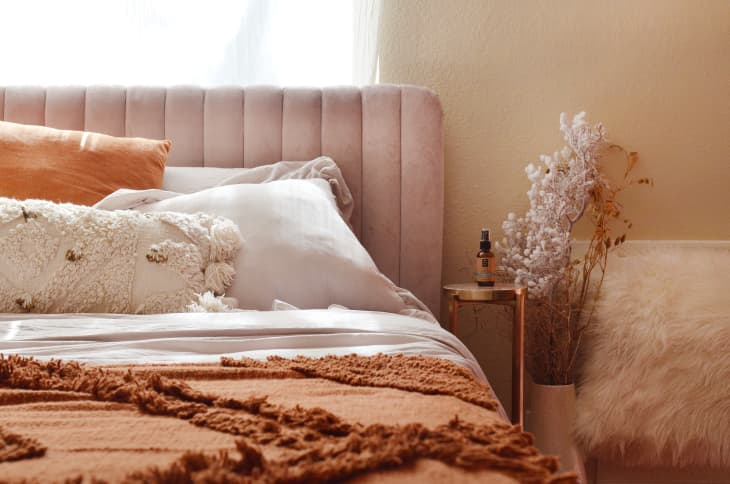 With the coziest seasons of the year just a few months away — or already here, depending on where you live — it's never too early to start preparing your space for shorter, cooler days that make you want to bundle up for months. For me, that means making my bedroom the best it can be since it's where I spend most of my time when I want some quality R&R. I've got it decked out with charming curtains that are perfect for fall and winter, a bed frame I love, and sheets that I think everyone should have at least one set of in their linen closet. But wait, there's more: TEMPUR-Pedic introduced new versions of their mattress toppers a while ago, and I finally got my hands on one to try out for myself. It didn't take long for me to realize the TEMPUR-Adapt Topper was an addition to my bedroom setup that I absolutely couldn't pass up. And I have great news: Right now during the brand's sale, you can score this bedroom must-have for 40 percent off — plus, you'll get a free Cloud Pillow and sleep mask with your purchase.
Follow Topics for more like this
Follow for more stories like this
If you've wanted to try a TEMPUR-Pedic mattress, but shied away from the cost, the TEMPUR-Adapt Topper is the next best thing. It's an upgraded version of the editor-loved TEMPUR-Topper Supreme that uses the same materials found in their best-selling mattresses, which means you can get a similar feel for a quarter of the price. As someone who's slept many nights on the TEMPUR-Cloud Hybrid Mattress, the comparison checks out! Unpacking the topper was extremely easy: The box is understandably on the heavier side, but it's surprisingly compact since the topper itself is folded, rolled, and wrapped snugly to fit inside. Still, I was able to unbox it on my own and place it on top of my mattress without difficulty. Once opened, the topper can be slept on immediately, but it doesn't reach its full size for 24 hours so it's best to give it time to expand. Of course, I couldn't resist laying on it after a few hours to see what was in store, and just a hint of the topper's marshmallowy softness was enough to make me look forward to sleeping on it when it finally reached its total height of three inches.
With the help of four Staytight Corner Straps, the TEMPUR-Adapt Topper was secured to my mattress and further stabilized by my mattress protector. The topper covered the expanse of my Queen-size mattress with ease, which was a relief since most of my hesitation with mattress toppers has been centered on poor or improper coverage. However, thanks to the topper's built-in straps, a mattress protector, and a fitted sheet, it was like the TEMPUR-Adapt was simply an extension of my mattress that elevated it in both size and comfort. A fitted sheet would have sufficed on its own, but I highly recommend a mattress protector whether you have a topper or not for the sole reason that it helps to prolong the lifespan of your mattress by keeping it safe from stains, mold, and general wears and tears from everyday use. The TEMPUR-Adapt Topper is dust-mite and allergen-resistant, and even has a removable cover that you can toss into the washing machine to keep it looking as good as new.
You're probably wondering how the TEMPUR-Adapt Topper compares to its predecessor, the TEMPUR-Topper Supreme. Contributor Jasmine described her first impression of the Topper Supreme as such: "The initial feeling of firmness was eventually followed by a blissful submersion into peaceful rest." I wouldn't say that the TEMPUR-Adapt is firm upon impact, but it's not overly soft either. It falls somewhere delightfully in-between in that there's a gentle sinking into the topper when you first lie down on it that almost immediately settles and firms as you get comfortable. I could tell that the topper was adjusting to my movements, which meant that I wasn't tossing and turning trying to find the most ideal position to relax. My sleep wasn't interrupted by any discomfort and I didn't wake up feeling as if I'd been fighting to stay comfy throughout the night.
The topper maintained its cozy support and conformed to me, no matter how I slept. That can be attributed to the additional 50 percent of TEMPUR material in the topper that, according to TEMPUR-Pedic, provides more personalized support. The feel of it reminded me a lot of my Deep Sleep Pillow, which was a good sign from the start because I've gotten some of my best sleep ever on it. Additionally, if you tend to sleep hot (like me), there's an option to add a cooling feature to the TEMPUR-Adapt Topper to keep the heat at bay. Personally, I don't have the cooling topper and haven't had an issue with overheating, so it's best to gauge for yourself whether you'd like to add that feature or not.
Considering that the TEMPUR-Adapt Topper can also be used separately from your bed as an added layer of comfort for a sleeper sofa or even the floor, you get a lot out of it for the price, especially since it's on sale. (Although, I don't think you're going to want to share it after you sleep on it for yourself!) It's great for those who prefer a soft-but-firm feel for their bed and don't have the extra cash to shell out for a brand-new mattress. I've only spent a short time with this topper, but I'm already looking forward to the dreamiest nights of sleep ahead.