I Only Have 7 Colors and 2 Patterns in My Closet — Here's How It Keeps My Space Permanently Organized
We independently select these products—if you buy from one of our links, we may earn a commission. All prices were accurate at the time of publishing.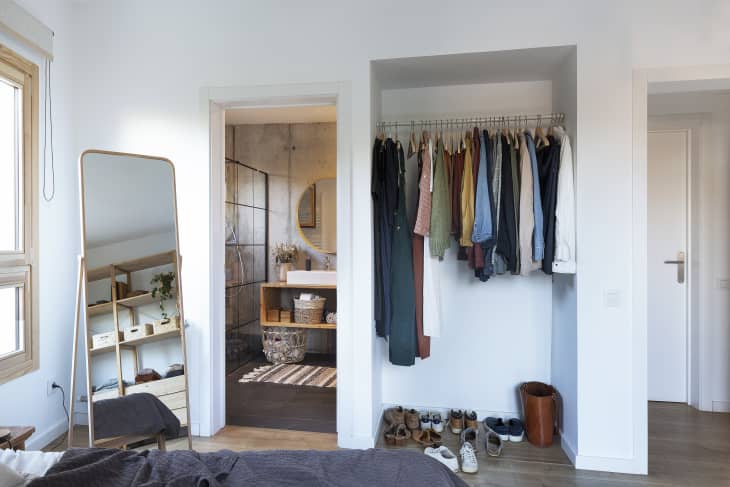 I'd like to preface this by saying I'm in no way, shape, or form a fashionista. So if you were looking for style advice, I might disappoint you. However, if you're looking for a way to get and keep your closet organized, I'm your girl.
Follow Topics for more like this
Follow for more stories like this
Always on a quest to be more efficient, I noticed I was reorganizing my closet a little too often. I'd set aside weekends, especially around the change of seasons, to pull everything out, make donation piles, and try something new because I didn't like how my last system worked. Another thing I realized, as I went through this process, was that I kept donating similar stuff over and over.
The culprits were colors that I didn't like but felt obligated to have (a red dress for the holidays) or patterns that were trendy but didn't flatter me (floral blouses that aged me). It got me thinking about my personal style and why I kept buying things that would wind up at my local Goodwill, sometimes still with tags. And why I always had plenty of clothes but no actual outfits to wear.
Fast forward to now and my closet consists of only seven colors and two patterns. It's in a perpetual state of tidiness, I haven't reorganized it in a very long time, and it is, if I can be a little dramatic, my pride and joy. (Just don't tell my dog.)
How did I get here? I focused on finding solutions to the problems I was facing.
Buying things I didn't love in the first place
This is a common problem. There's a "keeping up with the Joneses" mindset that seems to be intensifying with the rise of influencers pushing products. I was buying clothes that were being advertised by them or the brands as "in" at the moment, whether I liked them or not. Some things, such as the quintessential red Christmas outfit, were the result of assumption. I grew up thinking I had to wear red for the holidays so I needed to buy something new in that shade every year. Don't get me wrong, I don't mind rocking a red dress but in the future, I'll rent or borrow one from a friend instead. Once I stopped buying things because other people or past experiences told me to, I could focus on what I did like to wear.
Finding my signature style
This was a bit trickier because, as I said, I'm not a very stylish person. I enjoy fashion when I see it but it doesn't exactly excite me. Still, I got to work and followed influencers (it's fine when it's done with intention) whose style spoke to me. I created a mood board with photos of them or ones I found on Pinterest. I started to see a pattern (pun fully intended) and that was that I was drawn to classic solid pieces, neutral colors, and feminine touches like bows and ruffles mixed with edgier pieces like raw-hemmed denim and moto jackets.
This led me to rid my closet of everything that didn't fit my style and kept me from buying anything I didn't love ever again. My clothes instantly became easier to organize since the lack of patterns made color coding a breeze. Putting outfits together also became easier since I could see everything and it all mixed and matched. This prevented me from panic buying for every new event or night out. Overall, less came in, and less went out. Now, I actually love what I own rather than trying to fit into something that simply wasn't me.
Boring? Maybe. But does it work? Absolutely. If your closet is full of things you don't love, figure out why and then take action. Going forward, only buy items that fit into your style and rent or borrow something when you want to be a little adventurous. Trust me, it works.
And, in case you were wondering, the colors I own are white, black, tan, gray, blue (in all shades), blush pink, and army green, while the patterns are stripes and leopard print.