Everything You Need to Know About Elevators in Homes
We independently select these products—if you buy from one of our links, we may earn a commission. All prices were accurate at the time of publishing.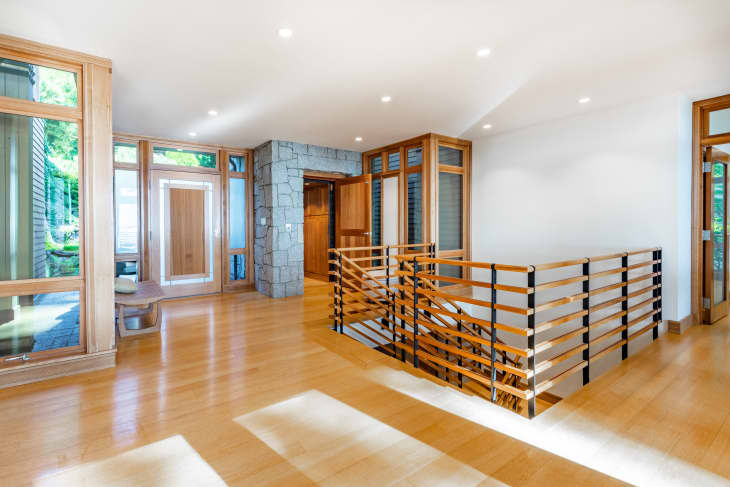 Follow Topics for more like this
Follow for more stories like this
Residential elevators are uncommon machines often designed for multi-level, high-end homes, condos, or apartments and generally operate up to five stops or 50 feet. There are several types of elevators, such as hydraulic, traction, machine-room-less, and vacuum.
"The big difference between a residential elevator and a commercial elevator is where it can be installed," says Patrick de Ledebur, the Sales and Marketing Manager for Pneumatic Vacuum Elevators, the sole manufacturer of the world's only air-driven home elevators. 
While there is no distinctive difference between commercial and residential elevators, commercial elevators are more common, and have greater safety benchmarks and installation requirements, due to their size and capacity. However, home elevators are often more customized and aesthetically pleasing. 
"Home elevators often match the overall scheme of the home," says Randy Sullivan, a founding partner of Gatehouse Partners, who has installed numerous residential elevators. 
The cost of installation depends on the number of floors, but prices generally start at $30,000, Sullivan says, who recently completed an all-gas unenclosed elevator that topped $150,000. 
Advantages of a Home Elevator
Home elevators are becoming more prevalent, de Ledebur says. The lifts improve the accessibility to different floors for those who use them, such as elderly people, people with disabilities, or those who are injured. 
"We live in an era where people want to age in place," he says. "People are getting older… [and] want to know that when they purchase a home that they're able to stay in it long-term, particularly the Baby Boomer generation. It's one of the largest populations in the U.S., and they're typically the ones that actually own homes." 
Others may build an elevator to improve a home's functionality. For example, a client whose kitchen and hosting areas are on different floors may have an elevator to easily move food and other items through the property, according to Sullivan. "It's only a pro if you can afford it," he says. 
Home elevators are state-regulated and require an initial inspection to operate. Afterward, the installer provides a yearly maintenance check, Sullivan says. 
Some homeowners and architects are constructing new homes with the elevator shaft in the design, which makes it more readily available in the future. This element increases the value of the home and makes the potential renovation project less expensive, Sullivan says. 
"If you are doing new construction and don't want to spend the money to put it in now, they're increasing the value of the home by building the shaft for the next owner to put it in," he says. 
Installing a Home Elevator
A home elevator shaft needs to be about the size of two large refrigerators, according to Sullivan. The shaft usually extends from the basement or ground floor to the top level. 
To install, contractors build a pit below the bottom level, which allows space for the mechanism of the elevator, Sullivan explains. The elevator is complete with wiring and blocking in the walls, which holds the structure in place. 
Elevators can be installed in new construction or added as a redevelopment. However, more structural work is needed after the home is built, Sullivan says. In a renovation project, a crew will have to consider knocking down walls or relocating equipment to build the elevator shelf, which will impact the overall cost. 
In contrast, the pneumatic vacuum elevators require less space and machinery and operate more like a freestanding appliance, de Ledebur says. Pneumatic elevators do not require a shaft, pit, or machine room, but rest on the existing ground floor and plug into a 220-volt outlet, the same electrical usage as a standard-issue washer and dryer. 
According to de Ledebur, the pneumatic elevator system is constructed by modular sections that are stacked vertically through a hole from the top floor ceiling and completed with a mounted balcony, which offers a landing or walkway for the passenger to easily enter and exit the elevator. 
"There are no ropes. There is no attraction. There are no hydraulics," he says. "It's literally the difference in air pressure that lifts you up and down to your specific level."