Here's the Classic Exterior Paint Color That Is Trending Right Now, According to an HGTV Expert
We independently select these products—if you buy from one of our links, we may earn a commission. All prices were accurate at the time of publishing.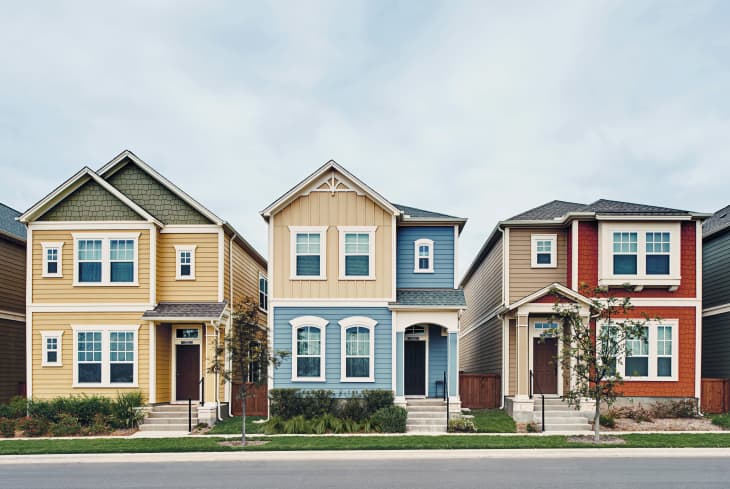 The great thing about painting your home a new color is that you can always paint it another one. But still, in a world where color trends seem to switch before your paint even dries, you want to pick something that you'll be able to live with for awhile. And if you're here because you're trying to figure out what that might be for you, one HGTV expert says to stick with a classic choice — which, conveniently enough, is trending.

In a recent interview with Apartment Therapy, John Gidding, designer and host of HGTV's new show "Curb Appeal Xtreme," revealed what color many of his clients are asking for when it comes to painting the exterior of their home: good, old-fashioned white. "Even though the white house has always been around, it's making a big comeback this season," Gidding mentioned when referencing the new series. "I know this from having homeowners ask us for white homes, and I'm seeing it all over social as well."
But of course, white has a massive spectrum. You'll want to do your research to see how shades of white look on your home during different parts of the day. Before you get to painting the entire thing, cover a small section with samples of various whites to see how they look in real life. Trial and error is key, but ideally this is done before the exterior is completely coated.
"The selection of white is crucial, we ran into this problem ourselves. Is it bright white? Is it off-white? How warm do you go? How cool do you go? It really matters which you pick and the architecture and what the trim colors are that are going to be complementing this white," Gidding explained. "As people embrace this one trend, it's going to reveal itself in a multitude of different ways, because no white is the same, and almost every house looks great in white."
But generally, going with a neutral like white is a safe bet. Not only is it timeless and can mesh with many other pops of color around the exterior, but it can also help if you're in the market to sell (a blank slate is always appealing to an interested buyer with their own vision).

So when in doubt, go with a neutral color like white. And like mentioned above, nothing has to be forever.

"Curb Appeal Xtreme" airs new episodes on Wednesdays at 8/7 central on HGTV.