3 Hacks for Keeping the Family Organized on Pool Days, According to the Pros
We independently select these products—if you buy from one of our links, we may earn a commission. All prices were accurate at the time of publishing.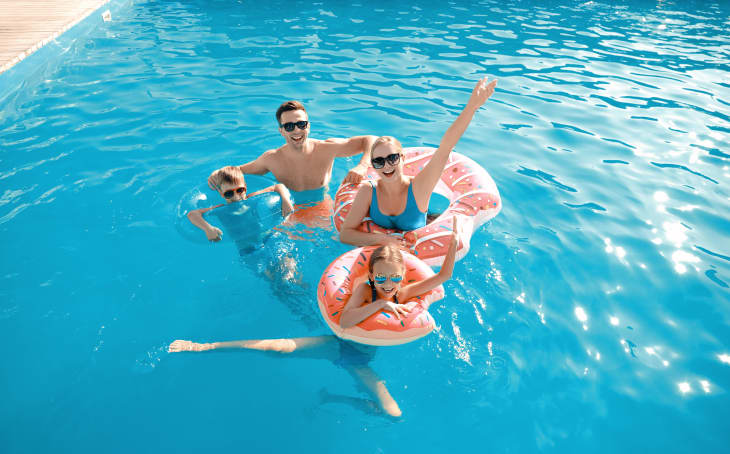 When summer temperatures start to rise, spending a relaxing day at the local (or backyard) pool catching rays and splashing around is top of mind. But overcoming the mountain that lies between getting kids out the door and parents making it to a poolside recliner involves a serious amount of organizing.
Follow Topics for more like this
Follow for more stories like this
Thinking about what you need for the trip also gets in your way. Towels. Goggles. Sunscreen. Sunglasses. Snacks. Drinks. Lunch. Luckily, with a bit of forethought, getting organized for summer days doesn't have to be stressful or chaotic.
Here are three tricks to help you get organized so that you can sit back while your kids splash about much quicker than you imagined possible. 
Pack like a (famous) pro.
This #momhack from celebrity HGTV interior designer and Keter brand ambassador, Sabrina Soto is ingenious. "Since my children are still young, Olivia is six and my step-son, Atlas, is only three, we have a pre-packaged bag for everything. You name it, we have a bag for it," she says. "Specifically for swimming, I'm in love with a water-resistant bag that has dividers or big pockets to allow me to grab what I need on the go." 
She doesn't skimp on packing games, including water rings for Olivia, but also turns to item-free games that don't take any packing power, like Marco Polo, she says. These pre-packaged pool bags, which you could organize by child, makes packing for a day much less stressful.
Soto's tips also include towel bands, which look like large rubber bands and are color-coded for each child. "Keep the towel in place on a lounger and they act as a handle when you wrap them around a folded or rolled towel," she says.
Invest in a beach bag that does your heavy lifting.
Sure, you can throw all your stuff in any old reusable bag you have lying around. But that also means digging to the bottom of it multiple times during your "relaxing" day off, whenever your kids need a different game or a few dollars for the snack shack. 
Pam Clyde, president and professional organizer at BritLin Cleaning says, "The first step is to find a cute yet functional beach bag. Preferably one with pockets to help keep you organized. This one from Amazon is a great inexpensive one to get you started. What I love about this bag is the external pockets for your cell phone, car keys, sunglasses, sunscreen, and water bottles for quick access." 
If you've ever tried to stuff more than two beach towels alongside all of your family's other pool stuff, you know it doesn't really work. So, she recommends simply getting two of these.
Make a highly visible to-bring list.
Every parent has been stuck poolside without an extra swim diaper after an accident or missing their favorite sun hat. This can be avoided, Clyde says, with a simple to-bring list. Post it in a highly visible place, such as near your swim bag or garage door, to ensure you check it on your way out for organized pool days, or take a tip from Clyde and use a sheet protector to keep it right in the pool bag. 
Clyde's to-bring list looks like this:
Shelf-stable snacks (such as granola bars, nuts, trail mix, etc.)
Bottled water
Beach towels
Sunscreen
Sunglasses
Sun hats
Hair ties
Hairbrush
Swimsuits
Cover-ups
Flip flops
Extra change of clothes
Plastic bag to put wet clothes in (the FRAKTA bag from IKEA is a great option) 
Trash bag
First aid kit
Goggles
Pool toys
Floaties
"If your bag is always packed, you'll only need to pack a picnic lunch in an insulated bag, such as a sandwich, raw veggies, chips, paper plates, napkins, etc.," she says. "Once home from the pool, make it a habit to immediately wash the beach towels, swimsuits, and cover-ups so you can restock the bag to make your next outing a breeze."
With a little extra organization and attention before the morning of your pool day, you and your family will actually be able to destress by the pool without the chaos and frazzle.