This Wintery Backyard Addition Has — Wait for It — a 500 Percent ROI
We independently select these products—if you buy from one of our links, we may earn a commission. All prices were accurate at the time of publishing.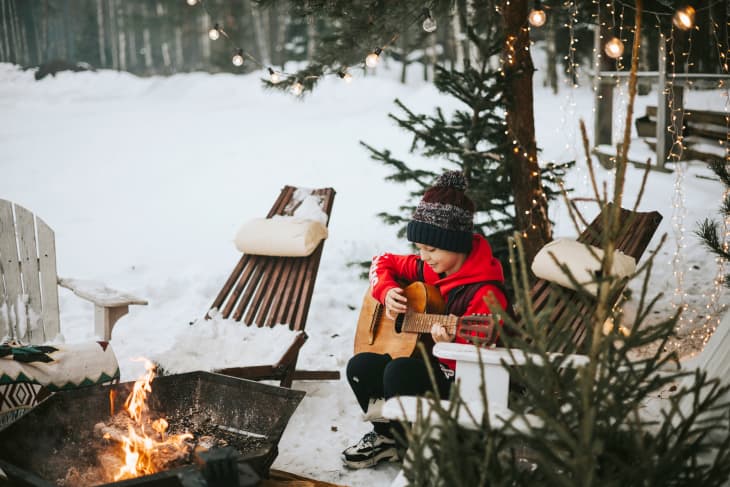 Adding a fire pit to your yard can get you a huge return on your investment. Studies — like this 2018 one from The National Association of Realtors showing that fire pits net a 67 percent ROI, and this 2021 study from Realm showing that those figures have jumped to an astounding 500 percent — show that homeowners more than make back their initial upfront cost when they add a fire feature to their yard.
Follow Topics for more like this
Follow for more stories like this
Of course, a big reason for that is their low upfront cost. You can get one on Amazon for under $100 and you can DIY your way to a toastier yard with things you have around your property. That being said, adding a fire pit to your yard is a great way to extend your indoor living spaces while increasing your home's value. 
Here's how fire pits add value.
You can't just pile up a few logs and call it a day if you want to reap the benefits of adding a fire pit, according to Rachel DiSalvo, broker associate and design consultant. "Just throwing a fire pit in the yard isn't enough of an amenity to make maximum impact when selling a home," she says. "Usually fire pits in conjunction with an outdoor kitchen or awesome in-ground pool with hardscaping is where it shines best!" 
Focus on what the next homeowners will want.
If you're adding a fire pit to your home that you can enjoy now and also benefit financially from later, you need to make sure it meets a few key criteria for your future buyers. "A fire pit is a feature that people gather around, so what people look for is safety, professional installation, and easy clean-up and use. Also, most people looking for a home that has a fire pit are in search of a backyard that offers various gathering spots," DiSalvo says. 
Trends come and go, so avoid going for anything that's newly in vogue and may not have the staying power of more enduring favorites. "One big trend for many years is the gas fire pit," explains Rebecca Gitana, interior designer, show host, and creator of Healing Through the Home. "They turn on and off with the touch of a button or dial and don't require heavy labor to get them going each time." 
Because of their versatility, you can add them close to a pool or place them on a tabletop, making them easy to move to your desired location. "Another trend is the rustic fire pit," she adds. "These styles thrive on fitting into nature and incorporate natural materials and often incorporate a more rounded and fluid look." 
Make sure your fire pit isn't a liability.
DiSalvo says it's important to check local ordinances and your homeowner's insurance policy before getting started. "You can call a company that specializes in the installation of fire pits and offers various high style designs and materials, or you can utilize the 'fire table' available at many retail sites — these are fire pits that are already assembled and can be placed and set up in most yards," she says. "One cost savings option is to utilize one of the many DIY videos on the internet by reputable home improvement stores." Making sure you're creating a fire pit that is built to last will help keep your investment from going up in smoke.