3 Real First-Time Homebuyer Stories That Don't Involve Financial Help from Parents
We
independently
select these products—if you buy from one of our links, we may earn a commission. All prices were accurate at the time of publishing.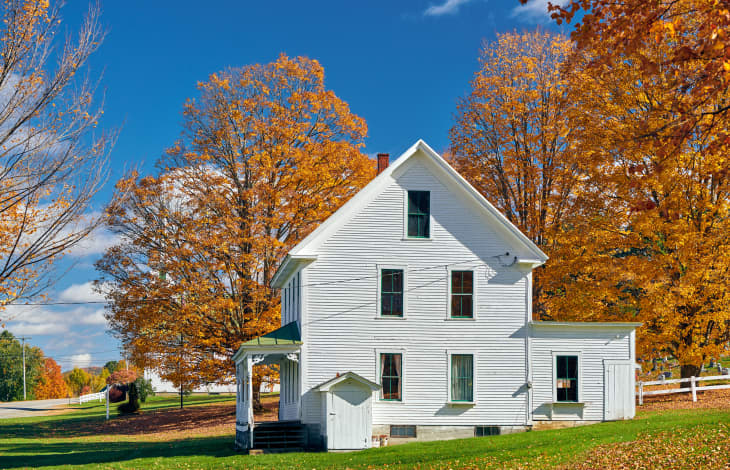 Ever look at your peers and wonder, "How the heck are these people buying a home? Where did they get enough money for a down payment?"
The truth is, a lot of them probably had help. Just over half (52 percent) of first-time homebuyers in 2020 received financial assistance from a family member, according to a survey by Realtor.com.  
But it is possible to amass a down payment and make homeownership happen on your own, without a parental loan. (Or a trust fund, for that matter, which some real people actually have, even though they're not the villains of an '80s movie.) 
For a bit of inspiration — and a dose of practical advice — here are three true stories of people who bought their first homes without any financial help from family or friends.  
The Pandemic Saver Who Used a First-Time Buyer Program
An accountant in her mid-20s, Morgan was renting in New York when Covid first hit, but moved back in with her parents in June 2020. A year later, she closed on a one-bedroom unit in a co-op building north of New York City. 
She hadn't really been planning to buy a home. But when Morgan got a new job outside the city, she realized she didn't want to keep living with her parents forever, nor did she want to pay rent in the city again. And after months of living rent-free — with virtually no dining-out expenses due to the pandemic — she suddenly realized she had a good-sized down payment saved up. "I was just living at home, saving all this money, because there was nowhere to go," she says.  
Morgan looked up first-time homebuyer programs online, and discovered that she qualified for New York State's "Achieving the Dream" program, which offers low-down payment mortgages to first-time buyers with a stable job, good credit, and an income under $95,000. What's more, the program offered her down payment assistance — 3 percent of the home's purchase price, or about $8,200 — in the form of an interest-free, forgivable loan. "I could use it to cover all of my closing costs, and the rest went towards my down payment," she says. 
The financial help came with some conditions, of course. Morgan said the mandatory first-time homebuyer education course was simple enough, but the down payment assistance was more confusing. "I'm signing all my paperwork, and I get this thing about a 'recapture tax'," she says. "I'm a tax accountant, and like, even I'd never heard of a recapture tax." 
Essentially, the grant is an interest-free loan that gets forgiven over the course of 10 years, as long as the buyer stays in the home. But if Morgan were to sell for a gain after, say, five years, she would have to pay back the second half of the grant, and would also owe some taxes on the first five years of free money. 
Morgan didn't realize the grant would appear as a second mortgage, even though she doesn't have to make payments on it — and the co-op she bought into doesn't typically allow second mortgages. "So I had to write a letter to the board explaining the whole program," she says. 
As for savings strategies, she says, "It sounds so lame, but track your spending. I didn't realize how much money I spent eating out." And, she adds, "do the math on renting versus buying" in your area, because saving for a home is just the beginning; there's also maintenance and other costs afterward. "It's not just the down payment — it's all the costs after you buy." 
The Debt Slayer Who Got Serious About Saving
Out in Los Angeles, Brittany also explored first-time homebuyer programs, but ultimately used a regular mortgage to buy her one-bedroom condo. "They had a lot of red tape and bureaucracy," Brittany says, and she worried that any hold-ups would end up putting her at a disadvantage in LA's ultra-competitive housing market. 
Brittany started getting herself into financial shape years ago, when she first got serious about paying off her student loan debt. "I didn't want to bring debt into my late 30s," she says. So with the help of "God, grit, and Google," she got serious about saving. 
She drove her last car into the ground, going eight years without a car payment and putting that roughly $300 a month toward her debt instead. She didn't buy her first smartphone until 2016. And she moved to a cheaper part of town and got a roommate. "I went from paying like $1,300 or whatever to paying like $600 or $700," she says. "And that taught me about living with other people, taught me about communication." 
As her debt shrank, the tangible progress she made felt exciting and kept her motivated, and in 2017, Brittany paid off the last of her student loans. But she kept up her good financial habits, with the extra money she saved now going toward a house fund instead of student loans. 
By 2020, she had a modest down payment and, thanks to years of aggressive debt repayment, a stellar credit score. "I had all these residual benefits of trying to get that student loan debt out of my life," she says. "So that made me a pretty attractive buyer to banks, and I was able to get pre-approved pretty quickly." 
Brittany was only casually looking for a home at first. But after her landlord raised the rent by nearly $1,000, she got serious, fast — and honed her search down to the most crucial elements. 
"I got super aggressive looking and putting in offers and just kind of seeing the potential in a home instead of the home needing to meet all these other criteria," she says. 
Her advice on saving? Keep trying different strategies until you find the ones that mesh with your lifestyle. Some worked for her, and some, like the "envelope budget," just didn't. So instead of trying to force it, Brittany says, she would keep experimenting "until I finally got something that works for me, and I was able to incorporate it into my lifestyle so it's not hard for me to do, because it just felt like it wasn't an extra effort."  
The Career Switcher Who Prioritized Homeownership
Since she was five years old, S. Rae had always wanted to be an archaeologist. After years of graduate school, she made that dream come true. But by her late 20s, another dream had started to take root. "My husband and I had the conversation of: What do we want, what's important?" Rae says. "And one of the big things we decided that we absolutely wanted was to own a house, a place that was ours." 
At the time, Rae was spending up to three months a year at far-off archaeological sites across or outside the country, earning a meager $9 an hour despite her graduate degree. While her husband's tech job in Washington, D.C., helped the couple stay afloat and pay their bills, there wasn't anything left over to save for a down payment.
So Rae went back to school for computer science and got a high-paying job within a month of graduating. "I made a kind of pragmatic choice to switch careers entirely," she says. "I guess you could say I kind of picked a career that instead of filling my soul, filled my wallet."  
The couple immediately started saving toward a down payment, and four years later, in late 2020, they were able to put 20 percent down on their first home without any help. Rae says she and her husband are both mindful of their spending — with expected expenses plotted out on an Excel spreadsheet — and it helped that they're on the same page financially. 
"We have a rule that any frivolous purchases, at the time anything over $50, you had to talk about," Rae says. "We were very careful with what we'd spend our money on." 
Another strategy Rae employs — a trick she learned from her uncle — is pricing out purchases in terms of her real hourly wage. "Think about what you're getting paid per hour, and when you want something you didn't plan for, do the math: How much of your time does it take to pay for that thing?" she suggests. Whether it's a new dress or tech gadget, once you run the numbers (and realize you'd have to spend six extra hours at work to pay for it) you might realize it's not worth your time. "I mean, time is finite, that's the only resource you can't acquire more of," she says.
With a down payment saved, Rae and her husband began house hunting outside of D.C. in February 2020. Of course, the pandemic threw a monkey wrench into the process — a wrench that soon seemed to ratchet up the competition. 
"We were expecting bidding wars, but… the offers we were putting in, we were losing out to people offering 30 percent over asking, cash upfront, no contingencies," Rae says. "We learned very early — about the third 'no' — that we shouldn't get too emotionally invested, because there's a good chance it's going to go to somebody else." 
It took nearly a year and about a dozen offers before they finally landed a winning bid — lucking out with a seller willing to take the first full-priced offer. She loves the home's spacious yard and vegetable garden, which provides fresh food for the couple's pet rabbits, and the privacy it affords after living upstairs from an amateur DJ who had a habit of practicing late at night.  
"I had to make the very hard choice of giving up my career, years and years of schooling, the money for that schooling, and really a lifetime of dreams and wishes — and remind myself that I had it for a moment, I know what it looks like," she says. "But I also know that coming home from work happy with what you do every day doesn't mean a lot if you hate where you put your head down at night."  
Rae says they could have looked for a less expensive home far outside of DC, maybe even on an archaeologist's salary. "But then you've got a three- to four-hour commute every day, and I've done the three-hour commute before — it's not sustainable," she says. "It doesn't matter how much you love audiobooks… you get home and there's just nothing left of you." 
Rae recommends homebuyers ignore outside expectations, particularly those held by previous generations. "It isn't a competition, you can't do it on anybody else's timeline but your own," she says. "You have to decide, either on your own with your partner, with your family, whatever your circumstances are, how important having a house is, what kind of joy it brings you."