This Weighted Robe Is Like an At-Home Spa Day, And It's On Sale Right Now!
We independently select these products—if you buy from one of our links, we may earn a commission. All prices were accurate at the time of publishing.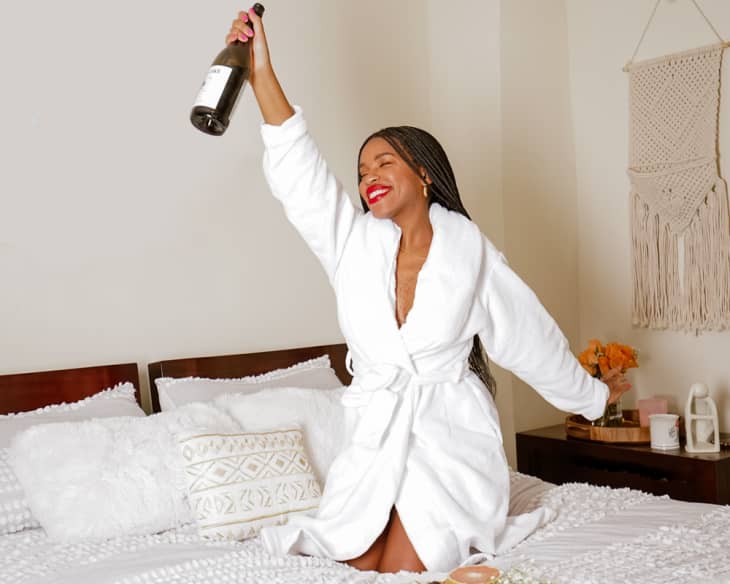 While I love to cuddle under one on the couch or fall asleep with its comforting heaviness wrapped around me, sometimes I want the relaxing vibes without being literally pinned down. And there are more and more weighted products entering the market these days, from eye masks to pillows to robes. One of those new entries to the scene is Gravity's newest product, a terrycloth weighted robe. The company introduced its first weighted robe, made of fleece, in 2020 as a partnership with Modernist. The terrycloth version has the same three-pound weighted collar as its fleece counterpart, but with a lighter — and more absorbent — fabric. I've been testing it for a month, and it's like having a fancy spa day but without having to leave the house.
While nothing can replace the pure relaxation that comes from having someone pamper you (if you've been looking for a sign to book that first post-lockdown massage, consider this it), wrapping myself in the weighted robe and sitting in a dark room, lighting a candle, and doing some deep breathing or meditation is definitely a better routine for my mood than endlessly scrolling social media. And while it might be tough to squeeze that in on the daily, putting it on post-shower and doing my skincare routine has also had calming effects — especially with a little added facial massage (gua sha optional).
When it's time to wash, just unzip the collar and pop out the weighted insert before laundering with like colors in warm water as you would a regular terrycloth robe. Plus, it'll be extra relaxing when it comes out of the dryer.
Right now, Gravity is running their Non-Prime Prime Day deal, where you can snag 20 percent off their weighted robe (and other cozy products) with the promo code GRVPRIME. Get in on this discount before it disappears!