Hedge Mazes May Be The New Public Parks, According to One Design Firm
We independently select these products—if you buy from one of our links, we may earn a commission. All prices were accurate at the time of publishing.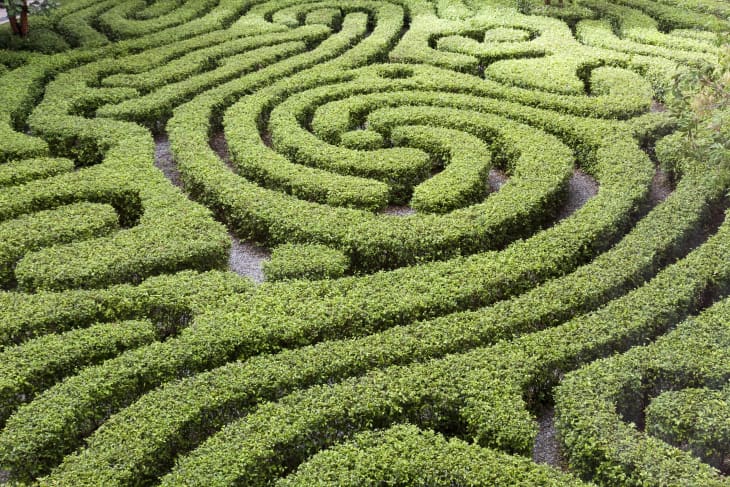 Coronavirus and the requisite social distancing has challenged designers and architects worldwide to envision how public spaces may look in a world where staying six feet apart may be the new norm. Studio Precht, an Austria-based interior, architecture, and landscape design firm, came up with a hedge maze-like concept for a public park that's both beautiful and health-conscious.
"A park that provides solitude to citizen," Precht wrote in the caption of the design's April 16 Instagram debut. "To spend a walk of 20 minutes without seeing anyone. Focusing on your inner self, your thoughts and your mind."
Called "Parc de la Distance," the park's layout, inspired by a human fingerprint, encourages citizens to remain isolated from one another while existing in a public space. Visitors can enter through a variety of different gateways at the edges of the park, and these gateways would alert visitors if the path is currently free to walk.
"The main purpose of the park is to get away for a little while from the noise and hustle of the city," architect Chris Precht, who worked on the design with fellow architects Fei Tang Precht and Andreas Stadlmayr, told Architectural Digest on May 4. "On one level the park should connect people to green, and on another it should connect people to themselves. You walk the park in solitude—you and your thoughts." 
Precht continued, "I think that sometimes it's important to disconnect yourself from your surroundings to be able to reconnect afterward."
Like traditional hedge mazes, Parc de la Distance would feature a fountain at the center of the park so visitors can rest before continuing the latter part of the walk. Completing the hedge maze itself would take about 20 minutes, Precht told AD.
Though the plan is currently just a proposal, it may be installed in an empty plot in Vienna in the near future. "I think that all cities in the world are busy places and need some spaces to escape from the hustle," Precht said. And within a rapidly-changing world, something like the Parc de la Distance could be a perfect solution for the need to remain socially distant when possible.