This Laundry Detergent Removed the Odor from My Smelly Workout Clothes
We independently select these products—if you buy from one of our links, we may earn a commission. All prices were accurate at the time of publishing.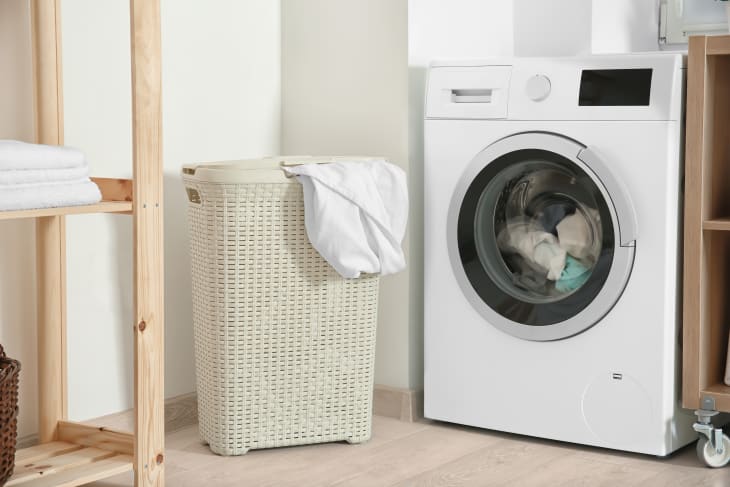 If you work out, play sports, or spend time outdoors, chances are that your clothes are absorbing every single thing they come in contact with — your sweat included. And sometimes everything it soaks up just doesn't go away with a simple wash, no matter how many times you toss it in with your regular go-to detergent. 
This is because some specialty clothing items require an extra level of care when laundering — like activewear, which is typically made with performance fabrics like polyester or spandex for features such as moisture-wicking or being stretchable or breathable. These fabrics are affected by use and wash, which is why it's important to pay attention to not only how you wash these items — inside-out and with cold water only, for instance — but also what you wash them with. 
Follow Topics for more like this
Follow for more stories like this
That's why switching to a detergent designed for the job can be so helpful in caring for your workout clothes. I tested one such cleaner, the HEX Performance Laundry Detergent in its fresh and clean scent (which was sent to me), to see how well it could perform. This detergent is specially formulated to clean tight-knit, synthetic fabrics (like activewear) and remove odors and stains, but it can also be used on all types of materials, including your towels and sheets. 
This is great for someone like me, who doesn't have a lot of dedicated activewear attire, but instead uses a lot of oversized or old T-shirts with my bike shorts or leggings. Personally, making time and getting motivated to work out constantly trips me up; however, I've found the most success in getting active by habit-stacking my exercises (pairing a workout with another activity so it's a little less dreadful). For instance, I've actually enjoyed hopping on my moveable exercise bike when I pair it with an episode or two of the current show I'm watching or a podcast I'm listening to. 
But like many others, I too have dealt with lingering odors and am big on problem-solving this issue. Sometimes, your clothes can smell so good after a wash, but once it sits that nice-smelling scent can fade, revealing a stinky underlayer. This is often because of product buildup — too much detergent or fabric softeners — where you're trapping the odor on top of your clothes instead of getting rid of it. HEX Performance Laundry Detergent is a type of detergent that works to eliminate odor, not just mask it. It also uses no dyes, thickeners, parabens, or fragrance encapsulants.
So I put this cleaner to the test. I pulled together my problem clothing, which included some shirts with persistent odors, some workout clothes, along with the towels I used for it, and some of my husband's clothes, too, and ran a load following the instructions on the detergent: Fill a capful (up to line three) for regular loads (you'd do two for larger loads). 
I did a quick smell test after washing, and it was very nice and light. It's a fruity scent, as the packaging describes (fruity apple and citrus notes — accurate). Then I separated the clothes that needed to be hung dry and those that could go into the dryer, careful not to over-dry anything. 
The immediate results were great, but what I really wanted to know was if things would linger as I left the clothes alone. Lo and behold, the odor was gone. Wow. What's left is the slightly fruity scent. Yes, there's no dramatic shift in smell, no magical boost or dramatic aroma, but I like that. I just wanted the odor to be gone, which, to me, is honestly the grand transformation. 
It even comes in pod form, with premeasured packs that you can toss right in the wash, and in other scents too, like crisp linen (another great-smelling one) or fragrance-free, if scents aren't your thing. 
On Amazon, the product has a four-and-a-half-star rating, with one reviewer saying, "It gets all the grime and stink from my workout clothes, and I love that it has no added perfume (I don't like my clothes to smell like laundry detergent)," and another sharing that it's "life-changing! Hockey gear, husband's and sons' socks, and towels have never been so fresh! I use a little in every load and everything stays fresh until the next wash!"
I also wanted to see how it would fare with someone who uses activewear-specific attire almost daily. So, I asked my friend, who's a regular gym-goer, to give it a try and he had similar thoughts too: "I used Hex Performance Laundry Detergent on not only my sweaty activewear and towels, but also on my work clothes. What I liked best about it is it doesn't leave a strong fragrance, but rather a pleasant clean smell. It goes on clear, so that also gave me peace of mind that any artificial dyes would not leave any unwanted side effects on my clothing."
And I agree. As someone who is sensitive to smells, I liked that this detergent left a light scent. But what I really loved about this was how it removed the odors I had written off as "too hard to remove." It's great to have another odor-fighting cleaner in my arsenal.