HGTV Expert Tiffany Brooks Shared 3 Design Details for the Perfect Reading Room
We independently select these products—if you buy from one of our links, we may earn a commission. All prices were accurate at the time of publishing.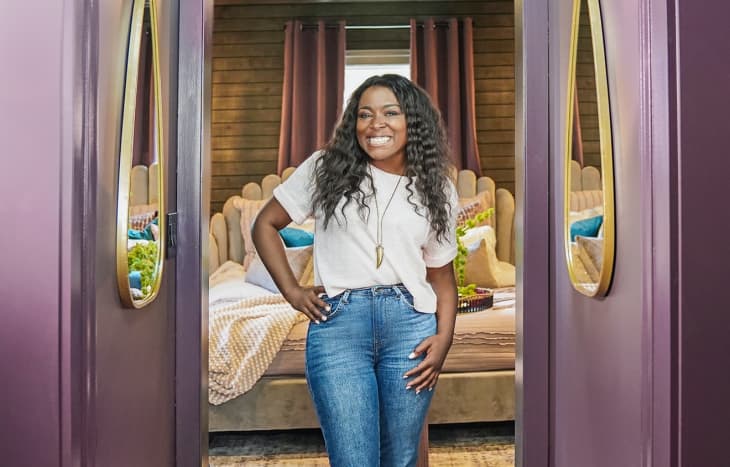 If you're an avid reader like me, you might hope to have a reading room or cozy book nook one day, just like many celebrities — from Reese Witherspoon, who has (many) book nooks, to Brie Larson and her cozy reading window. But thanks to HGTV star Tiffany Brooks, who revealed three design details that make the ideal reading room, that day might be closer than you think.
Follow Topics for more like this
Follow for more stories like this
The "$50K Three Ways" presenter took to Instagram to show off a library room that she previously designed for a client, revealing all the elements that make for a super cozy reading space.
"When you put together mid-century modern seating, a large modern library filled with the best books and collectibles, eye catching lighting fixtures, and a lot of natural light… what do you get?" she wrote in the post's caption. "The perfect handsome library."
Brooks said that she designed the space with the aim of it becoming the perfect place for intimate conversation or to sit and relax while you unwind with a cocktail and good book in hand. Whether you're going solo or hosting your own book club, it sounds like an ideal evening in an ideal environment.
The important details that Brooks pulled out involve cozy furniture and accessories. There are four armchairs — two all-white, two white and beige with an abstract pattern — a large wooden bookcase, and a vintage-style rug that adds plenty of depth and texture to the space. Statement metallic light fixtures line the top of the bookcase, drawing the eye to the intricate detailing and, of course, all of the books that sit on the shelves. Finally, floor-to-ceiling windows let in plenty of natural light (an essential for when you're reading) and lush greenery can be seen dotted around the room, adding in a breath of fresh air and a bright pop of color to the otherwise neutral-toned space.
On behalf of myself and Instagram, thanks for the inspiration, Tiffany!