Hippie Christmas Is Approaching. Here Are 5 Tips to Make the Best of It
We independently select these products—if you buy from one of our links, we may earn a commission. All prices were accurate at the time of publishing.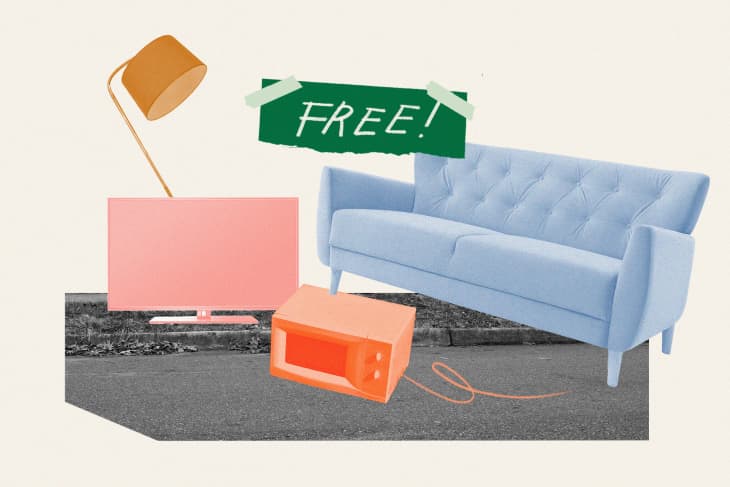 The beginning of another school year approaches, which means it's almost time for Hippie Christmas. This end-of-summer tradition is when people deck the halls, so to speak, by discarding furniture, accessories, and more on the sidewalks as they move out of their apartments.
Hippie Christmas takes place in mid-August in Madison, Wisconsin. Leases for most rental properties near the University of Wisconsin-Madison expire on a Friday, and new leases begin that Saturday. Pressed for time, renters leave furniture, clothing, electronics, and household items curbside. 
"It looks like everyone in a five-mile radius has abandoned their home," says Alexander McLendon, a photographer who lived in Madison for four years. 
For those who aren't moving, though, Hippie Christmas is an excellent way to score free furniture. Think of it as a Black Friday for freegans and dumpster divers. 
And if you've never heard of Hippie Christmas, that's because it's a regional term used by Wisconsinites. Bostonians celebrate Allston Christmas, named for the Allston-Brighton area of the city that includes sections of Harvard, Boston College, Northeastern University, and Boston University. Allston Christmas takes place on Sept. 1, when the majority of Boston's apartment leases turn over. Just like with Hippie Christmas, students on the move discard their unwanted items in the streets.
College towns across the country experience some version of Hippie Christmas. Many cities have curb alerts, Freegan Heaven, or a robust selection free stuff on Craigslist. In New York, folks go "stooping."
The simultaneous lease expirations separate Hippie Christmas and Allston Christmas from stooping and dumpster diving. "There's kind of an effective homelessness for one day," McLendon says. "A couple of days before that move date, people are putting all their possessions outside."
Whether you celebrate Hippie or Allston Christmas or follow curb alerts, it's best to have a strategy for finding quality free furniture. 
McLendon explains you could find nice items all over Madison, but some of the best stuff gets dumped on Langdon Street, home to fraternity and sorority houses. "I had people tell me they found Bluetooth speakers, microwaves, all sorts of electronics," he says. Be strategic about where you're browsing.
Follow hashtags such as #HippieChristmas, #AllstonChristmas, or #CurbAlert on social media to get updates on the best stuff.
StoopingNYC is an Instagram account run by a married couple in Brooklyn who posts photos and locations of free household items left on the streets of New York City. The couple, who likes to remain anonymous, gets direct messages daily from people leaving good  — sometimes expensive — stuff on the street. 
When searching for free furniture, if you're not a furnishings aficionado, bring someone who is. Bring a parent, a sibling, or a friend who recognizes the difference between an IKEA castaway and vintage mid-century modern. Sometimes, trash is treasure, but other times, trash is just trash.
Secure your Hippie Christmas haul.
How do you get a Hippie Christmas haul home? In places like Madison, it's easy to pull up, grab what you want and drive off. That's tougher to do in New York City or Boston. 
Some people use Uber, a bike, or even carry items onto the subway. Consider using an adult tricycle or renting a van or SUV. Split the cost and share the finds with friends. 
Avoid Hippie Christmas hazards.
Always leave mattresses behind. Mattresses can have bedbugs, absorb stains, body fluids, and, ugh, you get the picture. Also, like mattresses, upholstered pieces and rugs retain odors, including dried pet urine (which you might not smell, but your dog can). The folks at StoopingNYC recommend sanitizing all items and checking children's toys for recalls. 
Look underneath drawers and wooden tables for evidence of insect eggs that may hatch when you get home. Also, make sure the furniture you're snagging is free. According to the Boston Globe, that's rule number one for Allston Christmas — check for "free" signs so you're not carting off something that a mover was about to bring upstairs.
Hopefully, after scoring a Hippie Christmas haul, you'll have extra money to spend by the time the traditional holidays roll around in December.