9 Ways to Score Free Furniture (So You Can Save for That Investment Piece!)
We independently select these products—if you buy from one of our links, we may earn a commission. All prices were accurate at the time of publishing.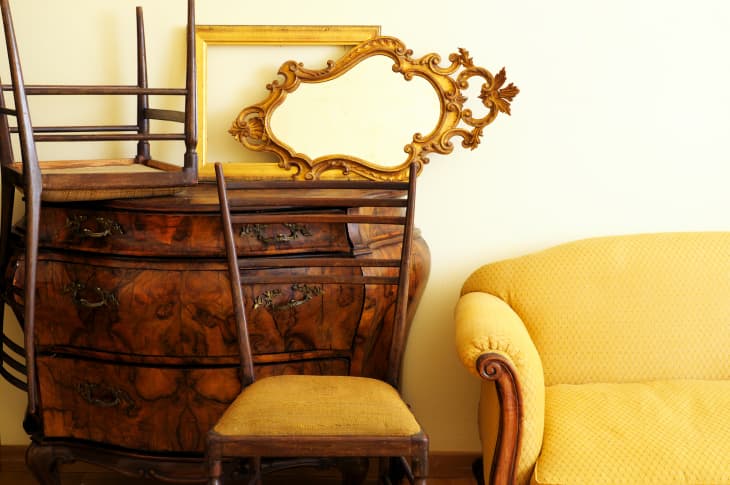 Sticking to a budget when you're furnishing a space is tough, especially when the furniture that's considered to be "cheap" these days really isn't all that inexpensive. If you'd much rather spend your money on a modern Eames chair or a Moroccan rug instead of a couch or bed frame, you'll have to make some compromises—and borrow heavily from your overall budget. That said, there are several places where you can get free furniture—yes, we'reI'm talking $0 furnishings. 
Follow Topics for more like this
Follow for more stories like this
If you're totally strapped for cash but still want to spruce up your whole house or find furniture for a small space, consider one of these budget-friendly sources to help you find pieces that won't touch your wallet. Remember that there are a few things you shouldn't take secondhand, like mattresses and heavily-soiled upholstered couches and chairs. Take a look at this list, and good luck finding your future (free!) furniture.
Scouting for free furniture doesn't have to mean dumpster diving. If you live near a college campus, you can almost certainly score free stuff on or around move-out day. There are a few ways to go about doing this: you could create a flyer to post around campus that lists what you're looking for, or you could simply hang around as students clear out for the summer. Either way, it's a pretty sure bet. 
 Nextdoor is basically a social media site for your neighborhood. And what better way to score free items than from your own neighbors? Once you sign up, you'll be able to post and see posts from those in your local area, which allows you to ask for what you need, or browse furniture postings to look for free items. 
3. Free and for-sale pages
Most cities, towns, and neighborhoods have some version of these pages, which are often accessible through Facebook or other local message boards. Usually, the requisite for listing an item here is that it's free of charge or super low cost. Furniture tends to wind up here when people are moving or replacing a large or bulky item and don't want to deal with its disposal. 
While most people use Facebook Marketplace to sell their goods, there's a wide range of free items you can peruse, too. Simply type "free" into your search bar, and you'll get pages of nearby items with a price tag of $0.
Letgo, which is primarily an app that can be accessed via the web, is like a new and improved version of a "Classifieds" site or page in a newspaper. It has a free section where you can find everything from sofas to desks to televisions. If you're okay with spending a bit of money, their home section is also a great place to find super-cheap furniture, too.
6. The Free Section of Craigslist
Ah, a classic—Craigslist is a great place to find cheap furniture. It can also be a great place to find free furniture. You'll find the "Free" section under the "For Sale" heading on the main page for your city.
This website is similar to Craigslist, except absolutely everything is free. Freecycle is an online forum where people can offer things up to their neighbors instead of throwing them away (the original Free and For Sale page), and there are groups for almost every city. If you see something you like, act quickly—the good stuff goes fast.
This one might catch you off guard, but if you live in a city, you know dumpster diving—or just picking a piece up off the street while it's waiting to be collected as "trash"—is just as viable of an option for free furniture as any other.
Because moving in a city can be a big hassle and there's sometimes a need to quickly vacate, it's often easy to find furniture in impeccable shape right on the sidewalk. Even if you're in a regular suburban neighborhood, many people will set out items with a "Free" sign before garbage day, so keep your eyes peeled for gems. 
Although it's not quite free, here's another idea for getting furniture for (almost) nothing: Try stopping by a garage sale towards the end of the day. Chances are the organizers will be eager to get rid of larger items and may be willing to sell you any furniture that's left for reduced prices. They may even let you take it free of cost just to get it off their hands.