The Viral Home Depot Skeleton is 2020's Hottest Holiday Trend
We
independently
select these products—if you buy from one of our links, we may earn a commission. All prices were accurate at the time of publishing.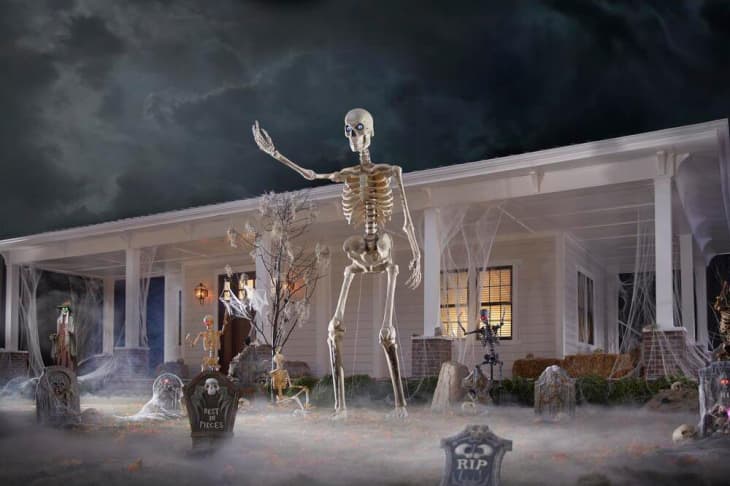 One of the surprise celebrities of 2020 has no doubt been Home Depot's giant skeleton, who made the viral rounds during Halloween by delighting trick-or-treaters of all ages with its lanky frame and mildly terrifying glowing eyes. But at $299, it hardly made for the most budget-friendly Halloween decor item, so some creative buyers have been including the 12-foot-tall figurine as part of the rest of their holiday decor—truly getting the biggest return on investment possible, while adding er, holiday joy aplenty.
Some have added Santa hats to their skeleton, while others are going fully festive by stringing lights, adding other holiday gear like red socks, scarves, and stockings, and others are using the skeleton as part of truly immersive decorating schemes that must be seen to be believed. This versatile skeleton is now taking center stage both indoors and outdoors, with some buyers planning to leave it on display year-round.
Musician Thea Faulds wrapped holiday lights around hers and gave it a Santa hat. She told the New York Post that she and her husband Adam plan to leave it outside their Hamilton, Ontario, home all year long if there are no complaints from neighbors—which would solve the additional issue of where to store such a large item inside their home.
"It became kind of a legend," Faulds said, adding, "People made a special trip to Hamilton to come see this skeleton, so we thought, 'Why not use it all year-round? Why not just totally do it up this year and give people something to come see?'"
Atlanta resident Tracy Gilbert echoed those sentiments. She dressed up her skeleton with a Santa hat and a tree and added two smaller, equally festive skeletons to her setup. She told the Post that her skeleton "is going to be here to stay for a while," adding, "We are flirting with the idea of making a top hat and a bow tie to celebrate the ringing in of 2021" and are even dreaming up Valentine's Day ideas.
Professional holiday decor designer Jeanna Crawford gave hers a "Nightmare Before Christmas" theme, enlisting the help of friends to create a 60-inch sparkling present for her skeleton to hold and creating an elaborate Disney-approved theme for her neighbors to enjoy long after the gifts are opened on Christmas day. She told Insider, "with everyone needing to stay apart [due to the coronavirus pandemic], this is my way to connect to my community."
Check out some of the other hilarious and creative ways people are keeping the spirit of the viral skeleton alive in their holiday decor: