5 Reasons a Home Might Fall Out of Contract — and How You Could Swoop in to Get It
We independently select these products—if you buy from one of our links, we may earn a commission. All prices were accurate at the time of publishing.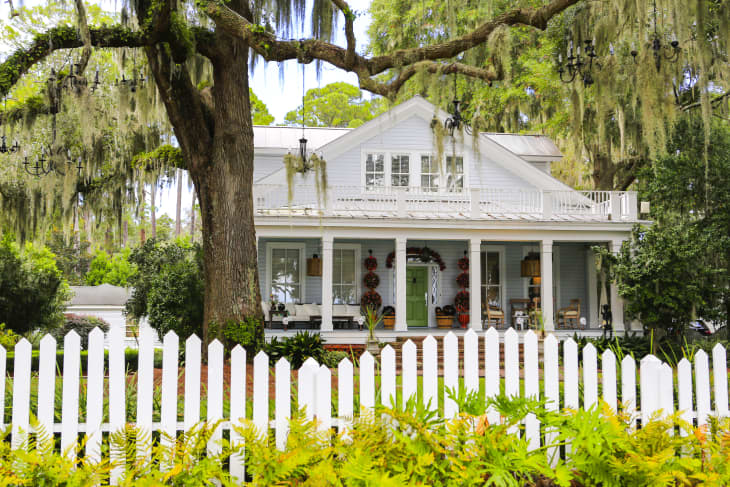 Every so often, a home goes from "sales pending" to "back on market." In these scenarios (they happen to nearly one in 10 contracts, according to the National Association of Realtors), you might be wondering: What derailed the sale? And can I make an offer now?
Follow Topics for more like this
Follow for more stories like this
To demystify this common real estate occurrence, we asked realtors about the reasons a home might fall out of contract. They also shared their best advice for bidding on homes that do come back on the market, which might just be your lucky break in today's ultra-competitive housing market. 
One of the most common reasons a home falls out of contract is because an issue arises during the home inspection and the buyer and seller aren't able to agree on repairs, says Jose Laya, a real estate agent in Miami. Home inspectors look for a number of issues, including roof damage, electrical problems, and pest infestations. The seller could deny a buyer's requests to make the appropriate fixes (or issue a credit), which would cause the sale to fall through. 
Kynse Agles, an agent with RE/MAX Realty Group in Fort Myers, Florida, once had a listing fall out of contract after polybutylene piping was discovered in the house. The material was commonly used for plumbing in homes built between the 1970s and 1990s and can be prone to bursting. The prospective buyer tried to negotiate paying $100,000 less for the home, but the seller quickly declined.
Should you swoop in? Yellow light! Proceed with caution. If you're eyeing a home that returned to the market after a troubling inspection, you might consider making an offer if you can work the needed repairs into your total homebuying budget. Also, if the home repeatedly returns to the market because of inspection issues, the seller might finally budge on issuing a credit.
The home's appraisal throws things off.
If you're financing a home, you need to get an appraisal. This is because the lender needs to make sure the home is worth as much as what you're willing to pay (and what they're extending a loan for). But in today's market, home values are quickly climbing, and the appraising process is months behind, says Jennifer Mazzell, a real estate agent in Mountainhome, Pennsylvania. 
"What that means is that there is often a discrepancy between what the home appraises for and how much the lender is willing to approve," she says. 
Bidding wars in today's competitive market are helping to drive up home prices, and they often push the sale price above what the home will appraise for, she explains. If a buyer agrees to purchase a home for $300,000 but the appraisal comes back at $275,000, the buyer will need to come up with that $25,000 on their own to close the appraisal gap. If they can't (and if the seller isn't willing to renegotiate), the contract falls through and the home goes back on the market.
Should you swoop in? Possibly. If you have money to pay for an appraisal gap, this could be a good opportunity for you. (In an ideal homebuying world, home appraisals would catch up with what homes are selling for, helping to narrow or eliminate any gaps.)
The buyer no longer qualifies for the purchase.
If the buyer's financial picture changes between the time they were pre-approved and the time they close, the deal could fall through, explains Los Angeles real estate agent Chantay Bridges. This could happen if a buyer loses their job, has new debts hit their credit report, or takes out a car loan that alters their debt-to-income ratio. 
Should you swoop in? Yes. This is a best-case scenario for other potential buyers because there weren't any appraisal or inspection issues that caused the contract to fall through. 
Realtors are seeing a large number of investors trying to scoop up properties so they can get in on the flipping action and sell for top dollar, says Raven Reed, a realtor with Realty Executives Select Group Ohio. "However, investors are getting into bidding wars, and sometimes after locking in a contract, start to get buyer's remorse because the return on investment doesn't make sense after properly running numbers."
Should you swoop in? Yes. However, you may be competing with all-cash buyers who tend to have an advantage in today's market because they can close quickly (and close appraisal gaps).
A family situation changed.
"I have been surprised, more than once, when a contract falls apart because a marriage fell apart and a couple decided to get a divorce instead," says New York City Broker Sheila Trichter of Warburg Realty. In another scenario, Trichter says, a buyer found out his girlfriend was pregnant with triplets and they needed to purchase a much bigger apartment to accommodate their growing family. 
Should you swoop in? Yes. This is another ideal situation for prospective buyers because the property returns to the market for circumstances that don't pertain to the actual home.
Here's how to keep tabs on contracts that fall through.
If you think you've found your dream home and your offer wasn't accepted, immediately have your agent communicate with the seller's agent that you'd like to be the backup should the deal fall through, Reed says. "If the first deal falls apart, you'll contractually be the next in line to get it," she says.
Also, get set up on a client portal with your realtor to make sure you're immediately notified of the newest and most active properties, Reed suggests. If one of your favorites comes back on the market, you'll be alerted right away, she says. Your dream home could just boomerang back to you — and that's something you can chalk up to serendipity.