This $20 Rolling Laundry Hamper Makes Hauling Clothes to the Washer Easier
We
independently
select these products—if you buy from one of our links, we may earn a commission. All prices were accurate at the time of publishing.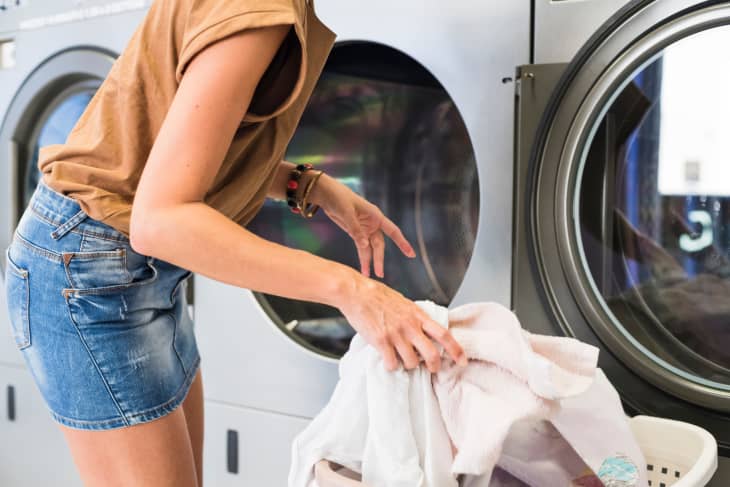 I don't have in-unit laundry at my apartment, and it's truly the bane of my existence. Although I mercifully don't need to drive to a laundromat, the closest laundry room in my complex is down a flight of questionably constructed outdoor stairs and across a parking lot, which means I need to brave both a treacherous descent and the notoriously fickle Ohio weather. It's a task that is always unpleasant, but it's made all the more difficult when I'm clutching a laundry basket I can barely carry.
Quick Overview
Why I Love the Home Logic Rolling Laundry Hamper
The handles are durable.
It rests neatly at waist level. 
It has wheels.
It can hold a large amount of clothes.
It's compact enough to leave out as an extra hamper.
Whoever designed the vast majority of laundry baskets should face a jury of their peers. I constantly deal with handles that are prone to breaking — especially when I'm carrying a truly full load of clothes in them, which I do most of the time purely to avoid making multiple trips up and down the aforementioned stairs. And overall, they just don't agree with my body. 
Too much of my life has been spent clinging for dear life onto splintering plastic, shuffling frantically across a parking lot, and then trying to rest an obscenely large load of laundry on my hip while I open the laundry room door, losing my grip while clothes fall onto the ground. It's not a pretty sight. But after snagging this Home Logic Rolling Laundry Hamper a couple of months ago, I think I've finally found a solution. 
Why I Love the Home Logic Rolling Laundry Hamper
The handles are so much stronger than I'm used to. Slots on either side allow you to hoist the basket up, and there's also a larger folding handle meant for pulling it behind you as you walk. Which brings me to the next perk: the mobility. No bending up and down to pick it up — it rests neatly at waist level for you to grab. And the wheels are a game-changer, especially if you're like me and have a longer commute with your laundry than just to the next room. 
I can easily pull it behind me through my building's hallways like a rolling suitcase, and although you'll want to pick it up if you're headed through puddles or particularly filthy weather, it's sturdy and enclosed enough on the bottom that I don't worry about my clothes picking any grime up from the standard parking lot conditions.
The basket also holds a huge amount of clothes — I fill two whole washing machines on one trip, and my old baskets typically only hold about a load and a half. Despite that very handy vertical space, it's got a compact-enough footprint to leave out as an extra hamper in your bedroom or bathroom without cluttering the room too much — just remember to give it a wipe-down after it comes back from outside.

One day I hope to fulfill my lifelong dream of having a real, honest-to-god laundry room in my own home. But for now, this has made one of my least favorite chores just a little less intimidating.