What Really Happens When a House in Italy Goes on the Market for $1
We
independently
select these products—if you buy from one of our links, we may earn a commission. All prices were accurate at the time of publishing.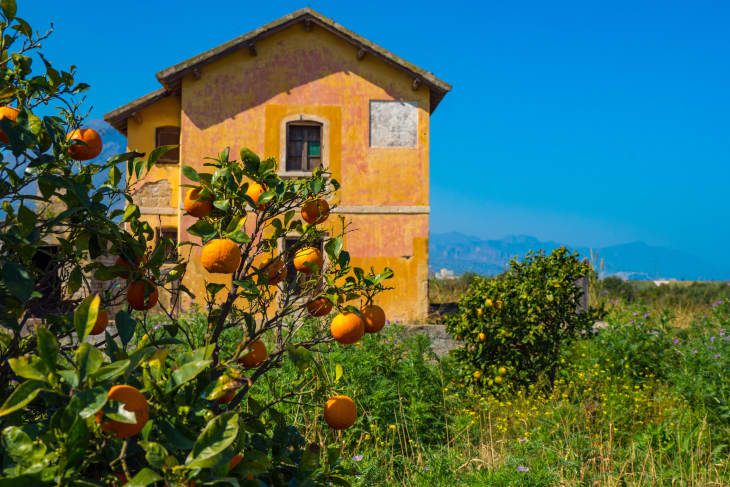 But some prospective homeowners are taking it a step further and hoping that buying a home across the Atlantic will be an easy solution to their U.S. real estate woes.
Over the last few years, several Italian towns have gone viral for offering up homes for just €1 (which amounts to a little more than $1 U.S.). The idea actually arose back in 2008, when the mayor of a town in southern Sicily first tried it. But it's gained more popularity recently, particularly in light of the pandemic, with some 34 Italian municipalities spinning up their own version of a cheap home sale program, per the Washington Post.
The seemingly too-good-to-be-true deals often have strings attached, like required renovations and deposits. But for many people, especially coming off of COVID, the cheap homes are a catalyst for finally living out their dreams of moving abroad. Heather and Steve Giammichele, for instance, decided to give up their lives in southern California for a $12,000, two-bedroom home in the village of Palmoli, located in southeast Italy not far from the Adriatic coast.
"There are so many amazing properties in those little towns," 31-year-old Heather Giammichele told the Los Angeles Times. "They just need a little bit of help, a little bit of money from younger generations to revitalize the town."
Homeowners get a fresh start in an idyllic place and, finally, a chance to buy some affordable real estate. But Italy's tiny towns and historic hamlets are the real winners here. They're eager to attract new residents — and their paychecks — to help boost economic activity, particularly in sparsely populated mountain towns. 
Italy has a lot of sleepy little communities that could use a boost. By some estimates, the boot-shaped nation has around 5,800 towns with fewer than 5,000 residents. What's more, some 2,300 of those communities have already been totally or partially abandoned.
Given the rise of remote work, the leaders of these towns are hoping that digital nomads will choose to invest in Italy, both literally and figuratively. In some instances, town leaders are even encouraging new residents to convert their homes into retail stores and businesses.
And it's not just rural, far-flung locales either. Even cities that are closer to Rome, like Maenza, are getting in on the $1 home sale action.
"Families and youths often leave town to move to larger homes in nearby cities and villas in the countryside, but there's always some newcomer who takes their place so it's balanced out," Claudio Sperduti, Maenza's mayor, told CNN. "This is not a dying city — people still inhabit the old district — but it needs a revamp, fresh oxygen."
If you're intrigued by this idea, be sure to do your research first. Potential language barriers aside, each Italian town has its own system for doling out these houses, which range from perfectly livable to totally uninhabitable and full of dead pigeons. 
While the home itself may only cost $1, other expenses can add up. Closing costs can reach upwards of $4,000 and renovations can cost anywhere from $20,000 to $40,000 — or more — depending on the state the home is in, per the Washington Post.
Some towns are making it incredibly easy to actually go through with the purchase, like Sicily's Mussomeli, which created a new multilingual real estate agency to help buyers through the process. And if you don't see a home that catches your eye right now, just wait — more are coming on the market every day.
"Original owners call us each day to dispose of their old houses," Toti Nigrelli, Mussomeli's deputy mayor, tells CNN.