Max and Peter's Squeaky-Clean Quarters
We independently select these products—if you buy from one of our links, we may earn a commission. All prices were accurate at the time of publishing.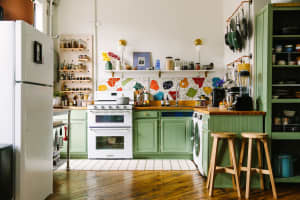 Can't-Miss House Tours Straight to Your Inbox
Keep up with our latest house tours each weekday with our House Tour of the Day newsletter
Name: Max and Peter Kater of Murchison-Hume
Location: Sydney, Australia
Size: 250 square meters (2,700 square feet)
Years lived in: 7 years
We've loved Murchison-Hume products for a while now, not just because they're effective eco-friendly products, but also because they also look so darn good. We were thrilled to discover the aesthetic of Murchison-Hume products flowed from the founders' own home. Max and Peter's abode is refined, yet is still entirely a family home. Incorporating an amazing indoor/outdoor room, family kitchen space, and a wall of personal silhouettes, the house is all tied together seamlessly with a simple color palette…
Follow Topics for more like this
Follow for more stories like this
Our style: I would describe it as "Preppy/Eclectic" (with a Chinese accent).
Inspiration: So many! We love a classic look but wanted our house to reflect the fact that we are a young family. I grew up in Los Angeles and believe it or not Disneyland was a big one (that's where I re-discovered the silhouette portraits). My Mother and I loved those classic Doris Day movies where the interiors where almost part of the plot! Of course living in Asia was a huge inspiration so I guess I would have to say Hollywood Regency meets Martha Stewart in a Hong Kong Disco. Yes, that's it, exactly.
Favorite Element: The indoor/outdoor "Cabana" that doubles as an outdoor living room (and doubles our living area most of the year). We do most of our entertaining out there all year long. If it's cold or raining, we just close the curtains and it feels like a chic, grown-up Cubby House. 
Biggest Challenge: Its lack of storage, space and natural light! We've had to be very careful and clever about maximizing the low light and using every inch of space available (a mirrored wall in the dining area is a fairly inexpensive trick for making a room feel more spacious and bounces light back from the outside). Our house was originally the site of old stables and so is purposely built in permanent shade. We don't have air-conditioning (or central heating) so it's lovely and cool in the Summer, but freezing in the Winter so we plan to eventually extend the house up the hill to capture more light (and warmth)!
What Friends Say: "Why would you want it bigger, it's perfect!" (But then they don't have to keep their clothes here). Our nickname for the house is "The Cubby" everybody always ends up here after dinner and no one ever leaves! 
Biggest Embarrassment: Having to share a bathroom with 3 boys and the fact that I tried to live with a shabby garden and 1950s pink and grey bathroom tiles for so long. A false economy!
Proudest DIY: The Garden, which I designed myself. It's not huge, but the boys can get a decent game of cricket going on that strip of level lawn. Also that Peter, my parents and I did the kitchen and bathroom renovations ourselves. Thank you Bunnings and IKEA!
Biggest Indulgence: Doing a "mini-renovation" prior to a major one. We held off doing anything for years because we didn't want to waste money, but were miserable and never entertained at home. In 2007, we did a DIY on the bathrooms, kitchen and garden (on a tight budget) to keep ourselves happy. Even though we plan to tear some of it down and start again, it was well worth it!
Best Advice: "Life's too short to live with an ugly bathroom." – From my gorgeous friend, Shannon Fricke 
Dream Source: Kim Snow furniture for modern classics with a twist, Coco Republic for the BIG stuff, Cotton Love Home for timeless pieces that you keep forever and Bali Home Interiors for the quirky stuff that you can't find anywhere else.   
Appliances:
Stove/Cook top: Ilve 6 Burner Stainless Steel Upright 
Dishwasher: Miele Stainless 
Refrigerator: Fisher & Paykel Stainless 
Bench top in Kitchen: Caeserstone in Gunsmoke 
Hardware:
(Kitchen and Bathroom) nickel plated drawer pulls and cabinet knobs sourced from Mother & Pearl and Sons (Sydney) and Restoration Hardware (USA) 
Furniture:
Living Room: 
Martha Stewart for Bernhardt sofa from Coco Republic, Sydney
Oversize Lacquer coffee table from Cotton Love Home
Room: Kim Snow "Magda" Fretwork Cabinet (with custom red lacquer finish inside)
Antique Chinese "saddle stools"  from Mao & More, Surry Hills
Custom Made throw pillows (on sofa) from Elio Upholstery, Waterloo
Marble Top & Fretwork "Talita"  Occasional table from Bali Home Interiors 
Dining/Living Room:
Carrera Marble Top Breakfast Table from Le Forge, Leichadrt
Thonet dining chairs from Thonet (Australia) 
Hallway:  
4 Drawer commode from Cotton Love Home, Woollahra 
On Stair Landing:
Chinese Ceramic "Lucky Baby"  Boys Climbing Giant Bamboo from Hollywood Road, Hong Kong
Turquoise and dark green Chinese Transport Pots from Bali Home Interiors  
Accessories:
Coral Balls and Teak Tray (on Talita table) from Bali Home Interiors
White Ceramic Cache Pots (in garden and in the kitchen) from Mandalay Flowers, Double Bay
Turquoise Chinese "Transport"  Pots (on stair landing and next to Mao sometimes) from Bali Home Interiors
Black Lacquer Tray (on Coffee table) from Orson & Blake, Woollahra
White Ceramic Mao Statues from Mao & More, Surry Hills
White ceramic "Mushroom" vases by Have You Met Miss Jones, Surry Hills
Marble Bowl (holding mail on commode) from Bali Home Interiors
Small Celadon Bowls (on commode) from Orient House, Glebe
White ceramic Chinese "Drum"  Garden (in Garden) Stools from Orient House, Glebe 
Lighting:
Living Room: Polished nickel Reading Lamp from Orson & Blake, Surry Hills
Living Room and Bedroom: Antique Chinese Figurine Lamps custom made in Singapore
Paint: 
Living Room: Dulux "Linseed"
Charlie's Room: Porter's Paint "Lake George" 
Master, Porter's Paint "Rose Gold"
Bathroom and Kitchens Dulux "Stowe White" 
Rugs, Carpets, Flooring:
Amtico flooring (in kitchen) 
Herringbone patterned sea grass carpeting throughout Living and Bedrooms from The Natural Floor covering Centre, Sydney 
Beds:
In Ben's Room: One (of a pair) of antique mahogany beds found on eBay 
In Charlie's Room: White Bunk Beds from Asset Furniture, Drummoyne, NSW 
In Master Bedroom: Custom made rosewood carved bed from Shanghai, China 
Tiles and Stone:
Pavers in Cabana from Amber Tiles, Sydney
White ceramic "Subway" tiles in Kitchen and Bathroom and small slate hexagon tiles on bathroom floor all from The Eco Tile Factory, Adelaide, SA  
Artwork:
In Hallway: Original Silhouette Family Portraits by Karl Johnson, Los Angeles  
Turquoise "I Won" acrylic on paper from the Ketna Patel Gallery, Singapore  
Stair Landings: Yellow and blue "Her Lover" acrylic on paper from the Ketna Patel Gallery, Singapore  
Black, brown & white "Domestic Brushwork" acrylic on paper from the Ketna Patel Gallery, Singapore 
Original oil paintings (in Charlie's Room) by Margot Kater (Peter's late Grandmother) 
Living Room (above Mushroom vases on Freedom Butler's Table): "Boy" Black & White photograph by Sally Tsoutas   Bedroom:  "Sunset Ben" photograph by Penelope Tsoutas (age 14) 
Office:  (Green shopping trolley) "Swallowed"  colour photograph by Sally Tsoutas 
All framing in the house done by Ace Framers in Rose Bay.  
Phew! That's all I can think of, but if there is something specific you need, I'm sure I can remember where it came from! 
Xox, Maxk
• HOUSE TOUR ARCHIVE: Check out past house tours here. 
• Interested in sharing your home with Apartment Therapy? Contact the editors through our House Tour Submission Form. 
• Are you a designer/architect/decorator interested in sharing a residential project with Apartment Therapy readers? Contact the editors through our Professional Submission Form.