Sarah & Brian's Salvaged Stories
We independently select these products—if you buy from one of our links, we may earn a commission. All prices were accurate at the time of publishing.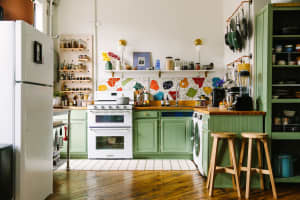 Can't-Miss House Tours Straight to Your Inbox
Keep up with our latest house tours each weekday with our House Tour of the Day newsletter
Name: Sarah and Brian Meeks
Location: Homewood, Illinois
Size: 1,000 square feet
Years lived in: 1.5 years; owned
Nearly everything in Sarah and Brian's house – from the credenza they found on the side of the road right down to their three cuddly shelter pets – has been rescued or re-purposed. In many ways, the house itself was a rescue story: Sarah grew up two houses away, and when the house went on the market, they snatched it up despite the fact that it was, to put it mildly, in less than peak condition. The first night in the house, they tore down a wall, and since then, they've poured countless hours and lots of love into fixing up their home.
Walking into the house today, you'd never know that it had a history of neglect. The space is open, calm, and light-filled, and soothing gray walls and natural materials give it a soft, cozy feel. Looking at the space, "salvage" may not be the first term to mind since many of the objects look fresh, a fact that attests to their thrifting and repurposing prowess. But speaking to Sarah and Brian, you quickly learn that most of their possessions are steeped in history. Brian made the nightstand in Teagan's room from wood saved from a renovation in Sarah's mother's house, and Sarah's brother built the top for their kitchen table as a wedding gift. Even the flowers and plants that fill the house come with their own attachments; Sarah and Brian both grew up in the area and love supporting local business, and their florist is a longtime friend.
Most of us have memories attached to the items we own, but it struck me that for the Meeks family, there's more love than usual poured into symbolic objects–even the most seemingly mundane ones. Enter "The Doughnut Book." And yes, it's precisely what it sounds like: a photo album filled with photos of doughnuts. When Sarah and Brian were dating, they discovered that every Dunkin' Donuts has a different "managers' special," and since then, they've marked all their special occasions with doughnuts. A doughnut at Disney, a doughnut the day their daughter was born, a doughnut the day Brian got his new job, etc. What began as something of a joke (the couple rarely eats processed foods to begin with) has now become a family tradition.
It's clear that the couple has a deep respect for objects and the stories they carry, and they've passed this respect on to their daughter Teagan. You might think that all the delicate, pretty items in her room were just on display for the shoot, but actually, they're all hers. Teagan gingerly handles her fragile belongings, and she already expresses a deep love of their stories and meanings. For instance, the brass animals that you see around the house are some of Teagan's most cherished possessions. When she was quite young, she and Sarah went to an estate sale, and upon finding a pair of brass swans, Teagan clutched them dearly. Since then, she's been eagle-eyed at thrift shops for brass figures, and she'll be the first to tell you how pretty she finds them.
Apartment Therapy Survey:
Our Style: I think we take from many different styles. Most of our furniture leans towards Mid Century Modern. We like a lot of farmhouse-y, vintage knickknacks and eclectic pieces. Some of the items in our home are shiny, bright, and new while others are old, worn, and gray. Nothing is off limits to us. If we like it, we find a way to make it work.
Inspiration: (Sarah): I read multiple design blogs on a daily basis and I like to read as many design books as I can. I take inspiration from all over but also from our ideal way of life. We don't take ourselves too seriously and our design doesn't either. We have a sense of adventure and whimsy that I think peaks through in our home. We also care a lot about the environment. Buying second hand not only saves money, but it gives new life to an item and prevents it from ending up in a dump. I do have a slew of designers that I look up to and respect immensely, but I am also lucky enough to have close friends that I learn a lot from.
(Brian): I studied architecture in high school and college, and I come from a family of engineers, so the building process has always made sense to me. I take inspiration from the greats in the field because they found a way to blend the relationship of form and function. The way space, light, nature, and manmade objects come together has always been a source of inspiration. I also think Sarah and I inspire each other. Although we didn't know each other growing up, we were the kids who were off the beaten path. We shopped at thrift stores, made our own clothes, supported local music and did our own thing. We started the foundation for our way of life long ago and long before each other. We have very similar tastes and style, but we both bring new and different things to the table. I know I've been pushed before to try something new and have ended up loving it. I like to dream big and have persuaded Sarah to trust me, which she has wholeheartedly, and we have accomplished some enormous feats.
Favorite Element: The open floor plan. Our house is considered small by many but it lives quite large. It feels bigger because it is so open and we have tons of natural light. Large windows in the front and back of our house bathe our home with amazing light throughout most hours of the day.
Biggest Challenge: Money. We are a young family trying to establish ourselves. There are many weeks or months that money for renovating or decorating is out of the question. We have done a pretty good job doing this on the cheap. We haven't had to hire out any labor (Brian is extremely handy) and most of the items in our home have been purchased via estate sales, Craigslist, garage sales, antique stores, or thrift stores. It's hard to not get discouraged when you see beautiful things that you cannot afford, but we are happy where we are—even if we're broke.
What Friends Say: We either get one of two things, "This looks like it is straight out of a magazine" or "Your house is so clean!" We are flattered to hear both.
Biggest Embarrassment: Our master bathroom and backyard are complete eyesores. We haven't really touched either since they are both complete gut jobs and we are saving our money so we can tackle them properly.
Proudest DIY: When we purchased our home, there was a wall that blocked off the entry way from the rest of the house. We took the entire wall down, put in a 10 foot header and re-braced the structure of our house down to the foundation. It was the first big project we tackled together (along with a few good friends) and it completely changed the vibe of our home. Now everything flows better and you aren't greeting by a wall upon entering our house.
Biggest Indulgence: We are penny pinchers. Everything we buy is either purchased second hand or on sale, except for our pillows. We splurged, figuring we should buy what we are drawn to, regardless of cost because pillows can really set the tone for the rest of the room.
Best Advice: Learn how to work together. Creating a home is about the journey, not the finished result. We always joke that when we are 'done' with this house we will have to move because we enjoy the process so much. Decorating takes time, items have to be searched for, found, and collected. This doesn't happen overnight and we wouldn't want it to. So much of what we love about our home are the stories behind everything. Slow down, enjoy the ride, and make sure each person is represented in the items in your home. Also, take yourself out of your comfort zone. You can't grow or change without a little discomfort. Try new things and if it doesn't work- don't fret! Most things can be returned or redone. And to quote our daughters favorite TV show, "Take chances, make mistakes, and don't be afraid to get messy!" Gotta love the Magic School Bus.
Dream Sources: We would both love to have more art in our home. Art (rightfully so) can cost a lot of money, and we dream of the day we can purchase some great pieces.
Paint color: Behr "Porpoise"
Coat Rack: CB2
Shelving unit: garage sale
Mirror: estate sale
Rug: IKEA
Paint color: Behr "Porpoise"
Sofa: Craigslist
Pillows: Ralph Lauren, Etsy shops Jillian Rene Decor & Whitlock and Co.
Throw: West Elm
Chairs: Craigslist & estate sale
Side table, lamp, and brass clock: estate sales
Coffee table: estate sale
TV credenza: garbage-picked
Pendant light: CB2
Wood horse: garage sale
Bench: Home Goods
Wood ironing board: antique store
Rug: RugsUSA
Paint color: Behr "Porpoise"
Table: handmade maple top from Sarah's brother; the legs are IKEA
Chairs: Craigslist
Bar cabinet: Craigslist
Pendant light: CB2
Shelves & brackets: IKEA
Paint color: Behr "Porpoise"
Cabinets: Behr "Ultra Pure White"
Countertops: Rustoleum "Pewter" countertop paint
Cabinet hardware: IKEA
Pendant light: Home Depot
Paint color: Martha Stewart "Zinc"
Bedding and triangle pillow: Target
Side table: West Elm
Desk: Clearance section at Target
Chair: consignment shop
Dresser: estate sale
Chandelier: free from a friend; painted
Green trunk: estate sale
Dog bed: Home Goods
Art: estate sales
Paint color: Benjamin Moore's "Proposal"
Bed: estate sale
Bedding: IKEA
Side table: handmade by Brian
Dresser: from Brian's childhood
Bookcase: IKEA
Chair: Craigslist
Rug: IKEA
Paint color: Behr "Subtle Touch"
Bedding: West Elm
Pillow: Etsy shop Annsliee
Bench: Clearance from TJ Maxx
Lamps: Kirklands
Dresser: Craigslist
Nightstands: Craigslist
Yellow table: Belonged to Brian's Great Grandma and Great Grandpa; we refinished it
Ceiling light: IKEA
Rug: Home Goods
• HOUSE TOUR ARCHIVE: Check out past house tours here.
• Interested in sharing your home with Apartment Therapy? Contact the editors through our House Tour Submission Form.
• Are you a designer/architect/decorator interested in sharing a residential project with Apartment Therapy readers? Contact the editors through our Professional Submission Form.