Here's How Much You Should Tip Movers, According to Professional Movers
We
independently
select these products—if you buy from one of our links, we may earn a commission. All prices were accurate at the time of publishing.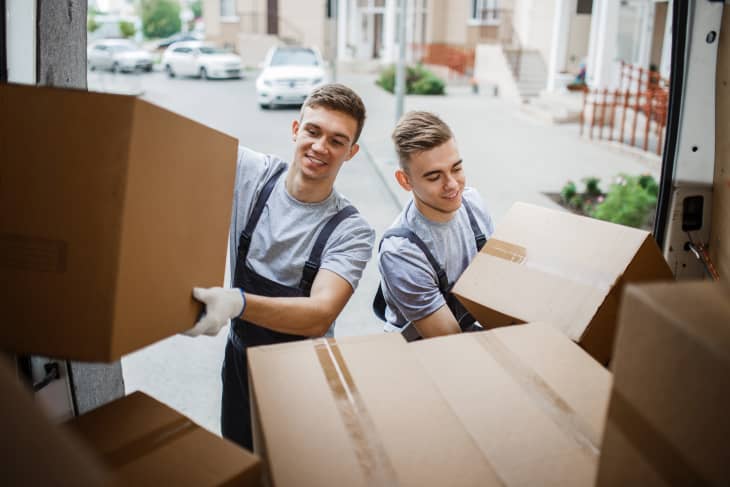 According to the U.S. Census Bureau, the average American will move nearly 12 times over the course of their life. And let me tell you one thing that I didn't realize until I became old enough to consider finally packing up and leaving my mom's house: Moving is not cheap, and everyone could benefit from some expert tips.
Even though people usually consider moving costs like security deposits and first month's rent, other smaller costs can often go forgotten about—like the move itself. 
Unfortunately, it's hard to give even a ballpark estimate on what each individual move will cost. Many variables are factored into the price of your move, including the distance between your old apartment and your new digs, the amount of stuff you have to haul, and whether you plan on hiring a mover or doing it yourself. 
Even if you've included space to hire movers in your budget, you may have not considered the tip you'll want to pay them.
Do you have to tip movers?
If you're hiring a moving company to do the heavy lifting for you, it's common courtesy to tip your mover, just like you would your taxi driver or your waiter in a restaurant. That should be factored into your total cost when you start planning your move. 
The hard part? There isn't really a rule of thumb to go off of when it comes to tipping your movers.
How much do you tip movers?
"It all depends on what you feel comfortable with tipping," says Joe Barszczewski, a mover for Long Island-based Jernick Moving & Storage. "But it's a kind gesture that shows the movers that you appreciate the hard work they've done."
Rachael Lyons of Olympia Moving & Storage echoes that sentiment. "Tipping is at the customer's discretion and there is no true standard for tipping movers," she says. "In our experience, tipping can vary greatly by move type and customer. This said, moving is a difficult job, and a tip is a much-appreciated reward for great performance."
So, that whole 20 percent thing that you use in a restaurant doesn't really apply here. But both Barszczewski and Lyons had some good insight that might be helpful for those who are about to embark on their first move and have no idea where to start when it comes to tipping their movers. 
"Daily tips usually range from $20 per mover for smaller moves to $40-$60 per mover for larger and more complex moves," Lyons continues. "For cross-country and multi-day moves, we recommend similar daily amounts. If your crew is with you all day, providing drinks or lunch is also very much appreciated."
So, if you're a single person with just enough to fill a studio apartment, and you're doing a local move that takes about 3 hours, you can expect to pay about $60 per person. If there are two people doing the job, $120 isn't too much to add to your total moving costs.
"The total cost of the move varies depending on if it's hourly, flat-rate, or a by-the-weight job," Barszczewski said. "Local, hourly jobs usually average from $500 to $1,500, while long distance jobs are more expensive."
How much do you tip full-service and long-distance movers?
In addition to the cost of moving, the tipping rate will rise quickly if you're moving cross-country and, say, you have a lot of precious family heirlooms that need to be arranged carefully inside of a moving truck.
"The total cost of local moves can range from about $800 for a small studio apartment to $10,000 or more to pack and move a large single-family home," Lyons tells us. "Interstate moves can range from $3,000 to move an apartment to $20,000 or higher to pack and move a large home across the country."
If you're getting ready to pack up your house, it might be a good idea to reach out to moving companies and get a quote before being hit with a bill that exceeds your monthly mortgage bill. 
In addition to moving houses, people also hire movers to help with specific items, like pianos or refrigerators. For these kinds of moves, both Barszczewski and Lyons basically told us that people should tip what they feel comfortable with.
"There's no standard rule," Lyons said. "But we recommend increasing the tip to correspond with the length or difficulty of the job."
And thankfully, the rules of etiquette for tipping are pretty much the same across the country—so even if you're moving from a rural area to a big city, what you tip doesn't have to vary all that much. 
"The city you're moving to or from has no impact on what you should tip your movers," Barszczewski advised. "It all boils down to whatever you feel comfortable with."
While considering what to tip your mover, it might be a good idea to ask yourself what you would want if you were doing their job. After all, moving is tough work. 
"Tipping is a way of demonstrating your appreciation for the hard work, care, and professionalism of your crew," Lyons said. "Moving is an incredibly difficult profession, and the best movers are able to manage their team, deliver on the technical requirements of the job, and provide clear client communication while maintaining a great attitude."