If You Live In a Chicago Apartment, You've Probably Dealt with This Annoying Bathroom Feature — Here's How to Clean or Fix It
We
independently
select these products—if you buy from one of our links, we may earn a commission. All prices were accurate at the time of publishing.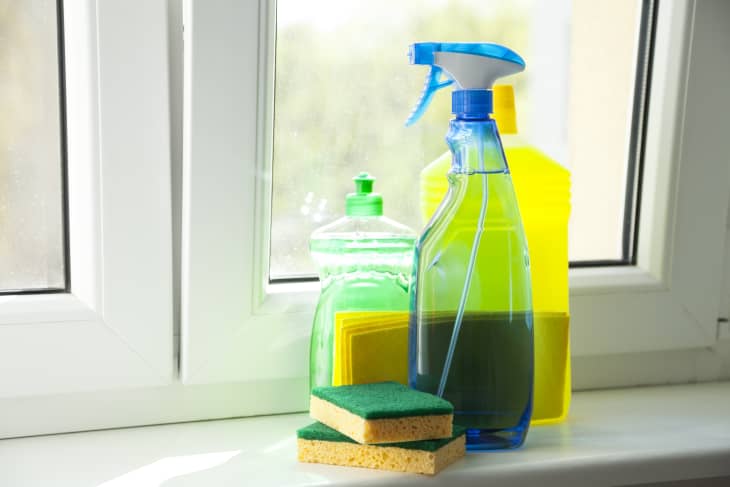 I live in a hundred-year-old apartment building in Chicago, and while it has its charming details, it has just as many dilapidated features. From missing baseboard corners to uneven floors that require chapter books to be placed under floor lamps, most of these quirks are relatively easy to ignore if you don't get caught up with perfectionism. But one thing that is hard to turn a blind eye to is the warped window ledge in my bathroom. Chicago is notorious for having small windows in equally small bathrooms, and prior to the rise of showers, it was probably a very charming feature. Who wouldn't love to soak in a cast iron tub as sunshine streamed in from above? But as showers took over soaking tubs, these wooden window ledges found themselves right in the middle of a sputtering shower stream. After years of direct contact with water, these ledges have warped, flaked, and sometimes rotted in places closest to the shower head. 
As you can imagine, this makes for a very uncomfortable — and unaesthetic — shower. Short of hiding the ledge behind a shower curtain, it was hard to get over the fact I had such an eyesore in my bathroom. After living with it for more than a year, I decided to ask a handyman how to repair it myself, and possibly help fellow renters in the same predicament. 
I spoke with local Chicago handyman Mark Gryko, who has seen this quite a lot in the apartments he maintains. He says the most effective thing to do is to take out the ledge and install a new wooden one or tile the window enclosure. "Since the wood has been compromised, this is the best option. You can take out the ledge by cutting it in the middle, and then carefully prying it in the center, up from the window." If you want to tile it yourself, add a cement board to the 2×4 ledge that will be exposed, add a layer of RedGard waterproofing, and once it changes colors, you're ready to tile over it. 
If you're not handy or don't think your landlord will let you remove the ledge, you can do some cosmetic work on the water-warped window ledge instead. This won't give you perfect results, but it will make it a little less gross. "You need to sand off the existing paint and expose the wood underneath. Inspect the wood's condition, and see what's salvageable," Gryko says. "You can possibly cut away the corner piece that looks like it's passed saving, or sand down the window trim that got warped, making it relatively smooth again." Often just taking off the flaking paint, sanding down the bumps, and repainting it will help make the ledge look noticeably better. 
Just make sure to clean out any existing mildew and dirt first. Since the ledge is positioned so close to the shower head, moisture accumulates and eventually grows into mold if it isn't wiped down and aired out after every shower. And since the sill is made out of wood rather than tile, it's porous and is easily broken down by the moisture. To clean it, wipe away any dirt with a degreaser, and then make sure to neutralize the mildew with a spray like Cocrobium's Mold Control. 
Once you've done that, you're ready to repaint. Gryko warns to use gloss or semi-gloss paint, which is more durable than matte paint: "If there are severe indents or you need to gauge out rotted pieces, you can add wood epoxy to fill those dents." Again, this won't give you perfect results, but it will make the ledge look a little more presentable. Once you repaint, recaulk the edges using waterproof silicone caulk. 
And, of course, prevention is the best fix for these difficult ledges! "After all these efforts, make sure you invest in a window shower curtain so you won't have the same problem next year," suggests Gryko. Follow these steps, and your shower window ledge will no longer impede on you enjoying your spritzes!