It's Surprisingly Easy to Clean Leather Furniture — Here's How in 10 Simple Steps!
We
independently
select these products—if you buy from one of our links, we may earn a commission. All prices were accurate at the time of publishing.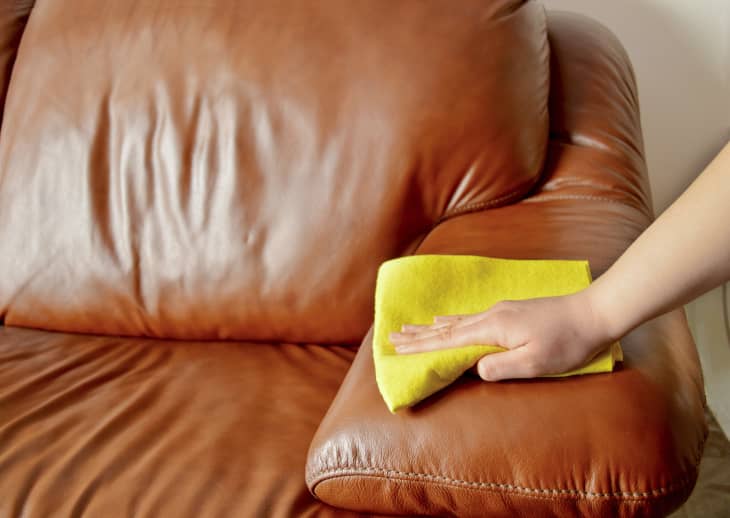 Leather lends a timeless, sophisticated look to any space. Another amazing reason to opt for leather furniture in your home? This natural material is one of the easiest to clean, making it a great option for folks with kids or pets (or anybody who prefers low-maintenance material). With a little bit of maintenance, leather can be super long-lasting — and in many cases, it looks even better with age. 
That said, leather's also prone to wear and tear from neglect or improper care. So if you want your leather couch or chair to last for the long haul, it's important to follow the right steps when you're refreshing or deep-cleaning. 
Here's exactly how to clean leather, according to experts. 
Drop cloth or towel 
Vacuum with a hand brush attachment
Bucket or bowl
White vinegar 
Distilled water 
Two microfiber cloths
Leather conditioner (optional)
Lemon juice (optional)
Before you start cleaning, determine what type of leather you're working with. Jessica Samson, director of national branding at The Maids International, says aniline leather — a type of leather colored with soluble dyes — is generally more easily damaged than pigmented or treated leathers.  This type of leather can be vulnerable to stains and water damage because it's more porous. 
How can you tell if you have aniline leather? Well, it usually looks distressed and soft compared to other forms because it's not treated with pigment. If you think your piece is aniline leather, reach out to the manufacturer or research other instructions for cleaning. 
If you're confident your leather is either pigmented or treated, then you can use the following steps safely, though we always recommend spot testing to be safe. Never use strong, chemical-based cleaners on leather, or you'll risk irreversibly damaging it. Instead, follow these 10 steps to make your own, leather-safe DIY cleaner. 
Step 1: Place a drop cloth or towels on the floor. 
If you're wiping down a piece of furniture, you don't want water or cleaner dripping down onto your flooring, rug, or carpet. 
Before you begin deep cleaning, remove any loose debris from the leather's surface (like dust, crumbs, or pet hair). Samson suggests using a vacuum with a hand brush attachment, but you can also simply dust or wipe the debris and let it fall onto the towel or drop cloth below. 
Step 3: Mix your cleaner.
Next, in a small bucket or large bowl, mix together one part distilled white vinegar with one part distilled water. You'll use this to clean your leather. Emma Barton, cleaning expert and founder of The Steam Clean Queen, suggests adding a bit of lemon juice to the mix for extra cleaning power. 
Step 4: Dip a microfiber cloth in the cleaner. 
Once you combine the cleaning ingredients, dip a clean microfiber cloth into the solution and wring out any excess. The cloth should feel damp, but not sopping wet. 
As with any new cleaner, it's a good idea to spot test on an inconspicuous area. Wait five to 10 minutes, and if you don't see damage or discoloration, it should be safe to start cleaning the entire surface with your solution.
Step 6: Clean the leather.
In circular motions, wipe the leather with your microfiber cloth, but try not to get the leather too wet. 
Step 7: Rinse the cloth as needed.
Keep an eye on your cloth as you clean so you don't unknowingly spread dirt around on the leather. Samson suggests rinsing it out in the sink, then applying the cleaner and wringing the cloth before starting again. If the cleaning solution is visibly dirty, dump it down the drain and make it again.
Lastly, dry the leather surface with a clean, dry microfiber cloth. According to Samson, your leather should smell and look clean by now. 
Leather moisturizers like Lexol or Poorboy's Leather Stuff can keep your leather from drying out. Barton suggests applying it in a circular, clockwise motion, which will push the moisturizer deep into the material. This step may also protect your leather. "For leather exposed to a harsh environment like sunlight, a conditioner with a built-in UV coating and pH balancer is what will save it from drying out and degrading," says Barton.
Lastly, apply a leather protector, following the instructions on the label. Barton suggests choosing a product that doesn't contain oil, so you don't end up with oil residue on your couch or chair.