How I Get My Kids to Declutter (and Donate) Their Toys Before the Influx of Gifts This Holiday Season
We independently select these products—if you buy from one of our links, we may earn a commission. All prices were accurate at the time of publishing.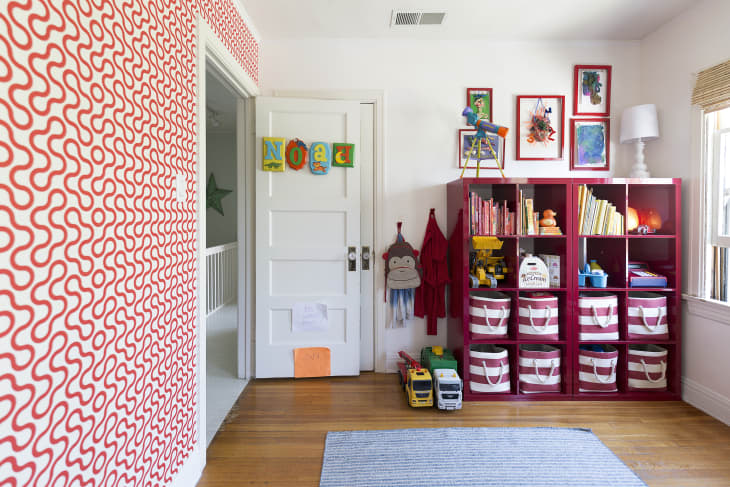 It's the holiday season, and if you're a parent like me, you've been spending a lot of time thinking about and shopping for gifts for your kids. Along with buying new items, now is a great time to get rid of old toys they already have. So in preparation for the influx of gifts, spend some time decluttering your kids' toys.
Decluttering based on age
When my children were babies and toddlers, it was pretty easy for me to move toys out as I saw fit. I would go through all the toys at naptime or bedtime and get rid of anything that was broken, not my favorite, and ones that I never saw them playing with. However, older kids put more value on their toys, therefore I recommend going through the process together. It will take practice and patience, but should get easier over time. 
Decluttering with older kids
The first step in decluttering is to pull everything out into one open space. Gather all the toys from bins, closets, and playrooms, and make one big pile so that you can see how much there is. Next, designate the space or spaces where what they keep will go, and help them understand that they can only keep what fits in these spaces. Now with a few trash bags or big boxes on hand, go through each item with your child, asking if they want to keep or donate (or possibly trash). Place keep items back into designated spaces and donate items into your bags. A lot of times kids have a hard time letting go, because these are their possessions, even if it's items they don't play with. So don't be discouraged, but be encouraging.
Ways to encourage kids to declutter
If you come across items that they are unsure of, or if they seem to keep many items you know they no longer play with, here are a few questions I like to ask to help them decide. The first question I ask is if they love the item and take care of it or can someone else take care of it now? This teaches them that everything we keep we should love and take good care of or else give to someone else who will. Another question I ask that helps them let go is, is there anything that they want to sell? We can list these items on Facebook Marketplace and they will get the money from the sale. Lastly, I like to ask them if they have anything to donate to kids that might be in need. Sometimes knowing that they are helping someone else helps them let go more easily.
There are a few specific places I try to donate that are local to me before running to the big box donation centers. One place is our local thrift shop that is run by the animal shelter, in which all proceeds from sales go back to taking care of the animals. Another great one is local church preschools; they tend to need new toys frequently since they don't have big budgets to go out and purchase them new. And lastly, our foster care organization will take certain donations to provide to foster families in the area. Try searching your area for similar type places, and if all else fails, your local Buy Nothing group is always a great resource.
With all this, remember that how much that's kept and let go will look different for every family. Your family's size, the space you have to work with, as well as many other factors determine this. In the end, you want to feel good about the process and that everyone is learning and growing from it.