How to Measure When You Don't Have a Tape Measure or Ruler
We independently select these products—if you buy from one of our links, we may earn a commission. All prices were accurate at the time of publishing.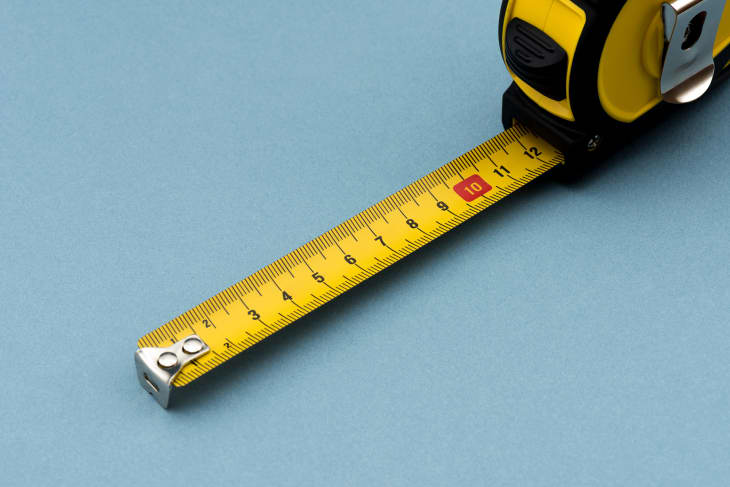 Your tape measure is one of the most precious items to have on hand for buying furniture, installing shelves, and so much more. But on the rare occasions when you may forget it, it's good to rely on a few handy tricks and to remember that the key to measuring without a standard instrument is knowing the length of certain common everyday items that are easily within reach.
Some of those things will be variable—for instance, measuring something with reference to your height—but some remain consistent. All you'll need otherwise is a pencil to mark the end point of your measuring tool; that way, if you have to use a few of them to get the total length, you'll be able to keep track.
Easy measuring devices with variable measurements:

Measure from the line at the base of your wrist to the tip of your middle finger. This is helpful for measuring larger surfaces you touch with your hands, like tables and cushions.
Though not the longest, this finger is handiest because it's on the outside of your hand and has a clear start and end, unlike thumbs.
For measuring room lengths. When measuring your stride in advance, lay a measuring tape on the floor and have someone else watch you walk at a normal, natural pace. You might have to do it a few times to make sure you're not changing your gait wildly each time.
With this one it helps to know your European shoe size: 35 = 9′, 40 = 10″ and 45 = 11″. This is more accurate but more time-consuming than using your stride to measure a space, as you must walk toe to the heel of your next foot.
Sure, you could compel a perfectly 6-foot-tall person to lay on the floor to get a room dimension before, but it's not necessary to go to that trouble. The distance between your fingertips with your arms stretched to the sides is roughly the same as your height.
Easy measuring devices with standardized measurements:

It's exactly 6 inches long and 2.5 inches tall and can be folded to get the smaller measurements within those.
A piece of standard paper:
The kind you'd use in a printer is 8.5″ x 11″. But make sure the piece you're using is American standard or that you know its specific measurements if not.
If you're at home and simply can't find your tape measure, a baking pan can help. A 9×13 is a go-to, but as long you know the size of your pan, you can use it as a measuring device.
The kind of bottle you're most likely to see in stores is about 9 inches tall, and its base is just short of 2 1/2 inches in diameter.
A #10 envelope, the most common type used for business mail, is 4 1/8 inches tall and 9 1/2 inches wide.
While handy, these tricks aren't enough to make us ditch our trusty sidekick (the Komelon SELFLock is our favorite—it automatically sticks where you extend it, and you use the button to unlock it instead of vice-versa) on a daily basis. But they do keep us from panicking when we forget it.