Cord Clutter Is Real! 4 Smart Ways to Get Organized in an Endless Sea of Chargers
We
independently
select these products—if you buy from one of our links, we may earn a commission. All prices were accurate at the time of publishing.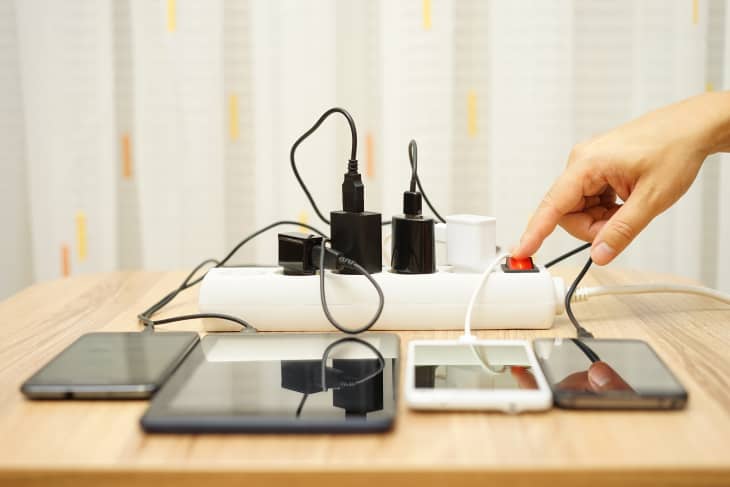 In these tech-fueled times, mounds of charging cords scattered about can easily become an annoying form of household clutter. Smart phones. Smart watches. Tablets. Remote controlled toys. Wireless speakers. The list of things to be charged daily can be lengthy and doing so can cause unsightly clutter in our drawers and on our countertops and bedside tables. Is this type of clutter inevitable? Or can it be better managed? I reached out to a few tech organization experts to get their best tips for beating cord clutter for good and reclaiming counter space in your home. Here's what I learned:
Create a single charging station for all devices.
Anywhere there's an outlet in your home, there's probably a gaggle of cords resting or hanging nearby, but it doesn't have to be this way. "If they don't have designated spots for specific items within their home, they tend to either gather near outlets or scatter in multiple places around the house," said Andy Pittman, president of shelving organization company ShelfGenie. Rummaging tactics don't work, he insisted. It's more important to ensure clear visibility of what you have available. 
Pittman's company has seen a recent spike in interest in multipurpose storage options that help organize essential everyday items such as USB ports for device charging and also hide plugs.
David C. Williams, director of hyper-automation at AT&T, recommends using a wireless charging pad like this one to contain all devices in one place while charging them simultaneously.
While your cords may not ever "spark joy," taking a cue from Marie Kondo's popular tidying technique can still help you identify and purge cords you just don't need (or like lying around) anymore. Along the way, you can label the ones you actually use to avoid overlap. Which ones are for your kids' toys and which ones will actually keep your phone charged? A simple piece of electric tape around the cord with the purpose written on it will do. 
Williams recommends purchasing cords that can charge multiple devices, so that you have fewer to store. He's a big fan of a six-way USB charger: "The beauty of it is that each charging port is two watts. Which of your devices do you need charged fast? All of them. If I have to go with cords, that's one of my favorites, and I have two or three around the house. I velcro them to the inside of a desk."
Hide your charger problem with a custom tech drawer.
It's really not your fault that chargers accumulate on countertops — after all, that's where the plugs are, right? But they don't have to be. Strategically planning new drawers to have outlets or USB plugs inside them is a smart way Joel Worthington, president of Mr. Electric, has seen people solve this problem safely.
"People often install a couple of plugs in the back of a drawer to add more device charging stations, without the unsightly wires sprawling everywhere," he says. If installing new outlets isn't in the budget right now, lookout for desks and stands that have pre-made cutouts in the back for wire concealing. Williams also recommends utilizing small cord wrangling devices called "cord keepers" (like these) that you can find at most home and office stores.
Get more intentional about wireless solutions.
Technology experts heard your plea for fewer cords when they started making everything wireless, but your cord drawer might not have gotten the memo yet. Analyze what items around your home could be swapped to a wireless option to minimize your cord collection, Williams recommends. If your children's toy collections have the option to use chargers or batteries, you can eliminate the need for extra toy chargers lying around by switching to batteries.
Organizing your chargers is one big step toward eliminating annoying and unsightly everyday clutter in your home, and as an added bonus, you won't find yourself desperately hunting for that one charger in a sea of them when you really need to make an important phone call on five percent battery life. Trust me, I've been there!