3 Ways Parents Can Repurpose a Diaper Bag Once Their Kids Have Grown Out of Diapers
We independently select these products—if you buy from one of our links, we may earn a commission. All prices were accurate at the time of publishing.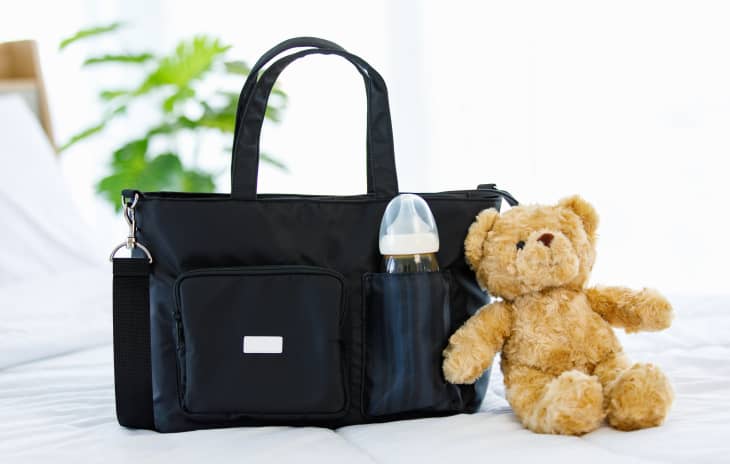 When you first got a diaper bag for your baby — whether you registered for, were gifted, or purchased one — you probably couldn't see the glorious end of baby wipes and changing tables in sight. But, one day your child will be potty trained, and you will no longer need to carry diapers with you at all times. 
If you're not ready to toss or donate your diaper bag, there are several fantastic ways to repurpose it for your current needs. Here are three ways to do it, based on what you have in store.
If you traveled with kids in diapers, you likely brought the diaper bag as your carry-on before, so why not use it as your personal carry-on bag now? The size of most diaper bags makes it ideal as your carry-on item, fitting right under the seat, or it can be used as an overnight bag for shorter trips.
Most diaper bags are also easy to clean and wipeable with vinyl outer and inner compartments, making them ideal for traveling. One of the best features of diaper bags is the many different pockets. Many diaper bags have a detachable wallet or zip pouches, which are great for toiletries or smaller items. And if you'd like, this would also be a good travel bag for your kid to use as their own, especially if they've grown attached to it after all these years.
My friend told me her kids call her bag the "purse of wonders," so I asked to see it. Sure enough, it's a repurposed diaper bag. It reminded me so much of my mom and her organizing prowess. Clear bags of bags of bags. Everything is easy to see and grab. 
The "mom bag" has a bad connotation, and not everyone wants to carry a traditional purse, so a repurposed diaper bag, especially a stylish or gender-neutral one, is a sleek yet functional way to go out on the town with young kids who still need lots of stuff like snacks, extra undies, and plastic dinosaurs. 
Plus, parents need stuff, too! If you've been out all day with your kids, you doubtless need your own food, water, and maybe even a stick of deodorant or a clean T-shirt after a spill. 
If you're back in the office, doing a hybrid model, or hiding out in a coffee shop sometimes, you might need a work or commuter bag. Many diaper bags are spacious enough to hold a laptop or accommodate a laptop or tablet case. If you don't want to go out and buy a whole new laptop bag, you can use your diaper bag for carrying your electronics to and from all the places you go. 
And if your kids are independent enough now not to need diapers, maybe they're independent enough to play on their own long enough for you to do a bit of work. Hence, the repurposed diaper bag can also become a hybrid parent/work bag and you can multitask like a pro.