4 of the Best Ways to Save Money While Moving, According to Experts
We
independently
select these products—if you buy from one of our links, we may earn a commission. All prices were accurate at the time of publishing.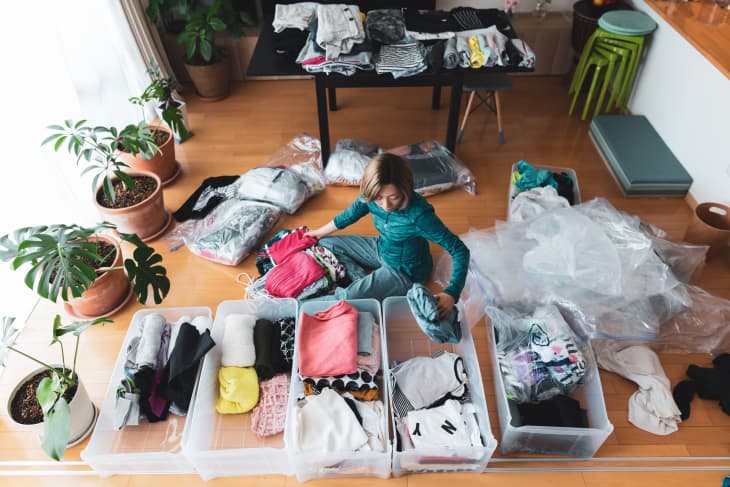 With packing, scheduling, parking, and lots of other annoying tasks, moving remains one of the most challenging life events. It also happens to be one of the most expensive projects people regularly take on. Fortunately, there are a couple of proven ways to save money while doing it. The most important way to save money relates to when you move, according to experts. 
Move during the off-season.
If at all possible, plan your move when demand is low. Both where and when the move takes place affects demand for moving services. 
"In New York City and other large cities, where most apartment buildings do not permit moving on weekends, demand and cost are higher on weekdays," says Nancy Zafrani, general manager of OZ Moving and Storage in New York. "Alternatively, in areas where most people live in houses, there are fewer or no restrictions on weekends, and since most people prefer moving on weekends, that's when demand and cost are higher. So, if you can schedule your move during a time where there's less demand, you'll be in a better position to save money." 
Similarly, weather and season affect demand for movers. In some climates, the majority of moves take place during spring and summer, resulting in higher costs. Scheduling a move during fall and winter could result in big savings. 
"Moving companies offer discounts and money-saving specials to encourage more business in slow seasons," says Mary Beth Johnson, vice president of corporate marketing for Atlas Van Lines in Evansville, Indiana. "With more resources available before spring, it's also possible that moves will take less time, lowering hourly costs." 
While moving when there is less demand could provide big savings, it's not the only way to save money on a move. Here are a few more tips from the experts.
Declutter before packing. 
"A large percentage of the items taken in a move are things that are rarely used, are inexpensive to purchase again, or are simply not needed at all," says Stan Caramalac, CEO and founder of Move Central in San Diego, San Francisco, Los Angeles, and Irvine, California. "Sometimes these items aren't even worth the price of moving them, but people feel a need to hang on to everything they own, even through a move. So please consider decluttering before a move in order to save yourself money." 
Pack up as much of your stuff yourself. 
"One area where you can definitely save money is on packing materials," says Nick Valentino, vice president of market operations for Bellhop Movers in Chattanooga, Tennessee. "In the age of Amazon, the average American has access to more cardboard boxes than they know what to do with. Padding for fragile items is easy to source from crumpled-up junk mail, rags, or even clothing items or blankets. There's no reason that the average person can't spend zero dollars on packing materials, outside of perhaps a roll or two of packing tape and a marker.
Move what you can on your own.
"Sometimes you might get the keys to your new place the day before the moving company arrives, and you have some time to do some things yourself," Caramalac says. "If you can, pack your car up with some things and move them there yourself. It could save you money because it now takes the movers less time, and it could be a substantial amount of money."